Schiff Move Free® Glucosamine Chondroitin MSM & Vitamin D3 80-Count Tablets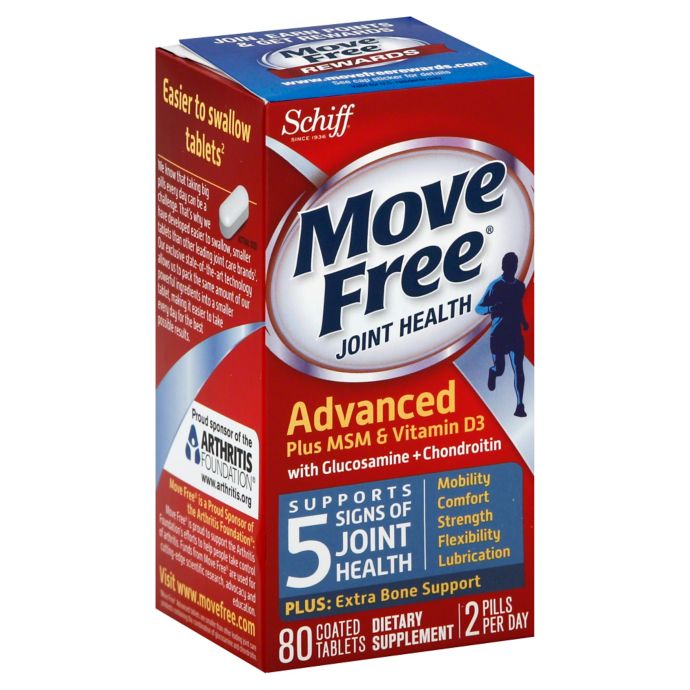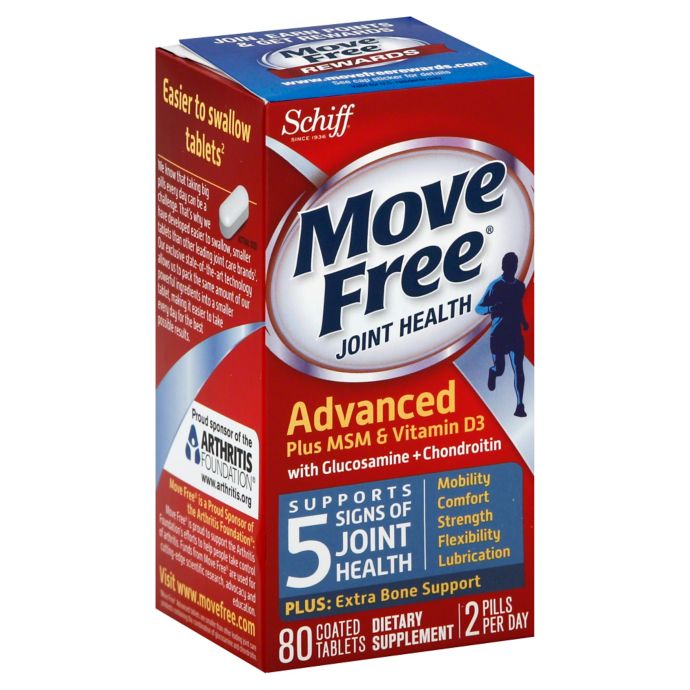 Schiff
Schiff Move Free® Glucosamine Chondroitin MSM & Vitamin D3 80-Count Tablets
Details
Schiff Move Free Glucosamine Chondroitin MSM & Vitamin D3 tablets promote joint and bone health and support joint lubrication. Schiff tablets are formulated to disintegrate within one hour to maximize absorption into your system.
Joint health. Flexibility. Comfort. Lubrication. Plus bone support. Move Free's formula takes glucosamine/chondroitin to the next level by adding Uniflex, hyaluronic acid, MSM and vitamin D. So, it actually helps improve your joint health. With the Benefits of Vitamin D3: Vitamin D3 helps your overall bone health and your joint movement in two significant ways: first, vitamin D3 helps your bones absorbed calcium better and second, it helps your bones retain the calcium already in them. This is very important because as we age our bones lose calcium. Uniflex: A clinically tested mineral complex found naturally in fruits and vegetables that is patented to deliver protection and comfort of joints (Am. J. Biomed. Sci. 2012, 4(2), 111-122). Joint Fluid: Helps to lubricate, rejuvenate, re-hydrate and repair joints. Clinical studies show that oral hyaluronic acid is absorbed into joints. (Balogh, L. et al., J Ag Food Chem 2008). Uniflex protects. Glucosamine rebuilds. Joint fluid replenishes. Chondroitin lubricates. Glucosamine: Helps by strengthening, protecting and rebuilding joints. Chondroitin: Assists in lubricating and cushioning joints. Methylsulfonylmethane (MSM): A natural source of sulfur found in the body which is important in the formation of collagen in joints. Vitamin D3: To promote healthier joint cartilage. Sure Dissolve: Schiff Sure Dissolve tablets are formulated to disintegrate within one hour. Chondroitin sulfate is derived from bovine and porcine sources. Guaranteed: No added sugar (sucrose, fructose, lactose), salt (sodium chloride), yeast, wheat, gluten or milk. No preservatives or artificial flavors. OptiMSM. FruiteX-B. (These statements have not been evaluated by the Food and Drug Administration. This product is not intended to diagnose, treat, cure or prevent any disease.)

Manufacturer
Reckitt Benckiser
Parsippany, NJ 07054-0224
Directions
For best results, take two (2) tablets all at once with a meal, or one (1) tablet twice daily with meals.
Ingredients
Other Ingredients: Microcrystalline Cellulose, Coating (Hydroxypropyl Methylcellulose, Modified Corn Starch, Titanium Dioxide, Polyethylene Glycol, Magnesium Trisilicate, Glycerin), Hydroxypropyl Cellulose, Croscarmellose Sodium, Maltodextrin, Magnesium Stearate, Silicon Dioxide.
Warnings
Contains shellfish (shrimp, crab, lobster and crayfish). Note: If pregnant, lactating or on prescribed medication, consult your physician before using. Keep out of reach of children. Store in a cool, dry place with lid tightly closed.