SinuCleanse® 60-Count Saline Refills for Nasal Washing Products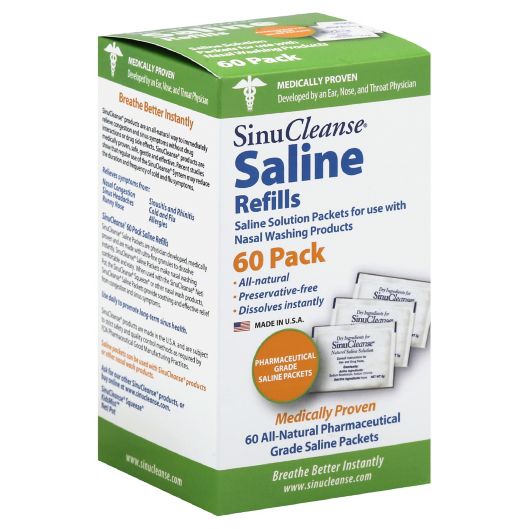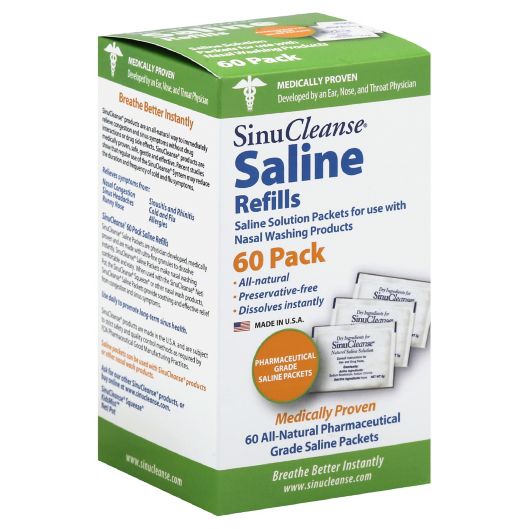 SinuCleanse
SinuCleanse® 60-Count Saline Refills for Nasal Washing Products
BEYOND+ MEMBER PRICE
$6.79
You could save up to $1.70 (20% off) Sign Up
Details
SinucCleanse Saline Refills are for use with nasal washing products. Medically proven, all-natural, preservative free way to immediately relieve symptoms from: nasal congestion, sinus headaches, runny nose, sinusitis, rhinitis, cold, flu and allergies.
Medically proven developed by an ear nose and throat physician
Saline solution packets for use with nasal washing products
All-natural preservative free
Dissolves instantly
All-natural pharmaceutical grade saline packets
Breathe better instantly
SinuCleanse products are an all-natural way to immediately relieve congestion and sinus symptoms without drug interactions or drug side effects
SinuCleanse products are medically proven safe gentle and effective
Recent studies show that regular use of the SinuCleanse System may reduce the duration and frequency of cold and flu symptoms
Relieves symptoms from: nasal congestion; sinus headaches; runny nose; sinusitis and rhinitis; cold and flu; allergies
SinuCleanse 60 pack saline refills
SinuCleanse saline packets are physician developed medically proven and are made with ultra-fine granules to dissolve instantly and make nasal washing comfortable and easy
When used with the SinuCleanse Neti Pot the SinuCleanse Squeeze or other nasal wash products SinuCleanse Saline Packets provide soothing and effective relief from congestion and sinus symptoms SinuCleanse products are made in the USA and are subject to strict safety and quality control methods as required by FDA Pharmaceutical Good Manufacturing Practices
Saline packets can be used with SinuCleanse products or other nasal wash products
Made in USA

Manufacturer
Med SystemsMadison WI 53744
Indications
Temporarily relieves symptoms associated with sinusitis, cold, flu or allergies: sneezing; runny nose; nasal stuffiness; post-nasal drip. Removes inhaled irritants (dust, pollen). Promotes nasal and sinus drainage. Helps reduce swelling of nasal membranes.
Directions
Consult instructions for Use and Drug Facts. Use daily to promote long-term sinus health. Adults and Children 4 Years and Over: Use 1-2 packets up to every 2 hours as needed. Children Under 4 Years: Consult a physician. Consult instructions for use for proper use. Inspect saline solution packets for integrity. Protect saline solution packet from excessive heat and moisture.
Ingredients
Active Ingredients (in Each Packet): Sodium Bicarbonate USP (700 mg), Sodium Chloride USP (2300 mg). Inactive Ingredients: None.
Warnings
Stop use and ask a doctor if washing is uncomfortable or symptoms are not relieved. Keep out of reach from children. Do not use if open or torn. Safety sealed. Do not use if seal is broken or missing.