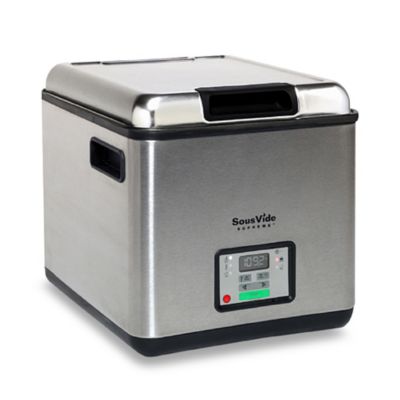 Alternate image 1 for SousVide Supreme® Temperature Controlled Water Oven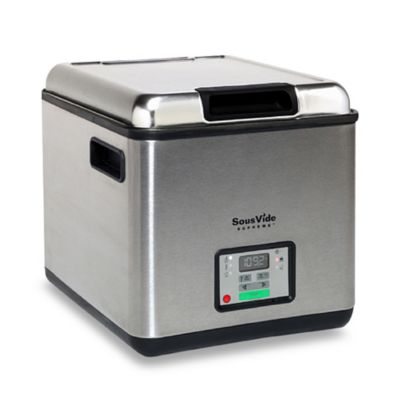 Watch the video for SousVide Supreme® Temperature Controlled Water Oven
Watch the video for SousVide Supreme® Temperature Controlled Water Oven
Watch the video for SousVide Supreme® Temperature Controlled Water Oven
Watch the video for SousVide Supreme® Temperature Controlled Water Oven
Watch the video for SousVide Supreme® Temperature Controlled Water Oven
Watch the video for SousVide Supreme® Temperature Controlled Water Oven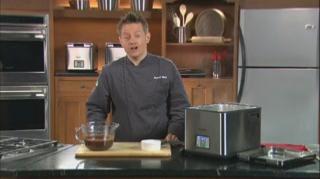 Watch the video for SousVide Supreme® Temperature Controlled Water Oven
Just season your dish, vacuum-seal it in food-grade pouches, simmer in the water oven, sear or sauce your dish if desired and serve.
The SousVide™ Supreme method of cooking helps pack in all those lost nutrients that conventional methods tend to remove during their processes, thereby offering you a way to serve food with all its true flavor intact.
Easy to use, the SousVide™ has a one-touch precision LED control panel for setting temperatures and times.
Includes detachable power cord, a perforated bottom grill designed to generate thermal turbulence, and a stainless steel rack to separate food bags.
110-120 volts.
Holds 11.2 liters.
ETL listed.
Measures 11 1/4" W x 14" D x 11 1/4" H.
Model #SBB-100S.
Vacuum sealer and bags sold separately.
SKU # 17748459