Tylenol® Children's 4 oz. Pain Reliever/Fever Reducer Oral Suspension Liquid in Grape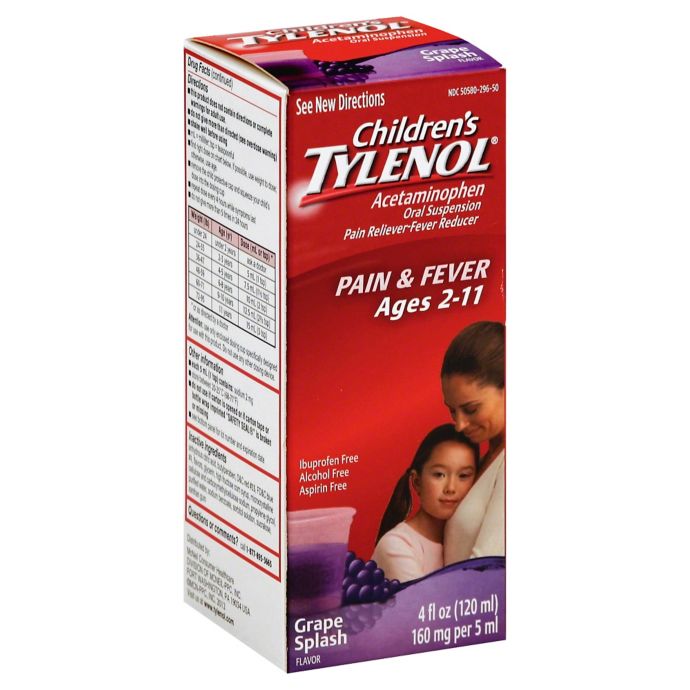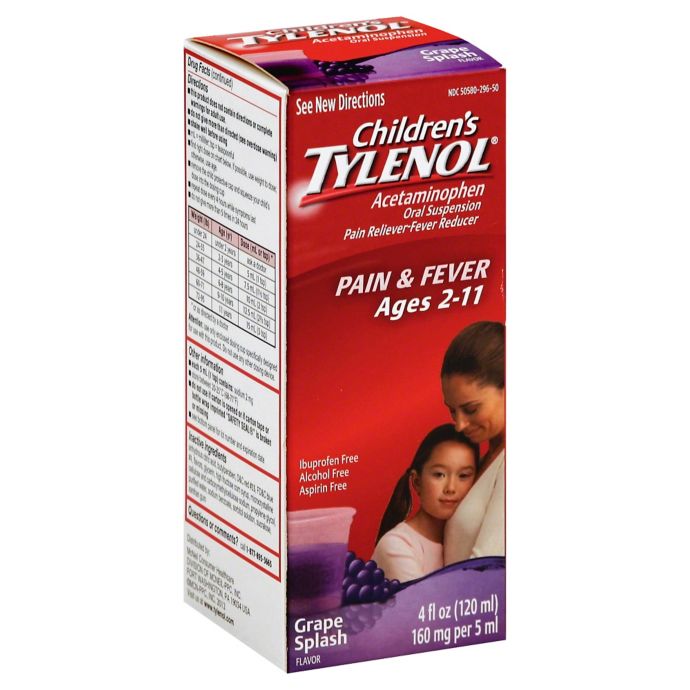 Tylenol
Tylenol® Children's 4 oz. Pain Reliever/Fever Reducer Oral Suspension Liquid in Grape
BEYOND+ MEMBER PRICE
$5.27
You could save up to $1.32 (20% off)
Out of stock
Get notified when this item is back in stock
Details
Tylenol Children's Pain/Fever Reducer Oral Suspension Liquid is ibuprofen, alcohol and aspirin free. Works to relieve minor aches and pains and temporarily reduces fever.
Each 5 ml (1 tsp) contains: sodium (2 mg)
Store between 68-77 degrees F (20-25 degrees C)
Do not use if carton is opened or if carton tape or bottle wrap imprinted Safety Seal is broken or missing
Pain reliever-fever reducer
For ages 2-11
Ibuprofen, Alcohol and Aspirin free
160 mg per 5 ml.
Imported

Manufacturer
McNeil
Fort Washington, PA 19034
Indications
Pain Reliever/Fever Reducer, (In Each 5 ml = 1 Teaspoonful). Uses: Temporarily: reduces fever. Relieves minor aches and pains due to: the common cold; flu; headache; sore throat; toothache.
Directions
This product does not contain directions or complete warnings for adult use. Do not give more than directed (see overdose warning). Shake well before using. mL = milliliter; tsp = teaspoonful. Find right dose on chart below. If possible, use weight to dose; otherwise, use age. Remove the child protective cap and squeeze your child's dose into the dosing cup. Repeat dose every 4 hours while symptoms last. Do not give more than 5 times in 24 hours. Attention: use only enclosed dosing cup specifically designed for use with this product. Do not use any other dosing device. Under 24 lb, under 2 years, ask a doctor. 24-35 lb, 2-3 years, 5 ml (1 tsp) dose (or as directed by a doctor). 36-47 lb, 4-5 years, 7.5 ml (1-1/2 tsp) dose (or as directed by a doctor). 48-59 lb, 6-8 years, 10 ml (2 tsp) dose (or as directed by a doctor). 60-71 lb, 9-10 years, 12.5 ml (2-1/2 tsp) dose (or as directed by a doctor). 72-95 lb, 11 years, 15 ml (3 tsp) dose (or as directed by a doctor).
Ingredients
Active Ingredients: Acetaminophen (160 mg). Inactive Ingredients: Anhydrous Citric Acid, Butylparaben, D&C Red 33, FD&C Blue 1, Flavors, Glycerin, High Fructose Corn Syrup, Microcrystalline Cellulose and Carboxymethylcellulose Sodium, Propylene Glycol, Purified Water, Sodium Benzoate, Sorbitol Solution, Sucralose, Xanthan Gum.
Warnings
Warnings: Liver warning: This product contains acetaminophen. Severe liver damage may occur if your child takes more than 5 doses in 24 hours, which is the maximum daily amount; with other drugs containing acetaminophen. Sore throat warning: If sore throat is severe, persists for more than 2 days, is accompanied or followed by fever, headache, rash, nausea, or vomiting, consult a doctor promptly. Dosage warning: Overdose Warning: Taking more than the recommended dose (overdose) may cause liver damage. In case of overdose, get medical help or contact a Poison Control Center right away. (800-222-1222). Quick medical attention is critical for adults as well as for children even if you do not notice any signs or symptoms. Other warnings: Ask a doctor or pharmacist before use if your child is taking the blood thinning drug warfarin. Do not use: with any other drug containing acetaminophen (prescription or nonprescription) (If you are not sure whether a drug contains acetaminophen, ask a doctor or pharmacist); if your child is allergic to acetaminophen or any of the inactive ingredients in this product. Ask a doctor before use if: your child has liver disease. When using this product: do not exceed recommended dose (see overdose warning). Stop use and ask a doctor if: pain gets worse or lasts more than 5 days; fever gets worse or lasts more than 3 days; new symptoms occur; redness or swelling is present. These could be signs of a serious condition. Keep out of reach of children.