Well Roots® 60-Count Colon Cleanse and Liver Detox Soft-Gels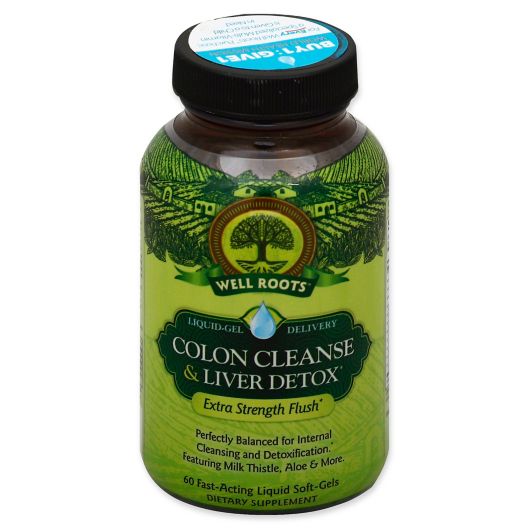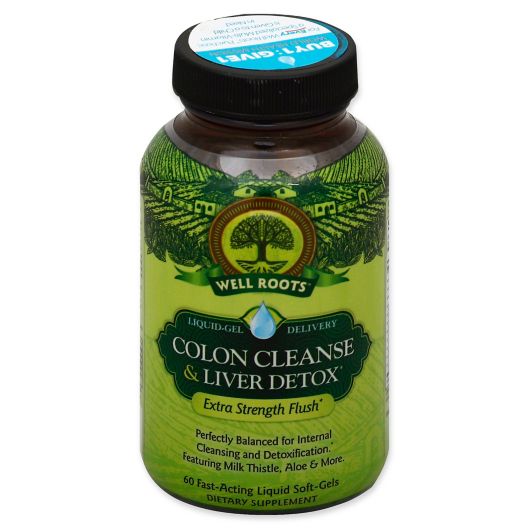 Well Roots
Well Roots® 60-Count Colon Cleanse and Liver Detox Soft-Gels
BEYOND+ MEMBER PRICE
$14.39
You could save up to $3.60 (20% off) Sign Up
Details
Well Roots Colon Cleanse and Liver Detox helps to alleviate your toxic load. It flush toxic waste from the colon promoting deep internal cleansing while protecting and revitalizingliver cells.
Specially designed to promote deep internal cleansing
Colon Cleanse: Aloe is prized for its natural cleansing action it works through the digestive tract to support healthy intestinal function and to flush waste and toxins from the colon
Liver Detox: Milk thistle has been used for hundreds of years to optimize liver health it supplies powerful compounds that protect and revitalize liver cells while supporting healthy liver function to assist the body's natural detoxification process
60-count soft-gels

Manufacturer
Well Roots
5310 Beethoven Street Los Angeles CA 90066
Directions
(Adult) Take two (2) liquid soft-gels twice daily with a meal and a full glass of water.
Ingredients
Well Roots Custom Blend: Triphala Powder, Amla Powder (Fruit), Belleric Myrobalan Powder (Fruit), Chebulic Myrobalan (Terminalia Chebula), Powder (Fruit), Milk Thistle Extract (80% Silymarin) (Seed), Aloe Ferox Extract (25% Hydroxyanthracene Derivatives), NAC (N-Acetyl-L-Cysteine), Ginger Powder (Root), Fennel Powder (Seed), Marshmallow Powder (Root), Chlorella Powder, Spirulina (Arthrospira Spp.), Powder, Other Ingredients: Flax Seed Oil, Gelatin, Purified Water, Beeswax, Glycerin, Soy Lecithin, Caramel Color, Silicon Dioxide and Titanium Dioxide
Warnings
Contains: soy. Do not use if safety seal is broken. Check with your doctor before using this product if you are using medication, including diuretics, heart medications and corticosteroids, or have any medical conditions. Do not use if you have an intestinal obstruction, hemorrhoids or other intestinal disorder. Do not use if you are taking any other product concurrently that has laxative effects. Do not use if you may become pregnant, are pregnant or nursing. Do not exceed recommended daily intake. Not intended for use by persons under 18. Keep out of reach of children. Store in a cool, dry place. Note: This product is not intended to be used without breaks. Aloe belongs to a family of plants containing compounds with laxative effects. Can lead to dehydration and electrolyte loss. With long-term use without breaks, this ingredient may interfere with diagnostic imaging procedures of the colon. Taking a break of 30 or more days between use cycles will help maintain natural regularity. Not intended for long-term use. (State of California Prop 65) This product contains a chemical known to the State of California to cause birth defects and other reproductive harm. Notice: This product contains aloe. Read and follow the directions carefully. Do not use if you have or develop diarrhea, loose stools, or abdominal pain because aloe may worsen these conditions and be harmful to your health. Consult your physician if you have frequent diarrhea or if you are pregnant, nursing, taking medication, or have a medical condition.