Xlear® 1.5 oz. All Natural Saline Nasal Spray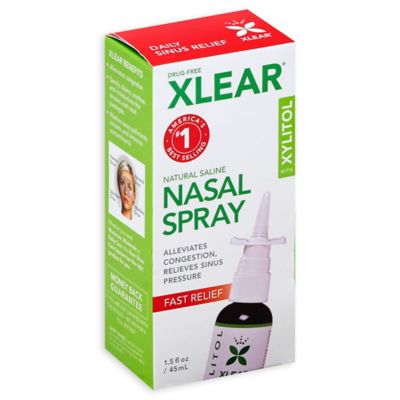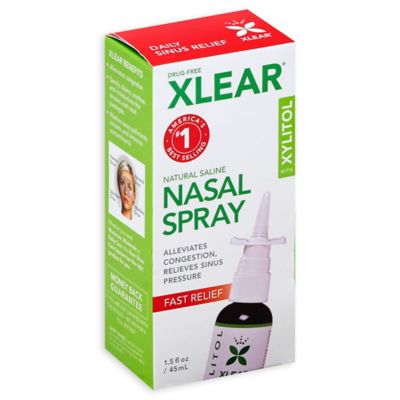 Xlear
Xlear® 1.5 oz. All Natural Saline Nasal Spray
BEYOND+ MEMBER PRICE
$9.99
You could save up to $2.50 (20% off) Sign Up
Details
Xlear All Natural Saline Nasal Spray brings you a solution of Xylitol and saline that soothes and moisturizes the sinus and nasal passages. This effective saline spray keeps your sinuses moist, clean and protects the delicate nasal tissues.
Xlear All Natural Saline Nasal Spray is a safe and gentle natural allergy treatment that effectively targets the symptoms of sinusitis and sinus congestion
Xylitol is a safe natural ingredient that stimulates the body's own cleansing system
It prevents irritants and bacteria from sticking to nasal tissues unlike the overuse of harsh sinus medications
Xlear Saline Nasal Spray is a physician-designed hyperosmotic solution that is available over-the-counter to provide relief from nasal and sinus congestion due to allergies colds and flu and other harmful pollutants
This all natural allergy treatment contains xylitol saline purified water and grapefruit seed extract in an easy-to-use nasal spray that remains sterile throughout its shelf life
It's non-habit forming and can be used as little or as much as you need for congestion relief
15 oz
Manufacturer
Xlear
PO Box 1421 American Fork UT 84003


Indications
Uses: Alleviates congestion. Gently cleans sinus and nasal passages. Washes away pollutants, irritants and other airborne contaminants. Helps soothe & moisturize nasal passages due to low humidity, pollutants, overuse of nasal decongestants & other nasal irritants. Thins & loosens mucous secretions.
Directions
The metered nasal pump sprayer provides a precise amount of soothing spray in a fine mist. Clear the nasal passageway by gently blowing your nose before using Xlear. Prior to initial use, remove clear cap, prime the pump by holding it upright and pumping one or more times until the solution is dispensed. Insert nozzle into nostril and depress pump completely while breathing in through your nose. Clean nozzle after use & replace safety cap. Spray 2-4 times in each nostril. Use at least twice daily - morning & night. Xlear is safe to use as often as needed for optimal health to cleanse sinuses and nasal passages.
Ingredients
Purified Water, Xylitol, Saline, Grapefruit Seed Extract (as a Preservative).
Warnings
Safety Sealed: Clear shrink band on inside bottle for your protection. Do not use it seal is missing or visibly tampered with. The use of this container by more than one person may spread infection. Keep out of the reach of children. Clean nozzle after each use and replace the cap.