College Checklist
With so much to do and so little time, getting organized for the move to college can be a bit overwhelming. But the Bed Bath & Beyond checklist has got you covered. Whether shopping in-store or on-line, our checklist has all your college necessities from twin extra long sheets, to desk lamps, to dorm-appropriate cookware. Print it out or view it, our checklist has all the products and decorating stuff you need to make your college shopping experience a breeze.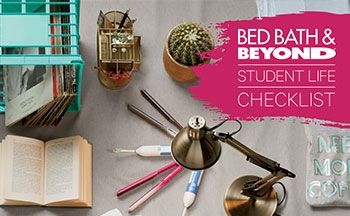 Select Your Residence
You're ready to begin your Registry –– but you don't have to make all of your selections at once. Start with the basics. Then add or change items in any Bed Bath & Beyond ® store, online or at 1–800–GO BEYOND®
This is a general guideline –– what you need or want may vary.
For best results, consult with one of our expert registry consultants.