Registry Incentives
Get great gifts when you include our best brands on your registry.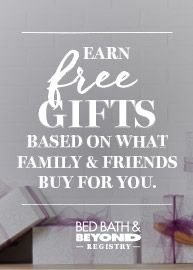 The freebook
Get free gifts based on what your family and friends buy you.
Here's how...
Add the brands in this book to your registry
Family & Friends purchase qualifying items from your registry
Fill out the gift vendor redemption form and send it to the vendor along with a copy of your registry
Get your free gifts!
Gift redemption forms are available at your local Bed Bath & Beyond store