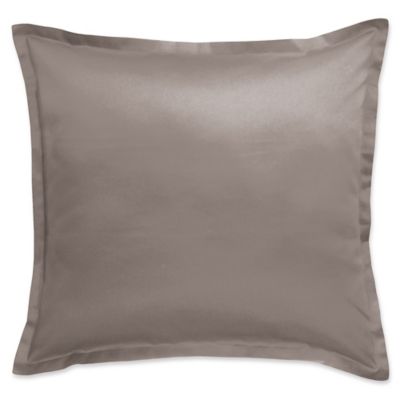 300-Thread-Count Cotton European Pillow Sham in Silver
$19.99
Get 20% off & earn 5% back in points with Rewards™+
Enroll Now
customer reviews
Showing 1 - 20 out of 21 reviews
disappointed
ChanellF . 1 week ago
the material is comfortable but I find that it is slightly bigger than my Euro pillow so it doesn't hold it well and also once I washed them the color faded and it actually doesn't match any of my blue bedding because it is so much lighter.

Cheap
BB&B Customer . 1 month ago
Ruined after the first cleaning, Will replace the sham for sure since the pillow itself is not too bad.
not expected
linda . 1 year ago
not the highest quality and didnt even have a way to close the bottom, get what you pay for.
One more thing
Susan . 2 years ago
Additional to my review of these covers with permanent marks on them - they are cheap material and do not close because they're too small. Total rip-off.

Originally posted on bedbathandbeyond.ca
Large, permanent marks on each case
Susan . 2 years ago
Very disappointed as each cover has a bad mark - like a fading in the colour exactly on the fold lines as it was packaged. No way to return due to COVID. Store is clearly struggling (maybe staffing issues) so I feel I am stuck. I've tried everything I can think of to remove marks and nothing works.

Originally posted on bedbathandbeyond.ca
Medium-weight but great color
Jody . 2 years ago
Could be heavier and could use a better closure to keep the pillow form inside covered. Looks great, though.
Good color, but
Leslee . 2 years ago
The color was a great match, but the enclosure flap is not large enough to close completely on a standard Euro Sham insert. Also, the fabrics wrinkles easily.
I love them!
dani . 2 years ago
I saw a negative review about how thin they were and how they didn't fit perfectly on the reviewers pillows but these fit perfect on mine! AND I have orange colored pillows that I needed to cover and got white cases and you can't even tell that the pillow under is orange! I am happy with my purchase
Returned
Cynthia . 2 years ago
too thin and no way to keep them closed.
Just What We Were Looking For
Gayle . 2 years ago
Purchased this with the matching bed skirt and looks great together. Well made and as described.
therapedic true cool diamond luxury(smaller 18x24)
wolfman . 3 years ago
i have pillows that need room to expand and if they don't they become hard and my head lays on it as if it was cement so these shams give the pillow room to expand. But they could be a little longer cause my pillow just pops out on one side. i know they were not made for this but i would love something like this for my sleeping pillows. There were not different sizes available to pick from.
Lewn
Cheerleader . 3 years ago
This was perfect for my new comforter that didn't come with Euro shams.
Cheap, thin material
MK 2 . 3 years ago
Thin material, cheap looking pillow case. Expensive! Go buy somewhere.
Euro pillow cases
Kdshepherd . 3 years ago
I bought these to match the stripes in my quilt. They fit well and do not wrinkle. I would recommend.
Took a while, but finally got navy shams in
Linda S . 4 years ago
I've been cruising stores and the website since January waiting for plain, basic, navy Euro shams. Finally! Exactly what I was waiting for, at less than I thought I'd have to pay. Totally worth the wait. Thank you!
Open bottom
Becky1979 . 4 years ago
The only thing I don't like is it is open at the bottom. It needs a zipper, buttons or velcro
Hard to get on
FredCalabasas . 4 years ago
Much prefer the cases for square with the split in the middle They go on easier and look much better Way overpriced for what you get
perfect match
Irene . 4 years ago
These Shams are a perfect match for the bed skirt I bought at the same time, and both coordinate beautifully with the quilt I ordered earlier.
Not as featured.
Calsmom12 . 4 years ago
I thought the fabric would be heavier. The fold over closure does not stay together making it look "sloppy"
Feel great, look great
Cindy . 5 years ago
These were just what I was looking for and at the right price. I only wish they closed a little better at the bottom.
Showing 1 - 20 out of 21 reviews