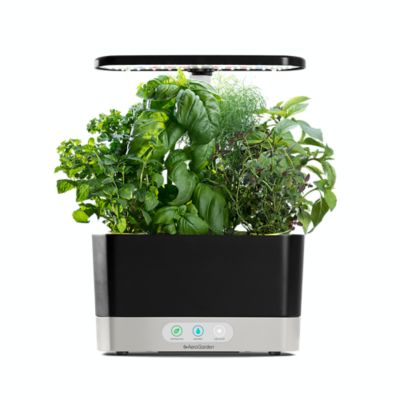 AeroGarden™ Harvest with Gourmet Herb Seed AeroGarden Pods Kit
Most Helpful Positive Review
Terrific if for those with disabilities
Tynkrbel
.
4 years ago
I bought 3 harvest in the red because I thought they would be something that my husband who had a massive stroke could participate in. He was able to plant all the pods, add nutrients etc with his good hand. Besides the benefits of fresh greens, there is also the joy of having a life affirming activity to look forward to each day! Be careful...they are addictive!
Most Helpful Critical Review
Are you kidding??
MadisIya
.
4 years ago
This was my Christmas gift to myself. I could not have been more excited about gardening on my counter top. I even brought extra pod collections for all of the gardening I was going to do. Five of the six pods germinated, grew fully past the highest point of the lamp and then without blooming tomatoes, DIED!!!! A waste of my time and money!!!!
---
We are sorry that your seed pod didn't germinate as expected. Remember we do have a 21-day germination guarantee where we replace any seed pods if they don't sprout. Please email our customer service team for a replacement and ensure your garden is functioning prop...
customer reviews
Showing 1 - 20 out of 1218 reviews
Great customer service.
Snowcap 23 . 1 week ago
I received the aerogarden harvest as a Christmas gift and after one week I had a problem with the unit itself. I contacted aerogarden and they were extremely professional and helpful with the warranty. I found their customer service second to none. I would recommend this company to everyone. Now I can't wait to try my first fresh salad.

Originally posted on aerogrow.com
Love this product
AeroJohn . 2 weeks ago
Was gifted the Harvest and had a little trouble with setup. After I figured it out everything I planted grew like mad. Wasn't fond of the herbs so I planted the flowers. I ran into a slight problem when my fiancé cleaned machine. She accidently threw away the water riser. I can't seem to find a replacement part listing so I can buy it. Using a straw right now but would love to get the correct part.

Originally posted on aerogrow.com
How do you replace the bulbs?
Alex . 2 weeks ago
Received this as a gift and I love it however half of the lights went out and there doesn't seem to be replacement lights. Anyone have any suggestions in replacement lights?

Originally posted on aerogrow.com
Looks good but utter rubbish
Kay soni . 3 weeks ago
I got this from my son as a Xmas gift! Quite disappointing as 1 pod didn't harvest,( yes it's been more than 21st days& no sign of any sprout! The only pods flourished are Basil & Thai Basil!

Originally posted on aerogrow.com
I love it!
Laura . 3 weeks ago
I received that as a Christmas gift on 12/27. I started it immediately, and I can't believe how it's grown in just over two weeks. I'm sure I'll be purchasing another before long.


Originally posted on aerogrow.com
Excellent product
Janet hst . 1 month ago
I bought one a few years ago. I love it! For one it brightens up the kitchen. But it has grown a variety of excellent herbs and excellent lettuce! I can't say enough good things about this product! It is easy to set up and use. Great results!

Originally posted on aerogrow.com
Great starting system
Jim in N TX . 2 months ago
I bought my first 2 harvest units last spring and I love them. Then this fall I bought my first bounty basic. I now own 4 bounty basics. The harvest is a great beginners unit. I have ussmed on strictly as a seed starter and it is fantastic. The bounty cost more but it is so worth the cost. Holds up to 9 plants instead of six. Bounty comes with a growth rack for tall plants. And the light is bigger and raises much higher allowing taller plants. And you can set the light cycle for your preference. Last but not least the harvest tells you when water is low. Bounty display shows Full, Med, and Low. Love the Harvest as my starter. Must have my bounty basic.


Originally posted on aerogrow.com
Guarantee?
Maggie70 . 2 months ago
I would have given it a 5, but 2 of the pods failed to do anything. I mean nothing. The other 4 are doing great. I filled out the form for replacement several days ago and I guess it's being reviewed. I can see inside and all I see is a brown seed so I'm guessing they are not going to suddenly spring to life.

Originally posted on aerogrow.com
Great product! Great customer service!
JanB . 2 months ago
I have had my Aerogarden for a year and love it. When I went to get it started for the winter I noticed I was missing the cap that covers the water tank. I emailed Aero Garden and they responded the same day. They got one right out in the mail. Amazing customer service. I would not hesitate to purchase more from this company and I have already told a number of family and friends about my experience.

Originally posted on aerogrow.com
it is trim so it fits almost anywhere
Sharon . 3 months ago
I have several of these units & they are great for the counter top or tables. I can grow all of my herbs/spices in them & have even mastered growing heirloom cherry tomatoes in them (only 2 at a time. 1 per 3 holes) With minimal pruning from the top to help make it grow bushier & a little trimming of the suckers I have had the tomato plants grow & produce large clusters of toms for 18 months at a time.

Originally posted on aerogrow.com
Problem with device
Ira1905 . 3 months ago
I started my garden, everything was fine, but after 5 days the system itself began to turn off, it's very disappointing because the first leaves have already appeared, and now I don't know what to do.


Originally posted on aerogrow.com
Food everywhere
KarenRN . 4 months ago
I now have three gardens and have just ordered my fourth. I also have the seed sprouting insert and the microgreens insert. The only thing that stopped me from giving it 5 stars is the fact that sometimes I've gotten pods that never sprout. Other than that, I'm in love. Both my kids will be getting them for Christmas.

Originally posted on aerogrow.com
I like it
Steve . 6 months ago
I wish I bought a bigger one. Great item just know the light is on 16 hrs a day

Originally posted on aerogrow.com
Great product
Bed Bath and Beyond Customer . 6 months ago
Very easy to set up and maintain. Love watching everything grow so fast.

Originally posted on aerogrow.com
Highly recommend!!
I Jones . 6 months ago
I love growing my own veggies… this makes it so easy. The veggies are so fresh and keeps growing. The small investment is nothing if you love fresh home grown veggies.

Originally posted on aerogrow.com
AeroGarden Harvest - pretty much satisfied.
Mad329 . 6 months ago
We really like the aerogarden however it would be nice if there was a tad more space between the pods and if the light could be adjusted to a taller height. We selected the herb pods when we purchased. The basil, dill, and parsley did very well. Thyme took a while to sprout. Unfortunately the mint never came up (my husband was looking forward to that one). All in all we're happy with the purchase.

Originally posted on aerogrow.com
Good For One Round Only
benson . 6 months ago
I had this gifted to me during Christmas of 2020. The planter was phenomenal until I tried to switch out my plants. After unplugging it to clean it, only half the lights would turn back on. Customer service was able to send me a new garden, but the new garden has done the same exact thing. After 2 years, I've only been able to grow one round of plants for each system. Great short term product but don't buy if you want to have plants more than a few months.

Originally posted on aerogrow.com
One Just isnt enough
Mike Lurr . 6 months ago
Have used smaller version w/ excellent results, however my unit was taken over by my wife resulting in a 3 aero family. And yes we are very pleased w/ performance.

Originally posted on aerogrow.com
6 pod unit.
MissGoodie . 7 months ago
Lettuce grows amazing fast and is delicious. Thyme not so well, but dill and basil are lovely.

Originally posted on aerogrow.com
Easiest Garden Ever
TDawg . 7 months ago
Easiest garden I've ever had! I'm enjoying fresh lettuce every day. No bunnies, no bugs, easy to use. The machine tells you when to add water and food. All you have to do is give them a little CO2 when you talk to them. Works wonders!

Originally posted on aerogrow.com
Showing 1 - 20 out of 1218 reviews