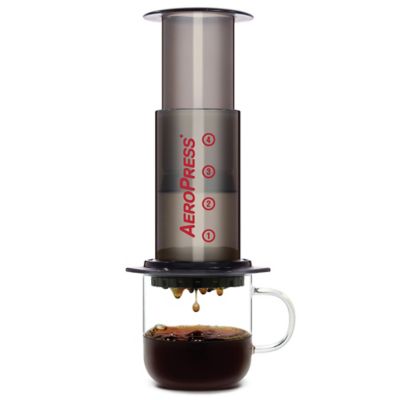 AeroPress® Coffee & Espresso Maker
Most Helpful Positive Review
Mad Coffee Scientists, Unite!
Gnar
.
10 years ago
I picked one of these up at BBB on a whim when I picked up a new grinder, and after a month of tinkering with it, I'm finally starting to produce really good cups of coffee - there is most definitely a learning curve to using this thing, but when you get it down, the cup it creates is hard to beat. A google search on "Aeropress recipes" will quickly reveal there about 600 different way to use the Aeropress, and I've probably looked at them all and tried a lot of them, and I've learned quite a bit about coffee while doing my research. Here's some tips I've picked up to get a rookie Aeropress user started... - Buy a kitchen thermometer so you can check the temp on your water - If you wanna really geek out, go get a gram scale to weigh your coffee/water - Try different coffees. Stale grocery store beans rarely taste great no matter how you brew them, and it just so happens the Aeropress really brings out the character of the bean. Bad bean, bad coffee. - Don't be afraid to EXPERIMENT to get the cup you're looking for; try the inverted method where you flip it upside down, try hotter/colder water, try different steep times, try stirring more or stirring less, try different grind sizes, try faster/slower press times, try using more/less coffee, try just using the instructions that come with the aeropress. The amount of control you have other the brewing process is amazing, so try some different things and see what happens. Here's something I don't like about the Aeropress; for the life of me I cannot create more than 13-16oz of good coffee with this thing. Try as I might to fill up my 20 oz travel mug, it just doesn't happen. Once you put a proper dose of coffee in the Aeropress for 20 oz of drink, there is hardly room for brewing water, so the end product must be diluted considerably to reach 20 oz. The idea is to create a potent "shot" like espresso and dilute it to attain an americano, but the coffee produced is never that great - it tastes watered down and sour, or watered down and bitter, and just seems to waste more coffee no matter how I've tried it. That being said, the Aeropress was meant as a single-serving brewing system, so I can't blame it for not cranking out a big mug of coffee. The product is fun to play with, built solidly, and makes a dang good cup of coffee after you get a method down that suits your tastes. The reason it only gets 4 stars from me? 1. It won't fill up my 20 oz travel mug 2. The learning curve and effort is high compared to other methods (auto-drip), and I could see how some people might not want to play sleepy mad scientist in the morning to make a cup of coffee. Sometimes I too just want to throw coffee and water in a machine and get going. That being said, the Aeropress is inexpensive and worth a shot if you're looking for a better cup of coffee than a cheap auto-drip machine can produce.
Most Helpful Critical Review
One drawback
Bobbym51
.
10 years ago
This product performs as advertised and produces one of the purest cups of coffee I have ever tasted...provided that the coffee is fresh ground and not of the mass produced variety. After over six months I have only one small reservation, and that is that, over time, the rubber stopper has shrunk a bit and no longer seals as well as it used to. I've found, though, that if I put the plunger in a cup with very hot water that the rubber expands to the point that it seals as if it were new. At the small price of under $30 it would be a small matter to just purchase a new one, but I am just too stubborn and cheap to do so.
customer reviews
Showing 1 - 20 out of 140 reviews
Perfect for solo camping
CaBB . 3 weeks ago
This gadget makes a fantastic cup of coffee! If you like strong coffee, one scoop of grounds makes 8 oz of pure bliss. If you like it a bit weaker, just add a bit more hot water. Quick and easy, and simple to clean up. Perfect for my solo camping trips. The only negative thing I have to say is the waste of including the plastic "stirrer"-really? A spoon would work fine, do we really need to add more plastic junk?
not so strong coffee
Kathy . 2 months ago
Reviews were so good so I gave it a try, but the taste of coffee is not as strong as the one from french press. Also there are just too many parts taking up space. After using several days, I still prefer regular french press coffee maker.
I can FINALLY make a great cup of coffee!
cogreeneyz . 12 months ago
For several years, I was on a quest to find a product that would allow me to make a great cup of coffee without spending the $ on a high-end espresso machine. This little French press has ended my search! My coffee tastes like it was made at a coffee shop with just a little effort (and no coffee grounds in my cup, as with a traditional French press). I've recommended it to all my coffee-loving family members and friends!
This thing is great
EmilyC . 12 months ago
Amazing product we have been living off of this now while being at home I got it as a bridal shower gift 4yrs ago and it took us ages to use at first but we love it! I actually don't even like Starbucks anymore
Decent cup of brewed coffee
The Moose Is Loose . 1 year ago
The next best thing to making a trip to a coffee shop. I've tried for years to find a K-cup brew that tastes close to coffee from my favorite coffee shop. It wasn't until I tried an AeroPress with fresh ground whole-bean coffee was I able to brew a suitable at-home cup of coffee. Clean up is easy, too.
Great product but
BB&B Customer . 2 years ago
Great product but the instruction sheet that came with it doesn't belong to that specific product. It belongs to the aeropress to go.
Great coffee maker!
Consuelo . 2 years ago
I was looking for some device that would give me even close to espresso so that I could make lattes at home. I was using a french press for a long time and it gave me decent coffee but it was always a pain to clean up. My friend recommended this to me after having it for camping and I figured I'd give it a shot. This thing WORKS. It produced the most espresso coffee I've ever made even better than what came out of my cheap espresso maker I had in the past. It's flavorful, not bitter. I followed the "inverse brew" method I've seen a lot online and it made really tasty coffee. It's also feels really well made. None of the parts feel flimsy or cheap. It's also super compact. So if you're a coffee snob and you want to take this in your carry on, you absolutely can. Will 100% be using this thing until it breaks... Don't sleep on this like I did!
Quick cup of Joe
Tim . 2 years ago
This is a great product that makes very good coffee quickly.
Handy Little Gadget For Making Coffee
Lisa . 2 years ago
Easy to use and coffee tastes fresher than with our Cuisinart coffee maker. Only thing is, you have to store it with plunger inside the cylinder or the next time you make coffee, it will be harder to push the plunger through. Works like a French press. Easy to clean. Just rinse and air dry.
It's not an extraordinary thing
MEHDI . 2 years ago
I have used different coffees and different preparation techniques but my final verdict: the taste is not comparable to nespresso. It is definitely better than drip coffee. I had a really high hope from reading reviewes of aeropress but I kinda get disappointed. Long story short, aeropress is a very basic device and don't expect great coffee taste from it.
Makes the best coffee
Hannah . 2 years ago
Cuts down on acidity, is easy to use and makes delicious coffee without taking up counter space.
Great For Single Serve
Denisha . 2 years ago
Produces a wonderful and clean tasting coffee. With fresh ground beans and good quality coffee of course. I'm the only one who drinks coffee in my home so this is perfect.
Too time consuming to use
DylansMama . 2 years ago
I wish I could return this product. I bought it for my daughter for college. She has used it once or twice and thats all. Its just so much work to boil water, assemble it, add the filters, add water, wait, add more water, clean it up, try not to get grounds everywhere, and then do it all over again if you want another cup or a friend wants some. Such a disappointment. I wish it could be returned.
Micky . 2 years ago
So easy!! Great coffee
Save your money use a pour over filter
Dash Quark . 2 years ago
It's a gimmick. If you like toys give it a try but the coffee is no better than a traditional pour over. Nespresso makes a much better cup of coffee even using the same coffee grounds.
Love the espresso
Peggy . 2 years ago
This is a perfect way to make espresso, cappuccino or Americano coffee...quickly.
Best coffee maker
Megan . 3 years ago
I love this coffee maker! It's so easy to use and clean! I use one heaping scoop of ground coffee and 4-6 oz. of hot water, stir, wait about a minute and press. I drink it over ice and add about 2-4 oz of cold water. Best iced coffee ever!!! I would totally recommend!!!
Received torn box with missing items
Ash . 3 years ago
Received a torn box with two items missing. The filter cap itself is missing, so I can't even try to brew a coffee.
Great cup of coffee
christie . 3 years ago
This was purchased for my husband who always complains about coffee at home. he has a french press and Hamilton single serve coffee maker and says the Aeropress makes a much better cup of coffee. We have had it for 2 months.
Obsessed!!
Shannon . 3 years ago
Was looking at $200 espresso machines when I stumbled upon this gem. This little tool makes some of the best espresso/coffee/lattes I've ever had just using regular ground coffee beans, making it taste WAY better than my old keurig. Won't go back!
Showing 1 - 20 out of 140 reviews