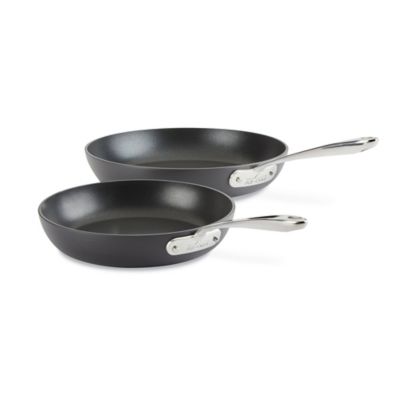 All-Clad Nonstick Fry Pan Hard-Anodized 2-Piece Set
$47.99
Get 20% off your entire purchase with Welcome Rewards™+
Enroll Now
Most Helpful Positive Review
AllClad Essentials nonstick fry pans set of 2
KimberlyP
.
3 years ago
[This review was collected as part of a promotion.] I absolutely love these fry pans. This is a set of two. They are truly nonstick and easy clean up . I use these every single day for breakfast and cooking dinner. The bonus is they are dishwasher safe.
Most Helpful Critical Review
Poor quality non-stick and customer serviced
Archdana
.
3 years ago
Within a month the non-stick coating started chipping off the surface of the pan. I've had non-stick pans before, even All-clad ones, so I know not to use any metal utensils on them, which I did not. I immediately contacted customer service and was told that they don't warrant the non-stick surface regardless of how long I owned the pan. I am really surprised that a company that has such a "reputable name" now has such poor quality and does not stand behind their product. These are expensive pans and completely unusable within a few months of use. Very disappointing!
customer reviews
Showing 1 - 20 out of 417 reviews
Great non stick
Big krane . 4 weeks ago
Great pans just can't believe that you can't order covers for them

Originally posted on allclad.com
Best Pans
Diane . 1 month ago
I love these pans so much I bought a second set for our summer home. Nothing sticks and if it does it wipes right out. Highly recommend these pans
Amazing!
BB&B Customer . 1 month ago
Very good quality! I'm very satisfied with my purchase and i recommend 100%
Durable and dependable.
BB&B Customer . 1 month ago
These All Clad fry pans are my every day go-to pans. They heat evenly, and are very easy to clean!
best gift ever
BB&B Customer . 1 month ago
I purchased these pans for a xmas gift. They absolutely loved them.
All-Clad Non-Stick fry pan set
Carol . 2 months ago
These frying pans are awesome & an excellent quality. I highly recommend them & getting them at the sale price was a bonus or the set. They are easy to clean too.
Christmas Gift
Barb . 2 months ago
This for my granddaughter she just moved into her own place
High-Quality Pans
Steve B . 2 months ago
These high-quality non-stick pans are durable and easy to clean. Although they're not rated for high heat, they're still capable of searing meat with little smoke and no apparent damage to the coating.
My new non-stick fry pans
Karen La . 2 months ago
Love the product. I use it to make my eggs and omelets.

Originally posted on allclad.com
Both pans are scratched after one use/wash
Karen . 2 months ago
Bought them from the store. Hope I can return them.
Worth every penny
Customer . 2 months ago
Love these pans. The best nonstick that I've ever had.
Average for the price
nancy . 2 months ago
Came scratched and like most reviews, scratches very easily even with compatible utensils. Fortunately, they were cheap enough.
Long lasting pans
Kenneth . 2 months ago
These are the only fry pans that I have found in many years that hold up well to the abuse I hand them.
Best Non stick pan i have had!
BB&B Customer . 2 months ago
I used these pans for several meals and cook consistantly, are really non stick, and heat evenly
the shipped item has defect
BB&B Customer . 2 months ago
the shipped item has defect requested a exchange, the new item still has defect
All-Clad Essentials
Anafam . 3 months ago
This is the All-Clad Essentials model. It does NOT have the stainless steel base as advertised in the 2nd picture, which is so misleading. Beware this is not induction safe, as the base is plain bare metal. No Stainless Steel base here. Save your self a trip to the store, I found this out the hard way.
Best non-stick pans ever!
Snappingrandma . 3 months ago
I have appreciated these for ease of use and cleanup. When family were here, my son-in-law liked them so much, he took home my extra set.
Not induction compatible
BB&B Customer . 3 months ago
Despite what their website says, it is not compatible with induction cooktops.
Well made
Paint . 3 months ago
These skillets are a nice weight, seem to heat evenly, and release well. I've used them for several month always with wood or silicone implements and washing with sponges or silicone scrubbers.
Love them!
Susan . 3 months ago
These pans are a nice weight. Good cooks evenly and the nonstick finish is great. I like the weight of them… they feel substantial without being so heavy that they require two hands.
Showing 1 - 20 out of 417 reviews