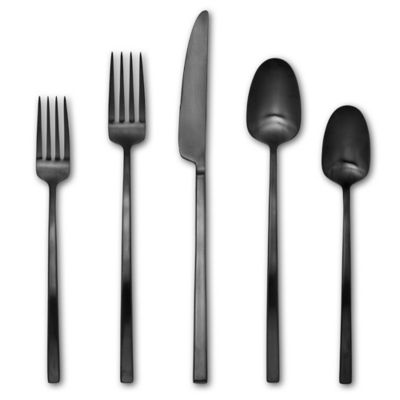 Artisanal Kitchen Supply® Edge 20-Piece Flatware Set in Black Satin
Unavailable
This item is no longer for sale online
customer reviews
Showing 1 - 7 out of 7 reviews
Danielle . 3 years ago
I bought 3 sets and upon arriving the color was not proper on 4 spoons, now I have 4 forks that are losing color and its nearly impossible to reach BBB customer service. they also do not wash well.
Great features test
jackie 1212 . 3 years ago
Gsggdhdhdhde djddbbd due December the dbf
Flatware
tutu . 4 years ago
Good grip on handles especially for my arthritic hands!!
Half the price of the other guys!
Bed Bath and Beyond Customer . 4 years ago
There is a famous home decor store out there that rhymes with "best welm" that is selling flatware like this for twice the price. So I bought them here and they are so nice, and they come with a nice warranty too!
Very nice but starts to chip
Sheena24 . 5 years ago
I love this set.. I received two sets as gifts but after only using them for a few months, the black paint started coming off and you could see the silver underneath. I did contact bed bath and beyond and they did send me a replacement as it does have a 25 year warranty. Just beware of this before making the purchase.
amazing
Taylor . 5 years ago
I got this silverware as a gift from my registry for my bridal shower. Absolutely everything I'd hoped for. Super dainty, delicate, & the perfect weight. The finish is great & I couldn't be happier!!! So glad I registered for 2 sets & they were one of the first gifts I received! Beautiful!!!
Tarnished
JBinVA . 5 years ago
This flatware looks beautiful on the online site, but I was dismayed when I received the set. The finish on one of the spoons was totally absent revealing raw metal beneath. I certainly would have loved a replacement but I am not even sure how to go about this. It makes me suspicious as to the durability of the finish and the overall quality of this item.
Showing 1 - 7 out of 7 reviews