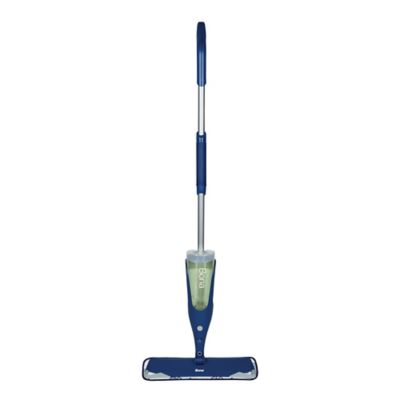 Bona®  Hard-Surface Floor Premium Spray Mop
Most Helpful Positive Review
Leaves NO streaks!
Joanne7
.
5 years ago
I have tried 4 other laminate floor cleaners, including a homemade concoction found on the internet, however they all left streak marks. I decided to give Bona a try and thank goodness I did. The spray mop is easy to use, just spray and wipe, but of course vacuum first to remove any dust bunnies. Bona leaves the floor clean, shiny, and no streaking at all in a matter of a few minutes. Thank you Bona for an amazing product!
Most Helpful Critical Review
Not worth the money
Kel2012
.
5 years ago
We love Bona for our laminate floors, but this new mop is horrible. It sprays without pressing the sprayer and now, the handle broke. All after 2 months of use. My other bona mop lasted 5 years. Very disappointed in the quality of this product.
---
Hello Kel2012, Your satisfaction is important to us. Please call us at 877-289-2662 between 7 AM and 5 PM MST, Monday - Friday, to discuss your mop. We will be happy to help you. Best regards, Bona Call Center
customer reviews
Showing 1 - 20 out of 251 reviews
Broke again
Kimmie22 . 1 month ago
Where the mop head attaches is very weak. This is the second one I've purchased and both broke with a month or so of purchase. Definitely not worth the money if they can't last more than a month. Swifter is much cheaper and they don't break. I'll be going back to them.

Originally posted on bona.com
Terrible product. Broke after 2 uses
Tammy F. . 1 month ago
Buyer beware. This item is inferior to its predecessor. It is a VERY POORLY DESIGNED item. For nearly $50 I would expect to get more than two uses before it broke. Complete waste of money

Terribly disappointed in this product.
Tammy F. . 1 month ago
If I could give zero stars!!!! I absolutely would not recommend this product!!!! I used it twice before it broke. For the price point I would expect better quality. I used the cheap orange and grey Bona mop for years before it stopped working.. What genius at Bona decided to replace the design that holds the brush with such a thin flimsy piece of plastic. Now I must go through the process of either exchanging this in store or ordering and swapping the broken one out Jen sending it back!!!! And manufactures wonder why consumers do what they do. All the over priced items and you still give us trash . Bona you need to contact me asap to make this right, bcos I am very disappointed in this product and I WILL swap this item either honestly or dishonestly you choose, but I will not be out of the cost of this item after only two uses. What a joke and a waste of time
Very Handy Spray Mop
jd . 3 months ago
Very handy spray mop to have on hand....makes quick work on my wood floors..
BB&B Customer . 4 months ago
Do not like the clicking noise it makes while mopping the floor. It is very annoying. The product itself works good.
BONO FLOOR MOP
donna . 4 months ago
I LOVE ALL BONO PRODUCTS
poor design
Angie . 4 months ago
I used this mop twice before it broke
Wide Cleaning Pad Awesome!
KD . 6 months ago
Works great! The wide cleaning pad is awesome and my cleaning time is cut in half from using an electric steam mop.
Broke on first use
GWJ1 . 9 months ago
Absolute garbage unfortunately. Broke on very first use. Bona is a great cleaning product but this applicator mop is not worthy at all. Cheap badly made plastic. Disappointing
great new design!
ELIZABETH . 10 months ago
glad Bona finally got it right! our old mop was leaking - this design is far superior!
Didn't work.
Lynne . 10 months ago
The trigger didn't work. Did one squeeze and then locked up I wanna work. Very disappointed because earlier mops were really good.
Love Bona product
Mermaid . 11 months ago
I love the Bona cleaner, but the spray mop does not work properly. It no longer sprays and the mop assembly won't stick properly.

Originally posted on bona.com
Love this product!
Margot . 11 months ago
Works well. It easy to clean my floors now.
Easy to Use but Short Life
Rnnd . 11 months ago
Overall it's good, but they wear fast. The spray spout leaks after many uses and the lever starts to get stuck.
So disappointed
Wendy in Ks . 11 months ago
It is so hard to get the container off to refill the solution. And now the handle broke while I was cleaning.

Originally posted on bona.com
Pleasant surprise
Donna . 12 months ago
Was going to buy an addition for my Norwex mop but it's unavailable for now. For the same money I got the spray mop attachment and the mop. It does a great job and I'm very pleased!! Price was right too.
Tori . 1 year ago
Was perfect answer to last minute apartment inspection. Easy way to get about 600 square feet of LVT clean fast.
Shoddy build quality
Rohan . 1 year ago
I bought this about a month ago and have used it maybe once. The hinge for the mop is poorly designed in my case it got stuck at an angle while I was cleaning under the couch at a low angle and as I tried to drag the mop back out the plastic just snapped and broke. If a mop is designed to swivel in a certain direction it should not be putting any force on the hinge. The mop is now unusable.

Originally posted on bona.com
Great at cleaning floors
JKO123 . 1 year ago
Excellent mop to clean hard surfaces. Have recommended to all my friends

Originally posted on bona.com
Love this mop!
JANET . 1 year ago
So easy to use. No water messes and get the job done in minutes! I used to have a steamer. It broke and decided to try something lighter to handle with no electrical cords. This is the greatest decision I've ever made.
Showing 1 - 20 out of 251 reviews