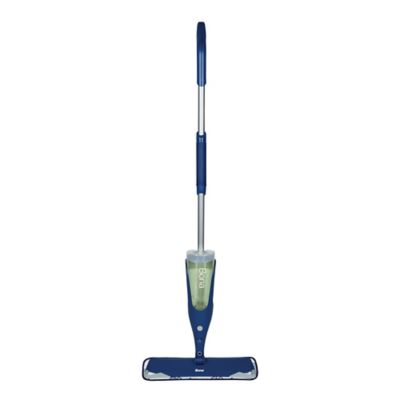 Bona®  Hard-Surface Floor Premium Spray Mop
Most Helpful Positive Review
Leaves NO streaks!
Joanne7
.
5 years ago
I have tried 4 other laminate floor cleaners, including a homemade concoction found on the internet, however they all left streak marks. I decided to give Bona a try and thank goodness I did. The spray mop is easy to use, just spray and wipe, but of course vacuum first to remove any dust bunnies. Bona leaves the floor clean, shiny, and no streaking at all in a matter of a few minutes. Thank you Bona for an amazing product!
Most Helpful Critical Review
Not worth the money
Kel2012
.
5 years ago
We love Bona for our laminate floors, but this new mop is horrible. It sprays without pressing the sprayer and now, the handle broke. All after 2 months of use. My other bona mop lasted 5 years. Very disappointed in the quality of this product.
---
Hello Kel2012, Your satisfaction is important to us. Please call us at 877-289-2662 between 7 AM and 5 PM MST, Monday - Friday, to discuss your mop. We will be happy to help you. Best regards, Bona Call Center
customer reviews
Showing 1 - 20 out of 254 reviews
Shoddy build quality
Rohan . 1 year ago
I bought this about a month ago and have used it maybe once. The hinge for the mop is poorly designed in my case it got stuck at an angle while I was cleaning under the couch at a low angle and as I tried to drag the mop back out the plastic just snapped and broke. If a mop is designed to swivel in a certain direction it should not be putting any force on the hinge. The mop is now unusable.

Originally posted on bona.com
Great at cleaning floors
JKO123 . 1 year ago
Excellent mop to clean hard surfaces. Have recommended to all my friends

Originally posted on bona.com
Love this mop!
JANET . 1 year ago
So easy to use. No water messes and get the job done in minutes! I used to have a steamer. It broke and decided to try something lighter to handle with no electrical cords. This is the greatest decision I've ever made.
Bona Flooe Spray Mop
Dana . 1 year ago
Have one of these back home for 1 1/2 yrs. for our hardwood-does a great job & now one in Florida for our tile floors-love them!
Disappointed
Diannakim . 1 year ago
I bought this a month ago and I am so disappointed with it. This is my third mop I have bought in a year. The spray stopped working while I was using it. The others leaked all over the place. Not worth the money.

Originally posted on bona.com
Why didn't I buy this before
Martha . 1 year ago
Love this mop, it's so easy to use, no more buckets, no more wringing….it does a great job! I'm very happy with this purchase.
Bono mop
Anna . 2 years ago
I have just used this once so far, but on a large floor. It was easy to assemble and is easy to use. It didn't take very much of the cleaning fluid, so I think the bottle will last some time. And the price was quite a bit lower (with my 20% discount) than at other stores. With a washable mopping pad, this is a great deal.
Great product!
Barbara . 2 years ago
I've been very happy with this floor cleaner. Easy to assemble, use and store. Clean up is a snap - remove mop head and throw in the wash. Our vinyl plank floors are clean and shiny after using this mop.
Easy clean up
Kristine . 2 years ago
Made for cleaning my floors so simple
Great product
Marilu . 2 years ago
I love the rubber in the edges it protects my baseboards and furniture
Broke at first refill
jolly . 2 years ago
The first time I tried to refill the spray bottle the grey release button broke making the spray mop useless.

Originally posted on bona.com
Best Mop that Ever Lived
HBomb . 2 years ago
I recently purchased this mop and it is simply amazing. It was easy to assemble and pleasant to use. I just mopped my entire house and it worked like a champ. I think with these type of mops, you get what you pay for. I had been using the Swiffer for years and it definitely doesn't compare - the Swiffer seems to just move dirt / grime around, whereas the Bona actually cleans and the dirt / grime is picked up by and remains on the microfiber pad. I believe the Bona liquid cleaner is much better, as well. My floors are cleaner and so much easier to mop with than a traditional mop, cleaner and bucket! I'll never go back to that. I also like that the sprayer doesn't need a battery like the Swiffer and the microfiber pads are washable. This was money well spent and I would highly recommend it.
Great Job and Convenient
Sandy . 2 years ago
I liked the hard surface mop so well I went back and bought the hardwood floor mop. So quick. No need for bucket and slopping around.
Convenient
BB&B Customer . 2 years ago
Helps keep motivated to clean floor nightly to remove dirt and germs.
Great mop
Noelle . 2 years ago
EASY TO USE, SO EVEN MY KIDS USE IT!
I wouldn't waste my money!
Bernice . 2 years ago
This thing is a joke! Whenever I pull the trigger to release the liquid onto the floor, the mop pops apart, I had to tape it together! For what I paid for it, it was very disappointing! Junk!
Be careful
Mommlh . 2 years ago
While putting together this mop and cleaning bottle, somehow I removed the white cap seal from the bottle of cleaning fluid when I was pulling off the green cap . This was my first time using and I didn't realize that the white seal was suppose to stay on....anyway the entire bottle of cleaning fluid ran out onto the floors and I didn't realize it until I was completely finished. It was spraying like it was suppose to, though I wondered why the microfiber pad was so wet. To make matters worse, I wanted the cleaner for hardwood floors and this was for hard surfaces. I quickly dried my hard wood floors with a towel and a fan...no damage done thank goodness. But be careful taking the green cap off...make sure the white seal remains.
My new best purchase.
Hotnana . 2 years ago
I just love my Bona mop. So easy to use and just throw the pad in the machine. Floors are cleaned without moving dirty mop water around.
Doesn't clean very well
SMG . 2 years ago
I'm not sure if it's just the flooring but we have a vinyl and this just cleans it "okay". I have to let the spray set for a while if there is a spot and then apply quite a but of pressure to the mop to get it to clean up.
Larger mop head less time mopping
Gary . 2 years ago
Easy to assemble. Works as advertised. Reusable and replacement mop heads saves money.
Showing 1 - 20 out of 254 reviews