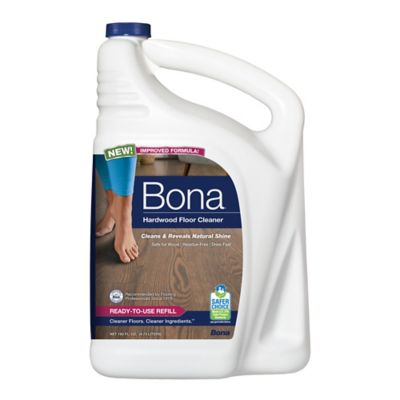 Bona® Hardwood Floor Cleaner Refill 160 oz.
Most Helpful Positive Review
Keeping wonderful hardwood floors
Jane
.
8 years ago
My hardwood floors are looking wonderful even after over two years of use by myself and my husband....this product was recommended and I am so glad that we are using it each week when our housekeeper cleans our apartment...
Most Helpful Critical Review
Doesn't clean and leaves a film.
Nikkijh
.
8 years ago
I used the product for a while but recently felt my floors seemed extremely sticky. I tried to mop several times again with the product and it got worse. I had to use water, white vinegar, baking soda, and DAWN to get the film/sticky off. I spend 5 and a half hours cleaning my floors and getting a weird film in the mop bucket. I then had to go back with a towel and mop again with the towel and the towels came out DARK BROWN. I don't think this product has been cleaning my floors at all. Very disappointed in the product.
---
We greatly appreciate your time and feedback. Bona does take the comments of our customers to heart, and your experience has been relayed to the Bona Team. Please accept our apologies for any inconvenience you have experienced. Thank you for buying Bona floor car...
customer reviews
Showing 1 - 20 out of 140 reviews
Effort Pays Off
Punkie . 4 weeks ago
Our contractor directed us to installing red oak floors 23 years ago when building our house. At times, with 2 kids and several dogs, we wondered if that was a wise choice. Cleaned our floors today with Bona's Hardwood Floor Cleaner and know we made the right decision. Floors are clean, bright and shiny - looks like it could have taken hours, but some concentrated effort got 1200 sq. ft. done in about 35 minutes. Takes some effort, no harder than pushing a mop really, but the payoff is floors that look great. Nice to know that product is water-based, apparently safe for all living things, has no odor and dries quickly without have to blend in or worry about streaking. Bravo, Bona!


Originally posted on bona.com
Super Product
June . 1 month ago
We've used this for years! Beautiful floors are the result.
Great for Wood Laminate Floors
Corinne M . 1 month ago
After doing a lot of research and reading reviews, we decided to use Bona for Hardwood Floors on the Wood laminate flooring in our new house. After almost 4 years in our new house, the wood laminate floors still look like new. We run a dust mop on them every day and use Bona on them once a week. If something does get spilled on them we simply use a paper towel to wipe up the mess and then spot clean the area with Bona to prevent streaks or residue. Thanks Bona!

Great Product for the size
Tiff . 1 month ago
I've been using this product for years and I always get the 16oz from BBB since I discovered it in the store. It lasts a long time and does it's job.
Great product!
BB&B Customer . 1 month ago
This works so great on my new hardwood floors.
Bona is the Best for Floors
Corinne M . 2 months ago
In our new house we have wood laminate flooring in the living, dining, kitchen, and halls. We did a lot of research on the best way to keep them looking their best. We found out a lot of the products claiming to be the best for this type of flooring, actually makes them cloudy and discolored looking. When that happens, you have to strip the floor, reseal it, and then the floor is never the same. After reading customer reviews and manufacturers reviews, we decided to try the Bona since we are elderly and don't want to have to strip the floor. We moved in the end of January 2019 and now it is October of 2022 and our floor still looks like new! Best decision ever! We even invested in the Bona mop which makes cleaning the floor a breeze!
BB&B Customer . 2 months ago
This works great on my new hardwood floors!
It works!!
ERNIE . 3 months ago
Good product
Bono-fide! Great
sandy . 3 months ago
Excellent product Does the job
New formula is horrible
unhappy22 . 6 months ago
I had used this product for years, but won't any longer. The new formula is horrible, and leaves a sticky residue on my floor that I will now have to scrub off. Terrible.

Originally posted on bona.com
LOVE BONA!
Pauletta . 7 months ago
I absolutely love the Bona brand for hardwood floors. This was such a great price at BB&Beyond.
Queens Gal . 7 months ago
Bona does the job. Cleans hardwood floors with no residue.
Excellent product
Houseekeer . 8 months ago
I have been using it for years. I use it for my tile floors and wood.

Originally posted on bona.com
Wonderful Product
Andy . 9 months ago
Great wood floor cleaner. It'll work well with my irobot floor cleaner.
Not what it used to be.
Barbara . 10 months ago
I've used Bona for over twenty years and have always been happy with it. I bought the refill and used it to do my family room, the last room I had to do for this time. I now have an ugly film that shows marks and has no shine whatsoever. I can definitely see where I used the old I had and the new I just purchased. If something is working, why do you have to change it and make it unacceptable? After reading other reviews, I checked and my container says 'original formula', but it is not!
Almost top notch
BB&B Customer . 10 months ago
UGG rug = top notch Razors = top notch Bona cleaner = leaked during transport and the box was soaking wet. Lightning fast delivery for the 3 items.
New Improved Formula
YoGal . 11 months ago
Please go back to the original formula, my hardwood floors always looked beautiful!!!! I hate this New Improved Formula it leaves smudge marks, a film coating, sticky when walked on, and leaves footprints......I can NOT get my floors to look glowing throughout my home. Please help for the holidays

Originally posted on bona.com
Boni for wooden floors
BB&B Customer . 1 year ago
I use every week and it does a wonderful job.
Great product!
Lukiah . 1 year ago
This product was recommended by our hard wood installers. It is the best product we have used so far. It leaves the floor shinny, clean and beautiful. This is the second time I am buying this product fr our vinyl floor. Excellent product!

Originally posted on bona.com
Love this Product - but vac/mop after 6 mths)
Linda . 1 year ago
I loved this product but the VacMop died in less than a year. I'm really upset becaused I stocked up on the mop pads and this large refill item. Can't recommend the VacShop or its supplies>
Showing 1 - 20 out of 140 reviews