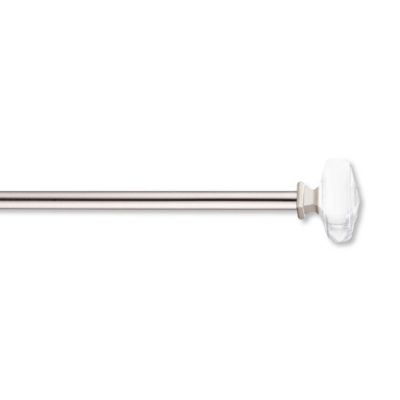 Cambria® Classic Cubic Clear Adjustable Curtain Rod Set
$9.99 - $19.99
was $19.99 - $39.99
(50% off)
customer reviews
Showing 1 - 16 out of 16 reviews
Nice
BB&B Customer . 10 months ago
Put this up in our cabin. Love it.
K a lee . 11 months ago
Great product. Was perfect.
Brass curtain rods
Juquanda . 12 months ago
I love the color it was exactly what I was looking for and goes with my bedroom nicely. It also is easy to install and comes with all the nails and anchors!
Very nice and classy looking
BB&B Customer . 12 months ago
This curtain rod is very classy I like the crystal knob on the end looks nice
BB&B Customer . 1 year ago
Los amo Son elegantes Sólo creo que no escogí el tamaño correcto pero se ven bellísimos
I was not shopping in your store
BB&B Customer . 1 year ago
I am afraid someone is trying to use my identity to purchase items from you and BuyBuyBaby. I had one credit card compromised and have cancelled it. I reported issue regarding email from BBBaby yesterday.
Window rods
Mj . 2 years ago
Very nice and affordable I'm ver happy with my purchase
curtain rod
BB&B Customer . 2 years ago
It looks great
Love this curtain rod
STP . 2 years ago
This rod is sturdy, easy to hang and I love it to bring out the gold in my office.
Classic rod
Darien . 2 years ago
Good value for the money; crystal end add a touch of class to the curtains
Simple but elegant
Heidi . 2 years ago
Very pretty, reasonably priced and easy to install
Nice once done but with a hiccup
Darien . 2 years ago
Bought theses but thought they were mismatched as it was not clear which piece was to be used in the center. Had to figure out that I needed unscrew the smaller end piece to use in the center. A short sentence on the box would have kept me from being frustrated. Once I figured it out they were just what u wanted.
Horrible quality
BB&B Customer . 2 years ago
I was very excited about these curtain rods but when they arrived in the mail, both the rods were bent. I will not be ordering anything else from BBB again.
Rod Material Substandard
BB&B Customer . 2 years ago
Looks nice up, but disappointed about the lack of weight in the rod. It is a very thin material for metal tube. More noticeable on the shorter rod I bought that did no come an a center support like the longer one I bought. It just would not want to use this for a window you need to slide the curtains back and forth every day.
Unobtrusive Elegance.
Bed Bath and Beyond Customer . 2 years ago
Good thing these rods were extendable. They are perfect on my windows. Not showy wjich is exactly what I wanted, and they do the job perfectly.
Beautiful!
BB&B Customer . 3 years ago
I ordered these for our front door, which has glass in the door and on each side. I used a pipe cutter to cut the side one's down to 10" rods and they fit and look Perfect!
Showing 1 - 16 out of 16 reviews