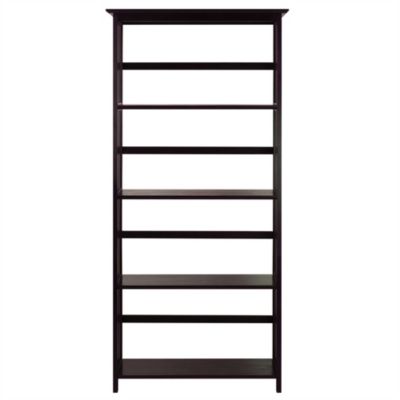 Casual Home Mission Style 5-Shelf Bookcase-Espresso
$121.10
was $135.98
(11% off)
customer reviews
Showing 1 - 4 out of 4 reviews
Holds lots of books
Christine . 2 years ago
It is a beautiful piece. It is stable and not very wobbly. Starts off easy to assemble, but as it is coming together towards the end (before adding shelves), the drilled holes are not lining up as well. Does its job well by holding books and other knickknacks
Nice bookcase
bdt . 2 years ago
Very nice bookcase for the price.
Good value.
Bed Bath and Beyond Customer . 3 years ago
Fairly easy to install. Almost all bolts go in smoothly, a few required a bit more oomph than others. The wooden hole "covers" are best tapped lightly in place with a hammer. A few dashes of wood didn't get painted/stained completely, but once you have stuff on the shelves you won't notice. Comes with mounting hardware to secure to wall to prevent over, but you might want to use molly bolts in the wall rather than provided screws.
Beautiful, but difficult to assemble
Ammr . 3 years ago
The final product looks elegant and does not take much space, which is perfect for an apartment.A lot of a furniture is from IKEA, so we are used to building furniture. This bookcase was trickier than expected. If you are patient, the final product rocks!
Showing 1 - 4 out of 4 reviews