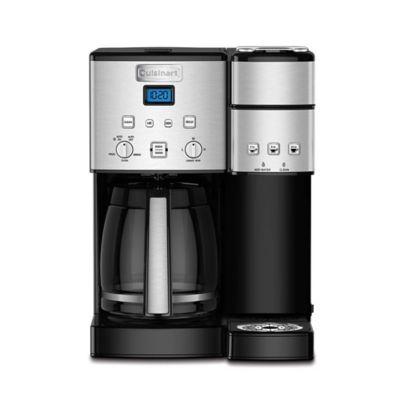 Cuisinart® Coffee Center™ 12-Cup Coffee Maker and Single Serve Brewer
$153.59
Get 20% off & earn 5% back in points with Rewards™+
Enroll Now
Most Helpful Positive Review
Love the option of one pot or one cup of coffee
GraciePye
.
5 years ago
This is my 3rd Cuisinart coffee maker, and it is also my favorite one. Love being able to make a pot of coffee or just one quick cup. The taste of the coffee, I think, is even better with the added feature of a changeable water filter. I thought I might not like the size of it on my counter, but it is only a little wider, and height and depth about same as previous coffee maker. Another feature I like is being able to control how long the heat plate stays on before it automatically shuts off. The only drawback with the design is pouring the water in when making a pot of coffee, it is a rather small opening, and when using the carafe for filling, it is too awkward, especially if you're height-challenged, so it spills easily in to coffee grounds area and beyond, so I use a gallon water jug instead. Problem solved. I never thought a small appliance could bring such delight in the morning, but if you enjoy your morning coffee as much as I do, then I highly recommend this Cuisinart model .
Most Helpful Critical Review
Very disappointed
Will
.
5 years ago
Had this machine for about a month. Followed ALL directions for cleaning,etc. Now, it won't work on the K-cup side. Very disappointed and looking forward to returning ASAP !! DONT BUY THIS MACHINE !!
customer reviews
Showing 1 - 20 out of 6185 reviews
Coffee maker
Gary Rochon . 3 days ago
Everything is easy to use and works awesome and very nice
Originally posted on cuisinart.com
great machine
prunepicker . 4 days ago
this purchase was to replace the same machine that wore out. that said it makes a much better cup of coffee than the old model, must have made some technical improvements.
Originally posted on cuisinart.com
Does the job!
Smoochie . 5 days ago
We had 2 separate cuisinart coffee makers and it takes up lots of counter space. We recently moved and have less counter space so we bought this one to save some space. We were torn between this one and the keurig one but we decided to stick with cuisinart. The reservoir is smaller than we're use to but we try to always brew pots of coffee instead. Also, the carafe is smaller than what we had, by two cups. Other than that, we haven't experienced any issues. Don't hate it but still unsure if I love it.
Originally posted on cuisinart.com
Love it
MTZS . 5 days ago
I love my new 12 cup and single serve coffee maker. Works great and I have decreased my countertop clutter by combining my two coffee essentials into one!
Originally posted on cuisinart.com
Don't buy
PClish . 5 days ago
Coffee maker came to me broken. I can't get replacement parts.
Originally posted on cuisinart.com
Designed for the "Coffee Drinker" in mind
DERJR . 6 days ago
I have had similar products by other manufacturers that were nor close in quality to this Cuisinart Coffee Center. This product is well thought out with the coffee drinker in mind..... It makes the coffee very quickly compared to others and has several very nice features such as setting the temperature of the "Hot Plate" and how long it will stay on. I also like the separate lift off reservoir for the single serve maker along with it not having to be filled each time the single serve is used.
Originally posted on cuisinart.com
Saving space with brewing perfection!
Mel G. . 6 days ago
We have friends that have a different model 12 cup coffeemaker and it makes great tasting coffee! We were using another brand of coffee maker an also using a single cup maker! Counter space is a premium in our kitchen and having 1 coffee maker for both brewing methods this seems to be the best option. And it's working out beautifully.

Originally posted on cuisinart.com
May need exchange
Bed Bath and Beyond Customer . 6 days ago
Not made as well as before. Basket gets stuck, bottom where it gets hot looks burnt, happened 1st month. This is my fourth one, so it's not me
Originally posted on cuisinart.com
LOVE THIS ONE
Mary . 1 week ago
I can't say ANYTHING against this product. It's Amazing, I absolutely Love it, the Brand Name, the Multi-Function, Brews Coffee just Perfect! One Cup Side holds 40 oz. of water, so it's more often Available & Brews Just Fine... Some people are NOT GOOD or Just DO"T READ DIRECTIONS FIRST!!! Cuisinart is a Brand Name I have used for over 35 years. Love it! If something is REALLY wrong, they have ALWAYS stood behind their product. Then there's a LOT of people that can't drive although they acquired a Drivers License-USE YOUR DIRECTIONALS!!!!! & headlights in the rain-we can't see you!!!!! LOVE THIS ONE CUISINART...
Clean light
Java Lovet . 2 weeks ago
Clean light will not go off even after I follow suggestions given by various online sources. I just cleaned the unit and flushed it several times with clean water to remove vinegar.
Originally posted on cuisinart.com
doesn't work
AMac . 2 weeks ago
No power. Won't turn on. Have to return it
won't be buying again and wish I could return it
Bed Bath and Beyond Customer . 2 weeks ago
coffee pot side works great, but single cup side often only shoots out steam for a full minute
Originally posted on cuisinart.com
The best coffee maker
Wildbill72 . 2 weeks ago
One of the best coffee makers ever. I love the features.
Originally posted on cuisinart.com
Works good
Sgood . 2 weeks ago
Great coffee pot but we had a ninja previously and compared to it this one seems to take a long time to brew a pot of coffee. Other than that it works great. Love having 1 coffeepit that does pods or a pot
Originally posted on cuisinart.com
Longtime Cuisnart customer with new purchase
Wallace B. . 2 weeks ago
This is a replacement for earlier Cuisnart coffee maker which was leaking after multiple years of daily use. Left side of replacement Coffeemaker works well and coffee is hot and delicious. On single-serve side, brewer operates as expected other than the brewed coffee water is not as hot as left side. Just OK.
Originally posted on cuisinart.com
Versatile Coffee Maker with a Flaw
Bed Bath and Beyond Customer . 2 weeks ago
Overall, my 12 Cup Coffeemaker and single-serve brewer works well. It is very easy to set up and to use. There is one major flaw. About 50% of the time i place a K-Cup into the holder and close the lid. It breaks the foil top wide open and spills many of the grinds from the K-Cup out into my mug and all throughout the cup brewing area! The only way I can avoid this is to push the K-Cup down until the needle at the bottom goes through the K-Cup before closing the lid! See picture attached. Is there a fix for this???? I have made several pots of coffee and that function works well.

Originally posted on cuisinart.com
Would Not Recommend
Shannon L. . 2 weeks ago
I really wanted to love this coffeemaker, but I don't. I've tried using the single serve side with pods and every time I try, the pods explode. I haven't had any issues with the 12 cup side, but was really looking for a coffeemaker that could do both. Cleaning up pod explosions is the worst.
Originally posted on cuisinart.com
Love it!
DianaR . 3 weeks ago
Great coffeemaker! I use the Keurig while my husband uses the coffee pot! Perfect!
Originally posted on cuisinart.com
Love it until it died
shopper#1 . 3 weeks ago
Love it. Brews quickly. Auto turn-off after two hours is handy. Draw back, my first one only lasted two years then just quit on me. I did go out and buy the exact same one. Hope it lasts longer!
Originally posted on cuisinart.com
Love Our New Cuisenart!
Willan . 3 weeks ago
It's a very attractive, well-made coffee maker. We've always had Cuisenarts, but love the single cup feature. Some folks complained about the single cup "splashing." We placed an inverted little dish on the base. It raised the cup closer to where the coffee comes out. We love it. We, also enhanced it by purchasing a coffee pod storage gizmo on Amazon as well. Both the 12 cup and single cup sides make excellent coffee.

Originally posted on cuisinart.com
Showing 1 - 20 out of 6185 reviews