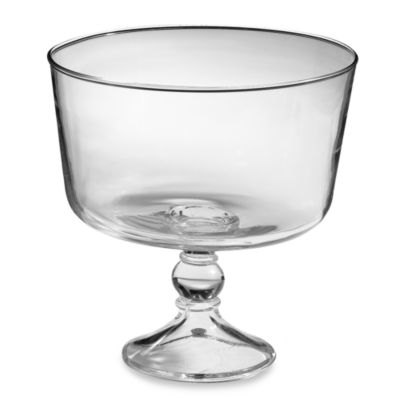 Unavailable
This item is no longer for sale online
Most Helpful Positive Review
Gift to self
Granny
.
7 years ago
Purchased this as a gift for myself...planning to make a strawberry shortcake truffle for Christmas...and many more.
Most Helpful Critical Review
Broke immediately
Chris8186
.
7 years ago
I purchased this, and hand washed it as soon as I got it home, because I intended to use it right away. As soon as I put it in the dish drainer, the bowl cracked where it connects to the stem. I needed to use it right away, so I exchanged it for a new one the same day. When I hand washed this new one, I heard the now familiar "TING" when this one cracked in the same place. This trifle bowl says hand washing is recommended. Warm soapy water should have been ok, but somehow I cracked two in the same day. It seems that the glass is very temperature sensitive, probably due to the change in thickness of the glass. Upon further inspection, I also noticed bubbles in the glass. I will have to return this one, and I will try the Anchor-Hocking trifle bowl instead, as it is dishwasher safe, so I don't expect to have the same problem. I ended up putting my dessert in a plain glass bowl instead. I'm pretty good at hand washing dishes, and I have never had this problem with anything before. I'm disappointed with Libby on this item. Perhaps it was a bad batch, but I'm disappointed nonetheless.
customer reviews
Showing 1 - 20 out of 95 reviews
Nice bowl, good price.
Jabo . 11 months ago
I bought this as part of a gift for my daughter in law. It is nicely made and is heavy glass that should llast a very long time.
Perfect Trifle bowl
Jo-Anne . 1 year ago
A gift for someone. They were HAPPY!
Beautiful Trifle Bowl To Grace All Our Desserts
SUZANNE . 1 year ago
Looking forward to presenting this beautiful bowl with our scrumptious Desserts
English Traditional
Gary . 2 years ago
This Trifle Bowl is perfect if you are a big fan of English Trifle. Presentation is spectacular. Highly recommend BTW serves as a very impressive fruit bowl.
Beautiful
mamarosa . 2 years ago
Beautiful trifle stand, very well made.
Packaging
BB&B Customer . 2 years ago
Had to buy two different ones since first one broke because there is no extra padding around dish in box
Good Quality
BB&B Customer . 2 years ago
Looks good and it is sturdy.
Trifle bowl
Monique . 2 years ago
Exactly what my mom wanted. If not being used for a sweet or savory dish, it makes a great centerpiece.
Best ever!
Stacey . 2 years ago
Exactly what I was looking for at an awesome price!
Broken
db . 2 years ago
Made a dessert on Saturday and went to serve my trifle one day later for Easter. The glass was cracked along the entire length of the bowl, on the inside with my dessert. Disaster!!
Broken
BB&B Customer . 2 years ago
Item broke the first time I used it. We weren't even touching it, it was sitting on the counter and a big crack appeared right through the middle of the dish. Very disappointed.
Bri . 2 years ago
Love making desserts in this container. Makes them look more presentable .
Be aware
Mike . 2 years ago
Took it out of the box, hand washed it, set it in the drying rack and it cracked clear across the bottom of the bowl. Needless to say it will be going back for my money back. Will look elsewhere for a better quality product.
Perfect!
BB&B Customer . 2 years ago
Was a bit scared because I saw a lot of reviews about it cracking but mine worked perfectly! no cracks before or after use/washing. Great size and did the same day delivery which was AMAZING! Great product and great service!
Trifle Bowl
Ruffie . 3 years ago
I love this bowl. It is made well and is of good quality. I would recommend it to anyone!
Great Trifle Bowl
JOYCEFromCT . 3 years ago
This trifle bowl is sturdy. Had it 2 years now and still shiny and in-tact. Good price. No complaints! Enjoy!
Useful!
Susan . 3 years ago
This looked very pretty with a classic trifle in it. Also held its own when I made s mock of the Thanksgiving trifle from Friends (the one that tasted like feet). At holiday time I filled it with decorative Christmas tree balls and it was really elegant. Later in the spring set a pot of hyacinths in it and filled the edges around the pot with pastel shredded paper. Easy to clean, stores well, has been knocked over and didn't even chip.
Just what I needed
KEFSweetTreats . 3 years ago
Perfect item exactly what I need and a decent price. Wish I could have found a fancier one but this works just perfect.
Trifle bowl
Debbie . 3 years ago
Perfect....gave them to 7 people for Christmas. Etched initials on each of them!
Glass bowl with stand
BB&B Customer . 3 years ago
Just what I was looking for to show off my desserts and salads
Showing 1 - 20 out of 95 reviews