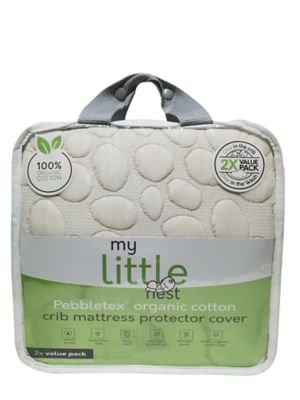 Dreamtex My Little Nest Pebbletex Waterproof Organic Cotton Crib Mattress Pad Covers (2-Pack)
Most Helpful Positive Review
Absolutely love!
DbMomma
.
4 years ago
When I oroginally bought these, i thought, "$50?! Are you nuts?" No. They are not nuts. These are 100% worth every penny. Daughter is now 3 1/2 in her toddler bed. Have used these since she was newborn. The quilting is still cozy and comfy. They are still in perfect condition. Has protected the mattress from allll the gross kid fluids. They've never leaked through to mattress and are completely stain free as they come completely clean with stain spray before washing.
Most Helpful Critical Review
Thought this would work
Detcar207
.
4 years ago
I like there are two pads in the package. The pad is pretty soft but the "bubbles" or cushions where the extra padding is wasn't comfortable for my little one. I used this pad the first time I used the crib and little one wouldn't sleep through the night. I thought it was just the newness of the crib or the mattress. After two weeks of sleepless nights I tried using a different mattress pad that didn't have the "bubble" type of cushions and little one has slept through the night. I like the pad but it didn't work for me.
customer reviews
Showing 1 - 20 out of 39 reviews
ripped
Debbie . 5 days ago
Both sheets in this package ripped at the elastic seams the first time I put them on the mattress. Very poor quality.

not waterproof
Carla . 3 months ago
It's not waterproof at all!!! My daughter is vomiting almost every day because of a brain tumor and I have to wash the mattress every day because these covers lick!! So annoying!!
doesn't fit standard mattress- too small
melRose . 7 months ago
I purchased this just because it's organic and ignored the reviews that it doesn't fit the standard mattresses and is small. Before or after washing IT IS small, but even after washing with warm water the way it's instructed and doing drip dry on the hanged - it's now even smaller than it was. Why did you guys make it this small? This is not a cheap product

Good Quality
BDaerial . 1 year ago
Nice quality; pricey bc comes with two. Deep pockets for thicker mattress which is nice, I have memory foam over toddler mattress and it fits over both nicely.
Very comfortable
Stephanie . 2 years ago
Great mattress pad, washes and dries very well and the material is great! I would definitely recommend buying this!!!
Fantastic Quality!
Michelle Mom . 2 years ago
I am so impressed with this Dreamtex product! Great quality, easy care. And having two is a real help. We have had these for 5 months with and it's been 100% waterproof. Highly recommended.
Great quality, but not waterproof
Megan . 2 years ago
These have held up great in the year and a half that we have used them, but my twin girls are starting to have more leaks at night and these are not waterproof at all! It goes right through. Not worth the money if you are looking for mattress protection.
shrunk immediately!
Madeline . 2 years ago
Washed before putting on our son's bed, which is a standard crib mattress, and they had shrunken to the point of not usable. So disappointed!
Dry Mattress
Amanda . 2 years ago
I put this on my sons mattress and it has kept it dry. Seems to be soft and comfortable because my son sleeps well on it.
Does not fit babyletto mattress
Jena . 2 years ago
Received as s gift. cute and seems comfortable. But I went to put it on babyletto mattress and it was such a snug fit it ripped the sheet at both ends to fit.
Not Waterproof!
Julie . 2 years ago
Disappointed in this cover which seemed comfy and fit mattress well but is not waterproof at all. My son's mattress is now permanently stained because pad leaked through and didn't hold any of his accident.
weird color
AmyTran . 2 years ago
I haven't used them cause I'm due on Sep 2020! A little disappointed when I received them cause in the pictures the color is white, but I received the off white! Seems like it's too old not new packages!
Fits well
Yuanyuan . 2 years ago
We haven't used it yet tho but good quality.
New mom . 3 years ago
Perfect for the mattress
My baby loves it
Zsofia . 3 years ago
I really like this product. What I like about it are the materials used, it is always nice to know that you are caring for your child when you use organic cotton. I also like the softness of this pad and my baby likes it too.
Durable and actually waterproof
BB&B Customer . 3 years ago
I bought and used these mattress pads for both my kids (5yo and 1mo). They have held up with vigorous washing and use. Protect the mattress really well. Would recommend to anyhow. Totally worth it!
Great mattress pad!
Stacey . 3 years ago
My little one is going on 18 months old, we have been using this mattress pad since he was 4 months old. As a ftm I did a lot of research and was not disappointed! It washes great, is waterproof, quiet, comfortable, and durable. Would recommend/buy again
Perfect Crib
GRANNY . 3 years ago
Bought for our daughter. Expecting first baby. It is made very sturdy, cant wait to see my Grandson sleeping in it.
Robert . 3 years ago
This is a great product!
The absolute best!!
Luci . 3 years ago
I got these as a gift for my first child. I made sure they were on my list for my second child! They are comfortable and have protected our children's mattresses through everything! Highly recommend to everyone I know!
Showing 1 - 20 out of 39 reviews