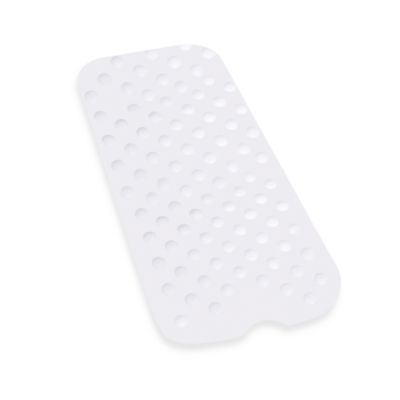 Drive Medical Large Tub Mat
Unavailable
This item is no longer for sale online
Most Helpful Positive Review
Mat that keeps you from falling in the tub
Diana
.
3 years ago
Unfortunately I fell a few times in the bath tub recently and I decided I better get a mat inside the tub before I fall and hit my head or something else and get really hurt. I tried about 4 different kinds of bath mat before this one. They were either slippery, would not stay in place, or material was not well suited for a bath tub. I then came across this bath mat and I saw in the title it said Medical so I figured let me try this one it says Medical. When I put it in the tub it had little raised soft bumps all over the mat, probably 30 to 40 of them, which you would push down on them to make it suction to the tub. Very easy to do and when you stand on it you can't feel any bumps it feels smooth. I have had this Matt now for 4 weeks and it hasn't moved at all. Plus it's not slippery at all and is vinyl so it will clean well. As a matter of fact I love this mat so much since it does not move and is very large covering the whole tub that I went online and ordered 3 more of them so I will have for the future. A great mat especially for an elderly person with balance issues like falling. Love this mat.
Most Helpful Critical Review
Drive Medical Large Tub Mat
Gator28
.
3 years ago
Disappointed in size of mat. States large tub mat but barely covers tub bottom. Came rolled up in box, took two days for rubber to lay flat. Still not completely flat in tub.
customer reviews
Showing 1 - 20 out of 41 reviews
Safe and secure
Helen . 7 months ago
Perfect size and perfect safety for any age at a reasonable price!
Safe and cushionmed
robin . 11 months ago
This is a great tub mat. It is cushioned so feels safe underfoot. It stays in place and is oversized. Great choice.
♥️ It
BB&B Customer . 1 year ago
It covers alot of tub area.
Plaeased
BB&B Customer . 1 year ago
After some usage feels comfortable and durable. No complaints.
just right
lisa . 1 year ago
mat was exactly as described, works well!
Like the long length
Bed . 1 year ago
Does the job. Long length is s a plus since it covers almost all of the bathtub floor.
Stays in place and has non-slip surface
Michael . 1 year ago
This bathtub mat works better than others I have tried and is less expensive. It adheres very well to my textured bottom tub and the surface is textured so there is no slipping on it.
Non slip bath mats
Sharon . 2 years ago
These mats are durable,you won't slip. I slip on another kind of mats,so I have to be careful. They should be a little longer.
Horrible smell
Mary I . 2 years ago
The mat fit my tub perfectly, but I couldn't get past the really bad smell. The smell was throughtout our second floor. Threw it out.
Perfect size for long bathtub
TAM . 2 years ago
Bought two of these for my bathtubs. They fit perfectly and I feel secure getting in and out of my tub. They also feel nice while sitting on them while bathing and don't slip. I have a textured bottom on both tubs and they will stay in place if you press down on the suction cups prior to filling with water. Happy with the purchase!
Came rolled up... can't get it to not roll.
Abby . 2 years ago
Good thick quality mat, but even though we hang it after each use, and try to unroll when laying it back down... it continues to roll. Not sure if there is some secret to get it to stay flat, but we haven't figured it out yet.
Terrible Bathmat
Older Person . 2 years ago
No way is this a medical bathmat. The multiple large bubbles (suction cups underneath) are very hard and hurts bottom of feet. I do not recommend this bathmat.
I feel safe...
PjRapper . 2 years ago
Bought this in-tub bath mat to use with my Drive Medical bath tub chair/seat.. being a Sr. I wanted a feeling of security in the bath tub. It's a wonderful in-tub bath mat !!! Pls buy it; you'll be happy you did :)
Disappointed. Not Mildew Resistant
Zal . 2 years ago
Buyer beware. Product is not mildew resistant. Personally, it was not worth the premium price.

Best Tub Mat EVER!!!
Cara . 3 years ago
Like walking into a cloud....we suffer from planter fasciatis (painful feet) and standing on the hard tub when showering was so uncomfortable...this is so plush and soft, it forms to your feet and hugs them... Feels secure and comfy at the same time.. I'm actually going to go purchase another to put under my kitchen sink rug so when standing to do dishes, my feet won't hurt.. cheaper than the thick rubber mats..... Best find in a long time..... The only thing bad is the gray color, it looks dull already only after a couple of months...will try the white.
Where is my order?
BBB Customer deliver it . 3 years ago
Ordered April 25. BBB indicated delivery 4/28-5/5. It has not been delivered. I have paid for it. No response to my phone calls or my emails. Where is it???
Hasn't been delivered
BB&B Customer . 3 years ago
I wish I could write a review but it still hasn't come. My other two items came right away but the bathmat hasn't shown up. Still waiting even though it was supposed to arrive by today.
Great for baby bath time!
pghMom412 . 3 years ago
We use this in our tub with our toddler and it prevents him from slipping as he plays. It is secure when in the bath but easy to remove in between bath times. The only thing I wish it had was a hole so that you could hang it up to dry on a hook. We poked two holes in it and hang it on extra shower curtain hooks when it isn't in use and that has worked out fine.
Just Right
Lee . 3 years ago
I needed a new Tub Mat and it had to be just the right one which it is. It is definitely a non-stick and does not slip on the tub. The size is perfect as I didn't' want it too large, yet large enough and the main thing is my feet do not slip on the mat, it has a smooth finish which is a big plus as it feels perfect on the bottom of your feet.
Okay, but not the best...
Cf323 . 3 years ago
Not bad, not great. I have plantar fasciitis so standing in the shower for an extended period tends to hurt. This mat is better for the average user; it's not the most comfortable. But its a good length and keeps you from slipping.
Showing 1 - 20 out of 41 reviews