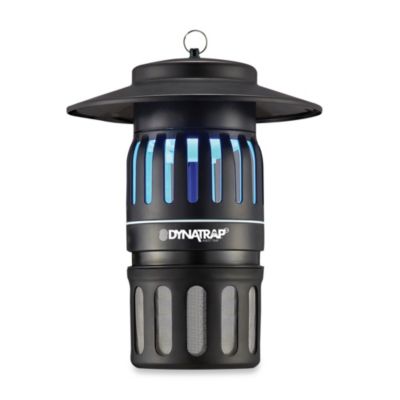 Dynatrap® Half-Acre Insect Trap
Unavailable
This item is no longer for sale online
Most Helpful Positive Review
Dynatrap 1/2 acre
Lindy
.
6 years ago
This product does what it's suppose to do keep mosquitoes away. We hung it between two small yards and have not had any bites in either yard. Very happy.
Most Helpful Critical Review
Bug trap
Nana
.
6 years ago
It does catch bugs but I still have mosquitoes. So it doesn't help to keep from getting eaten up by mosquitoes and that is why I bought lt.
---
Thank you for sharing your feedback.<!--[if ReviewResponse]><![endif]-->
customer reviews
Showing 1 - 20 out of 36 reviews
Not effective nor reliable
Matt . 6 months ago
My first unit the fan stopped working within about three weeks. I exchanged it for another unit and ran it for most of the summer. It filled with harmless moths quickly, caught some midges, and very few mosquitos. I placed it away from light sources, 20 feet from my deck, and observed no difference in mosquito population after nearly four months. I even added a mosquito lure. A fast moving hand is more effective at controlling the mosquito population than this unit.
zero mosquitos caught
BigMac . 11 months ago
We live in Georgia and really need mosquito protection in the summer. We followed the instructions and installed this trap last summer. As far as we could tell, we never caught a single mosquito. We were deadly to the local moth population though!
catches a bit of everything
TSwashere . 12 months ago
I live on ag land in Georgia (growing zone 7b) with all manner of goat, horse, and cow farms all around. For us that means flies, gnats, and plenty of various types of mosquitos. As long as it's small and not strong enough to fight the fan, it gets stuck in here. Luckily, the honeybees and wasps I've seen make it through the fan have powered their way out. I bought two Dynatraps in Fall 2020 and placed one in the front and one at the back of my house. They both stay plugged in 24/7. I do keep them on covered areas and pull them down in mid-Winter if it stays cold, and I've had no problems with the fans or bulbs burning out yet. The picture is what was collected from late January 2022-March 2022. The worst part about these things is emptying them. It is about $15 more per unit than I spent back in 2020, but so is everything else. I'd buy it again if I needed one. It makes time on the patio much more enjoyable.

Great for moths
BB&B Customer . 2 years ago
Catches tons of moths. Mosquito population is unphased. Wasted money.
Does absolutely nothing
Bea . 2 years ago
Does absolutely nothing. We gave it several weeks here in central California. Returned it and still haven't seen the credit pop up on my PayPal! It's been almost an entire month since I've returned it.
STOPPPED WORKING AFTER 45 DAYS
Jennifer . 2 years ago
Followed directions with placement. Worked fine then all the sudden it stopped working, Unfortunately, Bed Bath and Beyond does not except returns after 30 days for this product.
Works well
Cape Cod Mom . 3 years ago
Works well when you run it continuously. I haven't done that but when it is running it does attract flying insects pretty well. Not sure if you can leave it out rain or shine though since it's electrical.
Barbara . 3 years ago
I returned the product. Wanted it for the beach to fish on our private pier and it didn't do much on helping with mosquito population so still got eat up
USELESS
Gary . 3 years ago
I really hate leaving bad reviews, but this one was a bigger deal for me. I bought this to put on my back deck to rid of mosquitoes. It caught every bug out there EXCEPT for mosquitoes, the only reason why I purchased it. On top of that, the light burnt out after 4 or 5 weeks. I returned it.
Greatest Bug Zapper Ever
Noreen . 3 years ago
This is the best bug light ever - no noise like the old bug zappers but it sure takes care of the bugs. We use to hate sitting out on our back deck because of all the bugs but since we got this DynaTrap we can now enjoy our back deck again.
Super
The Q . 3 years ago
The size is perfect. I had bought one maybe 5 years ago. The old one worked, but the blades which are made of plastic cracked and then started hitting the side of the top structure making a very obnoxious sound. Got rid of it and replaced with this one. Love it. Perfect.
still got bit
still2BEitching . 3 years ago
Don't waste your money! Pretty light, that's about it! Still got bit!
great product
vahan . 3 years ago
it killed a lot of bugs and mosquitos.
Like It!
Boomer . 4 years ago
Quiet and attractive. Not sure how many mosquitoes it has gotten but yard is better. The trap came quickly and was simple to install.
Worth every penny!
Gaylynn . 4 years ago
It really works just like the description said capturing mosquitoes, flies and moths and no bees.
Jury is still out...
FRANNA . 4 years ago
I've had it for two weeks and so far not a lot of mosquitoes have been trapped. We have followed the directions exactly and are still getting eaten alive in our backyard. I'm not sure what is going on but I am going to give it another month or so to see how it does.
Bug Zapper
carla . 4 years ago
Since installing the trap I have seen a huge reduction of bites so in my book it is great!
Half Acre Dynatrap
DeDe R . 4 years ago
It does not work s expected. I have the larger one for 1 acre and have had good success. This smaller one has not worked as well.
Not what was expected
Snidey . 4 years ago
Caught some small bugs but didn't stop flys and mosquitoes
I expected more
Auxarcs . 4 years ago
We bought this to combat the rampant mosquito population in our yard. We have less than a quarter acre, so it should have been a no brainer....except that we are still overwhelmed by biting insects. The product does indeed catch bugs, it's not loud or obnoxious, but the fact remains we have a lot of flies and mosquitoes still in the live form. I would not recommend this. I feel like for that kind of money we should at least see a dent in the population.
Showing 1 - 20 out of 36 reviews