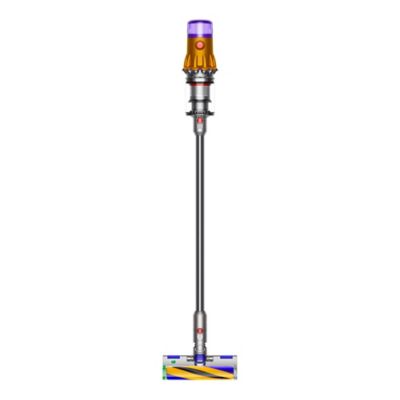 Dyson V12 Detect Slim Cordless Stick Vacuum Cleaner in Yellow/Nickel
$549.99
was $649.99
(15% off)
customer reviews
Showing 1 - 20 out of 211 reviews
drawbacks
Deb17 . 5 days ago
Bought this approx. 1 month ago. Although easy to use I find that it doesn't pick up the dust & dirt that well. It leaves pieces behind no matter how slowly I go over the spot. For the money, I'm very disappointed

Originally posted on dyson.com
Great vacuum
Happy B . 7 days ago
I'm glad to have purchased this vacuum cleaner. I like that it is light and holds a charge long enough to finish vacuuming my entire apartment.

Originally posted on dyson.com
Scary Good!
Audog1 . 2 weeks ago
Just received our V12, and it is going to replace a Dyson V11. We LOVE the V11 and have 2 of them in the house, plus a V10...HOWEVER the V12, with the laser is so much better. No trigger, just a push button, auto adjusts the suction, the laser light shows things we thought were clean, were in fact not. Great product!!

Originally posted on dyson.com
PERFECT balance between power and weight
David A . 2 weeks ago
This little guy is amazingly easy to maneuver around obstacles thanks to its light weight. While I could use a little more suction power, I would rather occasionally make another pass rather than carrying 25-50% extra weight all the time!

Originally posted on dyson.com
Never enjoyed vacuuming this much!
meagan267 . 2 weeks ago
Vacuuming has always been one of my least favorite chores, mostly because the vacuums I purchased in the past did a sub-par job. Since purchasing this vacuum I actually enjoy vacuuming! This machine is incredibly powerful. I am an artist, and I also have a dog. The vacuum is able to pick up tiny particles of glitter, stubborn dog hair, and everything in between.

Originally posted on dyson.com
Great vacuum but not perfect.....
VanCarl . 3 weeks ago
I just replaced my corded vac with the V12 and have used it a few times now. Love the laser which shows just how much dust there really is... The build is cool and the accessories click in nicely... One gripe I have is that the bin ejector doesn't do a great job of emptying without reaching in and hand cleaning it out as well.... also, hair are getting past the gasket inside the bin having to be pulled out from the back... having said that, the power is great and the cleaning ability is better than my vac was for sure. Would have liked to see the lighted crevice tool included in this package as it's nearly totally dark using it where the old vacs' LED lights lit up the crevices perfectly.

Originally posted on dyson.com
Love love love!!
L1L2 . 3 weeks ago
I had a different brand previously and this one is light years ahead of that one! I love it!!

Originally posted on dyson.com
Ok but not great
Kaylee . 3 weeks ago
I had high hopes for this vacuum. When it works, it's great. Love the cordless and bagless. For the price I would expect a vacuum that isn't constantly claiming to be clogged. I vacuum frequently due to having pets and this vacuum can't handle daily routes to stay on top of it. In order to vacuum my small downstairs laminate floors, I have to stop and check for a potential clog 3-4 times with nothing physically there. I had to buy compressed air to blow in order to stop the clog signal from triggering.

Originally posted on dysoncanada.ca
Love my new vacuum.
Barbro . 3 weeks ago
This replaced my old Dyson. I love how it works. Does a great job. I am very pleased.

Originally posted on dyson.com
powerful and agile
ToyPoodle2023 . 4 weeks ago
overall very nice design & engineering, easy to reach to floor under shelves and cabinets, a little noisy which scares my dog, happy with the purchase.

Originally posted on dyson.com
I'm a believer!
Betcha . 4 weeks ago
I was skeptical of the "laser" but it truly works. Virtually everything about this vacuum is excellent. About the only critique I have is battery life. I average a bit under 30 minutes on a full charge which doesn't always allow me to finishing vacuuming without waiting for a recharge. Other than that, top notch! Well done Dyson.

Originally posted on dyson.com
Game changer
LTRN . 4 weeks ago
The Dyson V12 is just what I needed. After years of corded vacuums, this machine makes light of housekeeping. The slim is very lightweight. Several attachments included that are easy to interchange. The laser light the the fluffy bare floor attachment lets me see where all debris and dog hair is. My best purchase. Yay Dyson

Originally posted on dyson.com
Battery life is no good
Willie-Ray . 4 weeks ago
Vaccumm is great.. its unfortunate the battery life is 6 mins.. and no option for direct power
Amazing Stick Vac
Money . 4 weeks ago
My wife and I bought the V12 Detect Slim for our townhouse and it was the perfect choice! Our home has four smaller levels with primarily hard wood floors so the illuminated head works great; it's amazing how much crud is on your floors that you can't see. For the few rugs and one carpeted area, the motor head works great...love the de-tangilng design. Other touches that make this 5 stars are the light weight and good balance (a big plus for my wife) and it runs quieter than our can vac or even our older Dyson. And, the bundled accessories and wall mount means this model comes with everything you'll need in one box. Despite the significant price point, this vac really brings the value.

Originally posted on dyson.com
Good but not great
Steve3086 . 1 month ago
The good: It's slim and light and fairly quiet for a vacuum, and it comes with many attachments. The laser fluffy head is very nice, and overall the vacuum does a good job. The not-as-good: Power-heads for the Slim models aren't interchangeable with those from other Dyson stick vacuums. Why not Dyson?? The multi-surface power head doesn't seem to do as good a job on carpet as the carpet head on my Dyson V8. Of course, I can't interchange them to try the carpet head on the V12 Slim, but my impression is that it's not as good. If you have a small living space or don't mind emptying the dust cup frequently, and especially if you have only hard floors, this is a great vacuum. If you have a medium or large space and/or have some carpeting, I suggest considering the V15 over the V12 Slim.

Originally posted on dyson.com
My Thrid Dyson Cordless Vacuum.
The Reality Man . 1 month ago
Outstanding! Much more powerful and efficient then my old Dyson V7 Animal Pro, which I really liked! I really like the engineering that went into the V12. I'm an 80 year old widower and Dyson Cordless Vacuums are perfect for me.

Originally posted on dyson.com
V12Detect
pete56 . 1 month ago
I have a whole new outlook on vacuuming. I used to hate it and didn't do it as often as I should have. Dyson has eliminated the hassle of a regular vacuum. No cord, no flexible hose, no canister to drag from room to room. Before it seemed I felt i should vacuum the whole house after going through all the effort to get everything out and hooked up. Now I vacuum when I want and where I want. It's quick and easy. That green laser really shows you the dirt. With 3 dogs in the house I should have gotten one of these years ago.

Originally posted on dyson.com
great suction, small bucket, light wt, expensive
Houndwalker . 1 month ago
Bought this replace LG Cord Zero. The V12 has 2x longer battery life but only a single battery, the charging dock on the V12 is less elegant, the dust bin is pretty small but still useful and we like the fast-empty feature and finally push-button operation (which most other sticks have had for a while). The laser on the wood floor tool is both cool and useful. Changing attachments is OK but nothing signif better than the LG. The suction is stronger than the LG. The V12 is nice and light and maneuverable, about like the Cord zero and lighter than other Dysons like the V11. Pretty expensive but seems like it'll last a long time so I suppose it was worth it.

Originally posted on dyson.com
Love my Dyson
BB&B Customer . 1 month ago
I have two Dyson V7's Love them but wanted a bigger battery. I now have a thiird Dyson, the V12 Detect Slim. I agree that the canister is too small. But between the bigger canister of the V15 and the V12, I would still buy the V12, because I LOVE the laser light on the floor attachment. I also think the slim head is useful. I see comments about the benefit of the continuous vacuum button. I agree I like that function. But sometimes you just need to use the vac as a dustbuster so a model with the trigger button is nice too. I have never thought it was so hard to keep pushing the trigger, even as I vacuum many rooms. I would say I am most happy with my upgrade because of the bigger battery.
You want to do a quick clean around the edges
CleaningJoy . 1 month ago
We only get joy out of cleaning if it makes a visible difference. The "Detect" Laser gives the feed-back that cleaning is happening in areas that you didn't see had dust bunnies. We used to bend over with a Dyson Hand Vacuum. Now my wife whips around the edges of our hard floors, and through zones of crumbs almost daily, seeing that she is making a difference. The other features are just super: easy to dump, automatic increase in speed in high particle areas, very manipulatable cleaning head - gets into narrow spaces with just a turn, washable final filter, light weight but sturdy enough plastic, easy conversion to hand vac, washable cleaning head parts and good cleaning heads for carpet & upholstery and storage bracket that charges and stores extra hand-vac cleaning heads.

Originally posted on dyson.com
Showing 1 - 20 out of 211 reviews