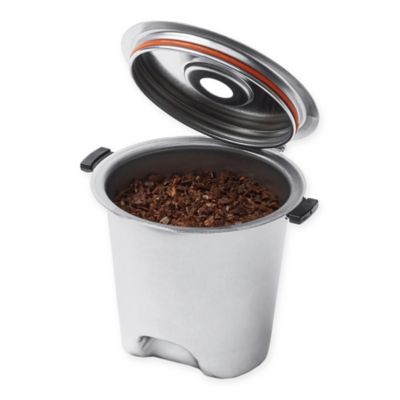 Ekobrew Stainless Steel Elite Reusable Cup for Keurig® K-Cup® Brewing System
Unavailable
This item is no longer for sale online
Most Helpful Positive Review
Like this product
Kittykat25
.
9 years ago
I was very happy that a friend of mine told me about this stainless steel reuse able cup for my new Keurig k cup system I like that I don't have to always purchase the k cups and I can use my regular coffee I have used this several times and the only problem I had the first time is that the fill line is inside the unit and it would be better to see if it were on the outside I also found that once the filter was cool it was hard to get the cup cleaned All in all I do thing it's great
Most Helpful Critical Review
Not a useful product
festive1
.
9 years ago
Just like some of the other reviewers have said, the product I received was not the same as the product shown on this website or on the Ekobrew product packaging itself. The product I received did not have the cone shaped diffusing element inside the lid (as shown) and it did not have the perforated filtering zones on the sides (as shown). It seems the manufacturer has changed their product without changing the picture on the box! This needs to be corrected because it is misleading. The product I received does not work. The brewed coffee can't pass through it properly, causing water backup. I tried various coffees and none of them brewed properly, no matter how coarse the grind. Maybe the item shown in the picture would have worked, but the subpar item I received certainly did not.
customer reviews
Showing 1 - 20 out of 150 reviews
Seems like a good idea
Donna . 2 years ago
Have not used it yet but a back up I think it should be good.
Ekobrew Stainless Reusable Keurig Cup
douogdejo . 2 years ago
I have been using the Solopod reusable filters for Keurig and I thought I would try something different. Unfortunately, the Ekobrew does not brew as well as the Solopod and it is also twice as expensive. I am guessing the micro screen surface area of the Solopod could be the difference. The Ekobrew may work better with medium to light roast coffee as these roasts tend to move water through the grind at a slower rate than the espresso roast I am using. The positives: The Ekobrew will last a lifetime due to its construction and the Solopod will not being made of plastic. So in closing, my observations are based solely on dark roast beans and probably should not be indicative of performance with lighter roasts.
Doesn't work well for me
Philip . 2 years ago
I am not sure if this is operator error, or this design is defective. I used this about 10 times with a standard keurig, and each time there was a new problem. Either a system overflow, too weak, or too strong, the coffee was never consistent and never tasted right. Opted for this more expensive model because of the stainless steel, but seems to just not work properly. Ended up getting a cheap 5-cup drip-coffee maker instead.
Not worth the money
BB&B Customer . 2 years ago
I followed the instruction as indicated but when I run the keurig it stops in the middle indicating a needle malfunction. I've tried both medium and fine grounds and neither work.
metal k cups,
Gloria . 2 years ago
love the metal k cups so you can choose your own coffee. much cheaper to buy ground coffee than buying the k cups.
K-pods to reuse
Debbie . 2 years ago
I love this reusable Cup. We no longer purchase K-Cups as they are sooooo expensive compared to value of purchasing beans to grind or ground coffee. The cup fits the Keurig perfectly. Easy to clean. Just rinse with water and frequently with dish soap and water, seconds to clean.
K-cup
Ochotrojan . 3 years ago
Like the fact that this contributes to less solid waste and is do easy to use with my favorite coffee
Cup of coffee convenience
Michele H . 3 years ago
Best use of a K-cup. Easy travel, easy to clean and very convenient.
Cuts waste; performance mediocre
Dr_johns . 3 years ago
I like that I no longer run boiling water through plastic to make coffee and I that I have no plastic waste. However, the performance of this cup is only so-so. I can only fill the cup 1/2 full or it'll backup/clog and overflow during brew. Thus, I can only make small cups of coffee.
Great filter
John . 3 years ago
I bought an additional one for work. Makes the coffee much stronger and used with paper filters clean up is really easy. Only drawback is that it's extremely hot when your coffee is finished, making it difficult for others to prepare a cup right after you.
I WAS SENT A USED ITEM
AngryExCustomer . 4 years ago
I was really eager to get this in the mail. HOWEVER. Once I opened the package, I discovered that the item's box was RIPPED and bent and the cup had STAINS all over it. This item has clearly been used. I'm not sure how anyone would think it's ok to send their customers USED ITEMS, but I will NEVER buy ANYTHING from here again.

Most useful instrument in my Keurig Brew.
KeuriNated . 4 years ago
Do Not Over Load. Upon brewing coffee, there was an interruption. Loading coffee grounds in excess will cause the brew to stop. Remember, leave a bit of room for the lid to secure closed.
It leaks
Nojji . 4 years ago
It leaks just as well as the $4 plastic one leaks.
Disappointed
ljam . 4 years ago
i'm not Happy buying it and waste of money. My machine reject it.

Great product
Betsy . 4 years ago
Really like this product
Regret
ljam . 4 years ago
it did not fit my keurig 2.0
Tricky to use
Dawn B . 4 years ago
The idea of a reusable cup is great especially using own beans but we have found the cup easily overflows and of beans are ground too fine the cup overflows and makes a mess versus seeping through. We are still trying to figure out perfect amount
awful buy
aintinkebe . 4 years ago
I tried three different grinds with this product and various fill levels. No matter what I did, the pod would burst open and leak out of the keurig.
Great product.
Foreveryoung . 5 years ago
It works great and saves a lots of money and good for environment.
A money saver
Judi . 5 years ago
I received a Keurig as a gift and purchased the Ekobrew Stainless Steel Elite Reusable Cup from BB&B. So glad I did. It saves money and I can use any coffee that I want.
Showing 1 - 20 out of 150 reviews