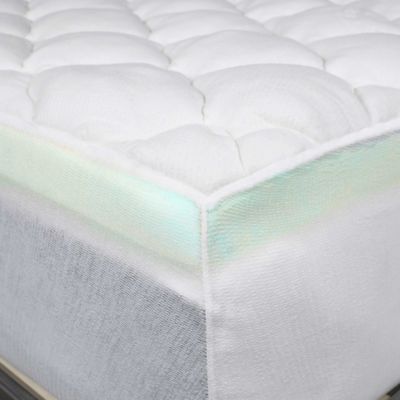 eLuxurySupply® Double Thick Rayon from Bamboo Mattress Pad
$143.99 - $175.99
Get 20% off your entire purchase with coupon!
Enroll Now
Most Helpful Positive Review
I never write reviews but had to with this product
undefined
.
5 years ago
I just bought this last week-I Had a spinal injury and beds and toppers can be tricky for me-This literally is the best, softest, fluffiest, perfectly balanced topper I have ever used. I have tried 10 different brands!!! The batting is so perfectly balanced-no bumps or irregularities-I am now ordering one for every bed in the house and will be my new go to Christmas present!!
Most Helpful Critical Review
Not Comfortable
bambooforest
.
5 years ago
All those glowing reviews. Hmmm. Let me share MY experience. I was under the impression that this was some sort of hybrid mattress topper/mattress pad. Having a firm mattress, I thought perhaps this would make my bed feel a little softer. Well, first, i received my shipment, and surprise, it's just a piece of memory foam, and a mattress pad. Your what hurts? Oh, and it does not make your mattress feel softer. You just sink into a foam valley. It's like sleeping in a foam valley with a firm mattress underneath. My mattress has no issues, so this is just the memory foam doing it's thing. It's just not thick enough to do any real good, though. It makes it very hard to find a comfortable position. I hate sleeping in a valley. It drives me crazy. Furthermore, if you are a side sleeper, your shoulders will get no relief. You just sink straight through to the hard mattress underneath. You had better not have lower back problems, that's all i'm gonna say. What a mess. The mattress pad itself, minus the memory foam slab seems decent enough. Neither item is luxurious. The memory foam slab is just plain old memory foam. No cooling gel, or any of that jazz. The mattress pad has that annoying panty hose style stretchy elasticized mesh. Use caution putting that on your mattress, as it can easily be torn. Honestly, folks, if you like memory foam, just buy a decent memory foam mattress topper, and a separate mattress pad. Or better yet, get the full-on memory foam mattress instead. It's the only real way to get the full benefit of what the foam can do for you. There are so many to choose from.
customer reviews
Showing 1 - 20 out of 283 reviews
Great experience and product!
AmyB . 2 months ago
I ordered this set for my daughter and it's perfect! The ordering process was so easy and the product arrived sooner than expected. Great experience and will be ordering again!

Originally posted on eluxury.com
Very comfortable
Leesa . 3 months ago
We received this mattress pad and we're extremely pleased with the quality and comfort! I highly recommend this product!

Originally posted on eluxury.com
Double Thick 2-Piece Bamboo Mattress Pad & Comfort
fdebraj . 5 months ago
I purchased this for my guest bedroom as the comments I received were that the mattress was too hard. Just this week I had company after purchasing this Double Thick 2-Piece Bamboo Mattress Pad & Comfort Topper and both parties said the bed was "so comfy." I did search many different stores and styles and read many reviews and am happy that I found this. Luxury needs to be aware that when I received the product the box was completely ripped opened by the shipper sitting in a puddle by my front door. There was no paperwork accompanying the product. Fortunately, the contents therein were securely wrapped in plastic and did not get wet.

Originally posted on eluxury.com
Wonderfully soft and doesn't hold in heat.
Snores happily . 5 months ago
I bought one of these several years ago for our queen bed. We switched to a King Tempurpedic and wanted a replacement for the flimsy slippery mattress pad that came with the bed. We also have an adjustable bed and the mattress pad stays snug to the mattress.

Originally posted on eluxury.com
Softened a too-firm bed
Bjmm92648 . 6 months ago
I was embarrassed to realize after sleeping in our guest room for a few nights how terribly firm and uncomfortable the bed was. I have always preferred a firm mattress but this one was just plain hard. Fortunately a friend raved about these eLuxury extra thick bamboo mattress pads and saved me a bundle over investing in an expensive mattress topper (along with the new sheets that would have been required to fit over its extra depth). Having once again spent a full week sleeping in the guest room, this mattress pad did the trick. Not too soft. Not too hard. Not too thick. Not too thin. Just right. And much better on the budget too!

Originally posted on eluxury.com
Awesome
Happy sweepers . 6 months ago
We love ours! It's like sleeping on a pillow! Super fluffy

Originally posted on eluxury.com
2nd purchase!
bevc123 . 7 months ago
[This review was collected as part of a promotion.] So great that Eluxury has a luscious mattress pad for our travel trailer bed. It has made all the difference when "roughing it."

Originally posted on eluxury.com
Just right
SpryTini . 7 months ago
I purchased the regular bamboo mattress pad years ago and have still been using it, with and without a memory phone topper. I have finally made my peacece with the fact that memory foam makes me hot. There is no such thing betting that keeps you from getting hot, the best you can hope for it is something that will make you hot. The original bamboo was wonderful for that but my hips and shoulders were telling me I needed a little bit more cushion without the memory foam. This is that sweet spot! I could not have asked for more patient, effective customer service to help me sort out the right choice. No regrets!

Originally posted on eluxury.com
Comfortable
AHenson . 8 months ago
It makes regular mattress more comfortable After airing out the foam part for a few days,does not have an odor,that was a big concern. Also good value price and good quality.

Originally posted on eluxury.com
Fabulous
AnnieB . 8 months ago
We've been using the regular bamboo mattress pad which is great. I thought I'd try to extra thick one, and it is amazing. It's so soft and luxurious. What a wonderful nights sleep! I highly recommend this pad.

Originally posted on eluxury.com
Extra Plus Mattress Pad
Debbie . 8 months ago
I have bought three of these mattress pads for myself. And one for both my grandkids. Then bought another for both when they went off to college. It's a family affair.

Originally posted on eluxury.com
Excellent after spine surgery!
Senior purchaser . 8 months ago
I have used these toppers on all of the beds in our home. I found this company after spine surgery 3 years ago. I needed softness with support. I use a memory foam pad underneath this topper.

Originally posted on eluxury.com
Bamboo Mattress Cover
Narda . 9 months ago
Great fit. Very comfortable. Best sleep in forever.

Originally posted on eluxury.com
High quality product
Libby . 9 months ago
After purchasing and returning a handful of mattress toppers and pads, this outshined them all. This mattress topper improved the comfort of my slightly overly firm bed significantly so I ended up purchasing another one snd use 2 on my bed!

Originally posted on eluxury.com
Perfect!!
BAndrews . 10 months ago
LOVE this mattress pad, soft and very comfortable to sleep on. Best thing is it is made in the USA!!

Originally posted on eluxury.com
It's made some improvement to my sleep.
Joe4sail . 10 months ago
I am 5'10 and 180#. I purchased this 2-piece set for my too firm of mattress. It hurts my shoulder blades when I lay on my back. My shoulder and ribs hurt when I lay on my side. So I was quite excited for the chance to get better sleep. It's now been two weeks, it has improved my comfort some, but not enough. I really like the top layer with the soft feel of a pillow top. The 1 1/2" bottom layer for me needs to be thicker or something, as I bottom out in either sleep position and feel the familiar pressure points return to wake me in the night. I do sleep a little longer before I feel the pain. Not sure what I will do next.

Originally posted on eluxury.com
Extremely comfortable!
Gig' em! . 10 months ago
Wonderfully comfortable! Plan to order another for my queen bed!

Originally posted on eluxury.com
Total Game Changer
skgCO . 10 months ago
I was previously sleeping on a firm mattress- which was incredibly uncomfortable. I was tossing and turning all night, and sleeping with a pillow wedged around me and between my legs to prevent my hips from flaring up in pain. Buying a new mattress is not an option right now, so we decided to try a topper instead. I am so glad I found this brand, made in the USA, and a great quality for a reasonable price. Most importantly, after sleeping for a week on this topper, I am sleeping better through the night and no longer need any pillows between my legs or around me. I am SO comfortable. We just ordered the same topper for the bed in our guest room. I'm so impressed.

Originally posted on eluxury.com
Like sleeping on a fluffy cloud
Jessi12345 . 10 months ago
I LOVE this mattress topper! Our King was getting tough and tired- my sister recommended this to us. It is so light and fluffy but also supportive for me. I sweat SO much in my sleep and this cover does seem cooling.

Originally posted on eluxury.com
Great Product
Albert . 11 months ago
I bought an extra thick bamboo mattress pad and it is very comfortable and a high quality product. I had to contact customer service, and the response was excellent.

Originally posted on eluxury.com
Showing 1 - 20 out of 283 reviews