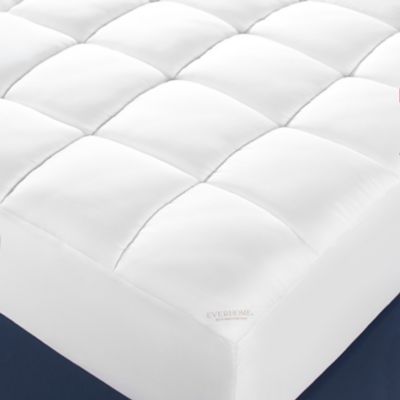 Everhome™ Ultra-Plush 825-Thread-Count Queen Mattress Pad with True Grip®
$63.00
was $90.00
(30% off)
$44.10
Get 30% off & earn 10% back in points with Welcome Rewards™+
Enroll Now
customer reviews
Showing 1 - 20 out of 44 reviews
Love this Product.
Janet . 6 days ago
I love this mattress pad! My mattress is on the firm side and this pad gives it the perfect amount of softness for an excellent sleep every night c
Well made mattress pad
Debbie . 4 weeks ago
Very comfortable, well made, very nice fabric The only thing I would change is to add a little more fill in each sewn square to make it more plush.
Plush mattress pad.
BB&B Customer . 4 weeks ago
This mattress pad really makes a difference on how comfortable your mattress can be.
Super comfortable mattress pad
BB&B Customer . 1 month ago
Needed a new mattress pad, and this one did not disappoint. Just enough thickness to add a little softness, but not too soft. Love it!
PERFECT
Cynthia . 2 months ago
Fits right no curling up from edges! Washes and dries LOVELY
BB&B Customer . 2 months ago
Love this product. Like sleeping on clouds
Does what it says !
Phyllis . 2 months ago
The True Grip keeps mattress cover security in place … not like my precious mattress cover that kept loosing its elasticity, plus it's very plush and comfy. Considering buying another for our guest room.
BB&B Customer . 2 months ago
The best mattress pad ever
Great! But does not fit into our washer.
Camille . 3 months ago
I love the product. It stays on our memory foam mattress perfect. I love that it is washable but it does not fit into our machine. I thought we had an oversized washer but no way to get the pad into it. So only drawback is that I will have to find somewhere to wash it.
Cushy!
Barbara . 3 months ago
Good quality!
Superb Fit & Extra Comfy
Phyllis . 3 months ago
I bought this mattress cover because my old mattress corners kept coming out of the mattress. Not only is this mattress cover snug and stays snug at the corners but it is also thick and comfortable. Love it.
Very Disappointing
Michele . 3 months ago
After reading the rave reviews I was expecting to feel like I was sleeping on a cloud. Unfortunately, my too firm bed still felt too firm, but with the cover it was lumpy as well. We had been sleeping with a comforter under the fitted sheet to tie us over until we found something - the comforter was better than the mattress pad so we have returned to that for now since it is $90 less expensive and 100% more comfortable.
Will not disappoint
BB&B Customer . 3 months ago
Best most luxurious mattress cover I have ever purchased.
A... MA...Z ZING!!!
Wendy . 3 months ago
I purchased this product at a Bed Bath and Beyond in Petoskey only because I wasn't sure what I would be getting if I ordered on line in Canada. I wanted to see the product. Simply put...I am thrilled! It is made in India and is very plush. The drop section that fits down around the mattress fits a 21 inch drop so its perfect for my 17 inch and is a good sturdy fabric. Best of all... it has an elastic that is one inch thick. Once its on it doesn't move and its lovely to sleep on. It is, without question money well spent.

Originally posted on bedbathandbeyond.ca
Mattress pad
Karla . 3 months ago
The mattress pad is very comfortable. We bought one for our guest bed.
Great mattress pad cocer
Tammy . 3 months ago
These cover is perfect. Thick and very deep pockets for a thick mattress. Great value - always use my coupons!
Good padding
Lynne . 3 months ago
This mattress pad has good padding and is comfortable. Only issue is it is not tight around the mattress as I would like it to be. Funny thing my last one was to right and ripped and hard to put on.
Great Buy
Happy Shopper . 3 months ago
Great purchase I can't find anything else of this quality for the price. Very comfortable. It was the perfect addition over a firm mattress.
Very comfortable!
Abbey . 4 months ago
This mattress topper turned out to be just what I was looking for. I purchased a different one previously that proved to be too thin, but this one is fluffy and definitely adds noticeable coziness to my firm mattress.
Well Worth Every Penny
BB&B Customer . 5 months ago
We bought a new bed - I have been a hard time adjusting to a firmer mattress. I bought this and that night I had the best sleep I have had in a year.

Originally posted on bedbathandbeyond.ca
Showing 1 - 20 out of 44 reviews