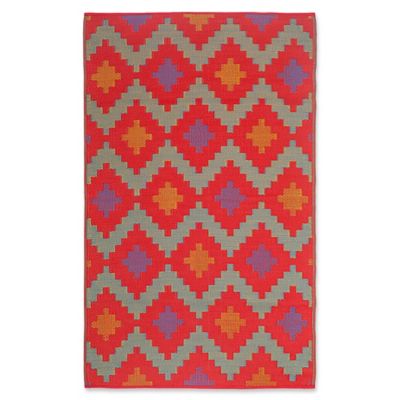 FH Home Jakarta Recycled Patio Mat in Red
Unavailable
This item is no longer for sale online
customer reviews
Showing 1 - 14 out of 14 reviews
Beautiful on porch with my red furniture.
Susie d . 4 years ago
I bought a smaller one, same color for other patio. Love this and so easy to clean. If needed, a water spray will take care of it. Easy.
Pretty as pictured
Nunya . 5 years ago
I was hesitant to get this because I've seen similar ones with bad reviews. SO glad I got it. The colors are very vibrant, it lays flat and there's no weird smell (like with some rugs). Also, I had one of the trusty 20% off coupons so it was a great deal. Just what I wanted. If I could post a picture, I would.
East Maintenance
Pmqu . 5 years ago
I bought this to protect my deck. I am very happy with the quality and low maintenance for this deck pad. The bright colors truly added to the look and with a few chairs and a table - it is like my living room has moved out onto the deck.
Beautiful colors
nanez . 5 years ago
I bought this about a month ago and it has made my deck look great. It has lasted through all the rain and hasn't got moldy or faided. We love it.
beautiful and strong
Ginny . 5 years ago
bright colors and well made. Sits on our patio & we enjoy it every day.
Great for inside and outside
michelle . 5 years ago
I purchased (2) for the outside of our motorhome to keep dirt out. They are so durable and look great. Easy to clean up with water
Something very different....
windstar . 6 years ago
I had no idea that you could make a carpet out of recycled plastic straws !!!! No you cannot see any straws. The straws have been reconstituted into plastic fibers. I have only had the carpet outside for a couple of weeks so I don't know yet how it will hold up to rain, snow, cold, and heat. But it is very colorful and feels very soft on the feet. There is a fabric edge on the long edges so there are no exposed plastic edges. So far we are quite pleased and the price is great for such a large carpet.
Colorful rug is focus of outdoor living space.
Lindsey909 . 6 years ago
This bright, colorful rug anchors a porch space with neutral patio furniture. It is also lightweight and easy to clean.
Splash of color
susyQ . 6 years ago
I use indoor/outdoor rugs in my family room due to the wear and tear of my cats and family. This rug was perfect for this and the bright colors brighten the decor.
Amazing Recycle
auntiem . 6 years ago
I bought two for my terribly pitted garage floor. I glued them down so they wouldn't move when walking or driving on them. I'm hoping they will be easier to clean than regular carpeting. I love the way they look. Time will tell how durable they will be. I definitely feel safer walking in the garage.
Patio mat for enclosed patio
Constanzia . 7 years ago
Liking this mat quite well, especially since I wanted something bright for our enclosed patio & to place under the table in the middle of the room. The mat is very lightweight, so it does have a tendency to push and puff up a little under the table after people have been sitting around the table. But, I don't consider this a big problem and it is very easy to clean and does not show things that spill on it, very readily. I have recommended it to others for similar uses.
Great outdoor patio mat!
Kathy . 7 years ago
This outdoor patio mat looks great on my patio! It really brightens things up out there and I can easily sweep or hose off the thing when it gets messy. I'd delighted with my purchase!
Out door mat
MC58 . 7 years ago
The mat is easy to clean, and doesn't get slippery when it's wet. I have noticed that it is fading alittle in the summer sun.
Great for enclosed patio
Constanzia . 7 years ago
Love this rug, including the fact that it's made of recycled products and it is so beautiful, light weight and adds so much color to our room. Very bright colors, which I wanted and it seems that is is made to last. So happy I found this.
Showing 1 - 14 out of 14 reviews