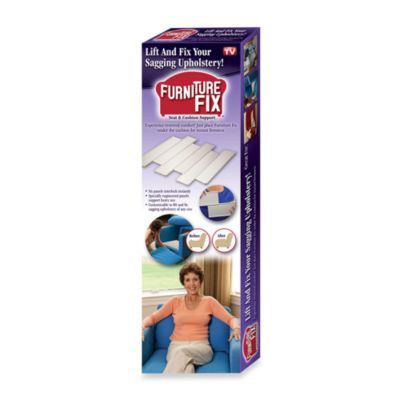 Furniture Fix™ Sofa Support
Unavailable
This item is no longer for sale online
Most Helpful Positive Review
Wow!
LilNinja
.
8 years ago
I am super duper happy with this purchase. This product saved me from having to get a new couch for at least another year! The cushions were just sinking in random places before and God help you if you were sitting in one of the cracks between cushions! But now all of those issues are gone and that's saying something since this couch is around 8 years old! It even looks similar to the pictures on the box (both before furniture fix and even more importantly, after). Be sure to use the right number of panels: 1 set for chairs, 2 for loveseats and 3 for the average length couch.
Most Helpful Critical Review
Don't Waste Your Money!
fs1964
.
8 years ago
I spent $60.00 on 4 sets in order to have enough to use on my sofa. I assembled them according to the directions. No fewer than half of the end pieces broke as I was snapping them on. Once I had them all in place, I replaced the cushions and sat down. The sofa was definitely more firm. The problem is that the material used to make these is very slick. Consequently, the sofa cushions slide off the sofa. HEAD'S UP: The PVC material has VERY sharp edges. 2 of my cushions have tears as a result!
customer reviews
Showing 1 - 20 out of 105 reviews
Ruined my couch
BB&B Customer . 9 months ago
This product ruined my couch. The plastic end protectors do not stay on and the sharp edges ultimately put wholes into the couch fabric. I do not recommend!
Dorothy . 11 months ago
Fantastic
This product actually does what it claims to do !
BB&B Customer . 1 year ago
Love these !!
ajmc . 1 year ago
only problem I had was a few of the end pieces cracked when I was putting them on, but I just made sure they were to the back of the couch. I also bought the last 2 boxes they had in stock (was told you can only get them online now)...I needed 3 for my couch, so I took the ones from my chair to use on the couch. Now I REALLY notice the difference it made to my Chair! Have to order a set soon...my back hurts and I'm sinking!
Stabalizer
BB&B Customer . 1 year ago
Thought this might remove softness from loveseat cushions but not much difference. Would not but again.
Does the job
packratdonna . 1 year ago
Furniture Fix did exactly as intended. The plastic slats provided much needed support under my sofa cushion.
BB&B Customer . 1 year ago
Support is more than I had and it's adjustable.
Pat . 1 year ago
This product works great.
Cheap plastic
BB&B Customer . 1 year ago
Terrible product!! Returned. Does not stop sagging at all.
Not useful
BB&B Customer . 1 year ago
It doesn't really help .... barely a noticeable difference:(
Did very well in supporting our couch!
tld92 . 2 years ago
I was able to firm up both sofa and loveseat with three packages! It is easy to use and works wonders for a sagging couch! Great support!
Good
Susana . 2 years ago
The product works as it described but the quality is poor.
Furniture Fix
BB&B Customer . 2 years ago
This don't do anything. After a while they wilt. Just another gimmick to take your money.
Terrible product
Lisa . 2 years ago
The plastic broke while I was connecting the pieces. It took weeks for delivery.
These work pretty well
Wanda . 2 years ago
I purchased three sets of these for a sofa that was sagging. The pieces are plastic. I am 80 percent satisfied with the results.
Fell apart
jkvegas67 . 2 years ago
Purchased 2 sets from a different vendor; same product. Great idea, flimsy construction and does not prevent cushions from moving. Not worth the money and will only want you to purchase new furniture
They Seem to Work
BB&B Customer . 2 years ago
The design of the plastic end caps is not efficient at all. They keep popping off, and they're not easy to attach in the first place. I had to use super strength adhesive tape to keep them on, but finally, they stayed. The long plastic boards slide together easily and you can stagger them per the instructions to fill out the width of the cushion you place them under. They seem to be giving me the new support I need. I'm ordering another set to add a couple more boards at each end to fill out the entire area under this chair cushion. It's time for a new chair--it's been time, for a long time--but these boards will let me stave off that expense for a little while longer. We'll see how long they last.
Provided Needed Support
Mom in VT . 2 years ago
My chair was starting to lose some of its firmness. With this, it feels much more solid. I've had it for five years, works great.
Extra Support
CarmyCustomer . 2 years ago
Does help a sagging couch with extra support
Anna . 2 years ago
It was terrible I want to return it.