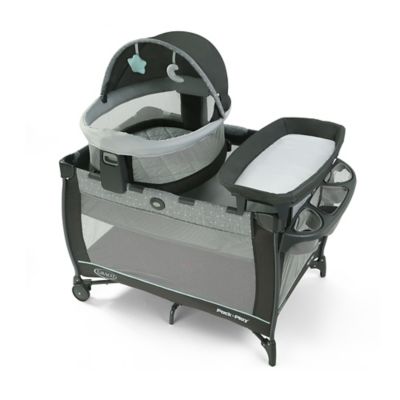 Graco® Pack 'n Play® Travel Dome LX Playard in Astin
$153.99
was $219.99
(30% off)
Most Helpful Positive Review
Great Product, BAD INSTRUCTIONS/READ THIS REVIEW!
Alana And Aaron
.
2 years ago
We received this as a gift off our registry. It is a great product and super innovative, seems sturdy and safe. BUT, the instructions for the bassinet are INACCURATE. My husband was able to set up the playpen and the changing table in no time. But once it came to the instructions for the bassinet, it was so frustrating. The way the instructions tell you to do it, make it IMPOSSIBLE to pop the metal rods in. The fabric prevents you from seeing, so essentially you're working blind. After spending over an hour trying to pop the rods in place, I decided to YouTube it. The instruction video Graco has online IS NOT THE SAME as the booklet instructions. So please, do yourself a favor and save yourself a headache and time, and just YouTube "How to assemble the portable dome bassinet for grace trail dome." The way the woman does it works, so Graco really needs to update their instructions, Essentially, you do not snap the legs in place first, you put the metal rods in them first. Seriously, watch the video! Otherwise, I love the product and can't wait to put our baby in it come October.
Most Helpful Critical Review
Bethany
.
2 years ago
Was so excited to get this off my registry. Then came the day to put it together. It comes with no instructions. (Dumbest thing ever what doesn't come with instructions now a days) spent 40 mins just trying to figure out how to get it together to stand up. Honestly, not impressed at all.
---
Hi Bethany, thanks for the feedback on the Travel Dome LX Playard. All of our products should come with a manual, we're so sorry to hear that yours was missing! We'd love to help you get a copy of your manual. When you get a chance, please reach out to our Consume...
customer reviews
Showing 1 - 20 out of 307 reviews
Horrible
Vanessaa . 4 weeks ago
Mine didn't even come with the instructions. It was difficult to put together
Originally posted on gracobaby.com
Love this pack n play!!
BB&B Customer . 1 month ago
I bought the Annie Graco LX Pack N Play on 9-29-22. Received it very quickly. I bought it for my 2nd grand baby, she arrived on 10-15-22. This pack n play is beautiful, very spacious and everything we had hoped for. I would highly recommend this pack n play.

Originally posted on buybuyBABY.com
Absolutely love!
Lima . 3 months ago
This is great! We use this as our main changing station. Our child doesn't like the bassinet as much but the doc-a-tot fits right in so if we put that in the bassinet, he can be there for a very long time. Material is great!

Originally posted on buybuyBABY.com
Totally Recommend
Monique . 3 months ago
We love this product it's durable, easy to assemble and love the color that was purchased for us.

Originally posted on buybuyBABY.com
Best purchase for baby!
NMFC . 4 months ago
This Pack n Play may be the best thing we purchased for baby. We were originally going to get a bassinet for baby to sleep in for the first few months, but opted for this instead. The bassinet attachment is perfect for a newborn, and we didn't need to spend money on an extra item. I love that the bassinet sits above the unit so we don't have to bend down far to pick up baby. It packs down really compact which will come in handy for visits with grandparents. I definitely recommend this Pack n Play!

Originally posted on buybuyBABY.com
Cannot wash
BB&B Customer . 6 months ago
I was very disappointed with this. My first baby had bad acid reflux and spit up in the bassinet a lot as a newborn. There was no way to clean it. I tried removing the pad to put in the wash and ended up having to cut a slit in it. The part below the pad cannot be removed because it is attached to a piece of cardboard, which became wet and gross. Even after washing the pad, it still smells horrible and there is spit up stuck in all the crevices. I had really hoped I would be able to use the bassinet for future children (especially considering the price). I would definitely not recommend. Babies makes messes, and this product is not meant for that.
I don't known what
memberd438d1 . 6 months ago
I don't known what we would have done without this! It was a game changer in the beginning because it had everything we needed all close together. We could easily move our little one around if we needed to and everything was easy to disassemble. Loved it!
Originally posted on influenster.com
Nice, but middle gives out eventually
Ashley I. . 7 months ago
I was really excited when we got this. I put it on our registry and someone gifted this to us for our baby shower. It was great at first, and every useful for travel, but now it dips in the middle and our baby seems uncomfortable when she sleeps. If she lays on her stomach she's almost in an arch position. A friend of mine has had her pack n play for over a year and I noticed that hers doesn't do that, it's stayed firm and flat.
Great
Sunshine - moon . 8 months ago
Love it as real useful for travel and easy to carry it.

Originally posted on buybuyBABY.com
Awesome
Kimberly . 9 months ago
This pack n pay is perfect! My infant granddaughter sleeps in the dome while I watch her. They can grow with this pack n pack. Great investment!

Originally posted on buybuyBABY.com
Love everything except the changing table
Iesha . 10 months ago
This is a great pack and play except the changing table attachment I received is faulty. I tried contacting Graco for a replacement and haven't heard anything back which is very frustrating.
Originally posted on gracobaby.com
Mattress won't lay flat
Sarahmarialane . 11 months ago
We got this play yard and bassinet for our newborn daughter because we loved the one we used with our son. We can't use this one though because the mattress doesn't lie flat. It has a big bubble in the cover that tents upward in the middle. It causes a 3 or 4in gap between the mattress and the side of the play pen. I waited to write this review because I thought it settle down and lay flat eventually but it hasn't.
Originally posted on gracobaby.com
Fits the need!
Sharon . 11 months ago
This Pack 'n Play fit the need for our twins in our downstairs family room. The changing table will be used for a long time! The bassinet worked for the first couple of months too. Good quality and Great product.
Unsafe
Holly . 12 months ago
I was so excited to receive this off my registry. The bassinet is SO unsafe! My baby rolled from one side to the other at 1 week old! He was stuck by the mesh when I woke up to him screaming. I don't understand how this can tilt so much. I will not be using this and I am so sad that others are having this issue as well. This should be recalled.

Originally posted on buybuyBABY.com
It was a baby shower gift
VeryCareful . 12 months ago
for my niece (from the registry) and she loves it...
Loves it!
Gigi . 12 months ago
My granddaughter loves this play yard and uses it constantly for my newest great granddaughter! So happy to find it in the color she wanted and at a great price at bed Bath and beyond!
Baby shower hit
Excitedauntie . 12 months ago
My niece was ecstatic to receive this at her shower. Cant comment further as she hasn't finished setting up the baby's room.

Originally posted on buybuyBABY.com
Pack and Play
Boot1954 . 1 year ago
Good brand I trust the products, I also purchased the Duet Glide LX
Originally posted on gracobaby.com
Assembly Instructions
JackBB . 1 year ago
We just purchased this and the Instructions/setup information is terrible.Don't throw away the box because you will need it for pictures to be able to assemble. Would of bought another brand just because of setup instructions.
Originally posted on gracobaby.com
Worth the money!
Kylie . 1 year ago
Easy to put together, functional, and cute. Def would recommend

Originally posted on buybuyBABY.com
Showing 1 - 20 out of 307 reviews