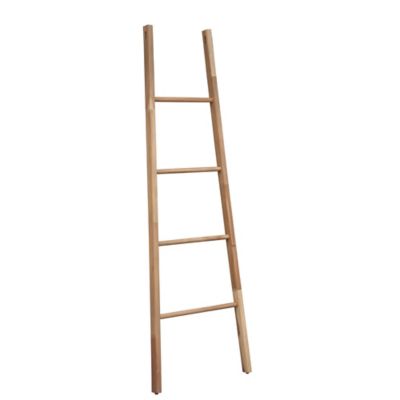 Haven™ Acacia Wood Towel Ladder
$29.99
was $60.00
(50% off)
customer reviews
Showing 1 - 20 out of 20 reviews
Ladder
Karen M . 2 months ago
Very happy with my towel ladder looks awesome in my bathroom. Get many compliments from it. Great quality and price from bed Bath and beyond, my friends were impressed
Looks great!
ALYSSA . 3 months ago
This was a steal compared to other ladders Id been scoping out! I love the look of it in my bathroom! It was exactly what I had been searching for! Highly recommend!

Escalera para toallas
BB&B Customer . 3 months ago
No creó que sirva solo podria 1 toallas demaciada pegueña y no igual a la ilustrada casi blanca sirve para tiallas de mano
Great deal!
ARose . 4 months ago
I love how this ladder came assembled and boy was the shipping fast on this item! Perfect for my master bath, I love the finish on the wood. Perfect size for what I was looking for also! Very happy!
low quality wood
xk2130 . 7 months ago
Wood came with weird stains. Not the highest quality. You get what you pay for I guess

Just Okay, Not Great
MESD . 8 months ago
The ladder is shorter than expected, it is not 59", mine measures 58". It is thin, not a polished finish, short, nice neutral color, lightweight. It is okay for displaying 2 blankets. Most of these ladders are much more expensive than this one, so for the cost it is fine. It is intended as a towel rack so probably will fit/work better in the bathroom.

My bath is cute and price good
BB&B Customer . 1 year ago
I recommend it
Right size and nice looking
Adam . 1 year ago
We bought two of this to use as his and hers place to hang clothes - instead of using a chair or the floor... We really liked the lighter color of the acacia wood and even if the wood was not completely smooth, the texture and quality is very nice.

Acacia wood ladder
BB&B Customer . 2 years ago
the ladder is a great size and simple stature for towels!..really like it!
Beautiful ladder
BB&B Customer . 2 years ago
I love this ladder great color and it came together so I did not have to but it together.
Blanket ladder
KLK . 2 years ago
I have been looking for such a "ladder" rack for some time. Usually they are very expensive. I am using this one for a collection of Pendleton blankets. It is study, nice looking and a very reasonable price.
Has a purpose
Barbara . 2 years ago
It does what it's supposed to. Keeps blankets neat. Not too big or too small. Will not hold a big blanket. Good for average ones.

Awesome Acacia
Kat . 2 years ago
Looks beautiful! The only downside is if you put a wet washcloth on it the rung you use will darken over time due to the dampness. That's the only reason I gave it 4 stars.
Towel
Mimi . 2 years ago
Good
Very Nice
Martha . 2 years ago
Very nice for pool bathroom
Ladder display
Dee . 2 years ago
A great way to display quilts.
Solid and Beautiful
Happy Shopper . 2 years ago
Beautiful ! Lovely wood with a soft finish.
Wood ladder
Carol . 2 years ago
Bought for our new bathroom. Well made and stylish.
Awesome Towel Ladder
Sue14 . 2 years ago
I love my new towel ladder! Nothing fancy just nice and simple and does the job.
Looks great
BB&B Customer . 2 years ago
Nice finish, doesn't look cheap. Solid and sturdy, not wobbly or rickety. Wood is real, reminds me of bamboo, it is smooth and finished, but not shiny like some cheap furniture can be. Color is not too dark or too light. I actually use it to display my quilts, and it hold the weight well.
Showing 1 - 20 out of 20 reviews