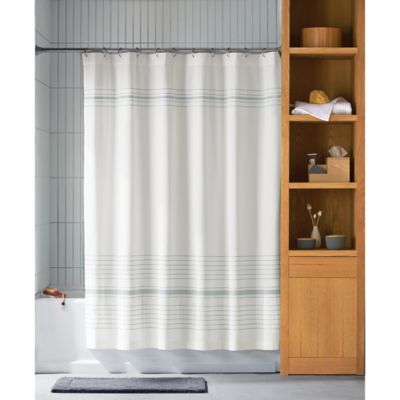 Haven™ Chambray Stripe Organic Cotton Shower Curtain
$10.00 - $10.50
was $35.00 - $45.00
(77% off)
$8.00 - $8.40
Get 30% off & earn 10% back in points with Welcome Rewards™+
Enroll Now
customer reviews
Showing 1 - 13 out of 13 reviews
Looks great in the bathroom!
BB&B Customer . 3 months ago
I wanted something white and gray and this looks great!
love the look
Noemi . 3 months ago
look very fresh, and elegant .
very nice /but organic?
Linda . 4 months ago
It is a nice cotton shower curtain and drys fast but the tag on the curtain says cotton and not organic cotton. Is it really organic cotton?
Super cute!
Kayla B. . 10 months ago
This shower curtain is thick and good quality. The stripes are not very vibrant but I like that. The curtain defiantly brights up my small bathroom. Over all I really like the quality- it's perfect for the space.
I love this shower curtain!
Ali . 10 months ago
The texture is unlike no other and it feels like it is meant to last! The material appears heavier than a standard shower curtain but remains lightweight. Will most definitely be looking out for other color selections of this brand and style as I am now HOOKED!

Clean and Beautiful Curtain
Francesca . 10 months ago
Great quality and beautiful tone of color! I was looking for a "pure" shower curtain so as not to overwhelm the tone of my guest bathroom. The design of the curtain was simple, elegant and clean. The weight was not overbearing causing it to bunch up in certain spots when pulled for tub access. It was also easy to wash and dry!

Chic and modern
Robert H . 11 months ago
Nice curtain, quality, and look. Modern and chic. The gray is subtle which I like. The feel is nice as well. Was a nice inexpensive upgrade. This will last for sure. Needs to be ironed before hanging.

Fits perfectly
Cheryl . 11 months ago
Great addition to my bathroom decor. Adds a touch of elegance to my plain white shower liner I was using as a shower curtain. Fits great and looks nice. Haven't washed it yet so can't say how it holds up in the washer. The color was lighter than shown but still looks great with my wallpaper

Nice quality curtain
AJ . 11 months ago
I like the pattern on this curtain and the texture seems like it is good quality. I'm going to be doing a total redo of our bathroom and I like the clean crisp white with a hint of color in the steps. It's going to work well with what I'm thinking. Would buy again
High quality, neutral tones = perfect!
Susan B . 11 months ago
This shower curtain is crisp white with lovely grey stripes. The neutral tones are a perfect compliment to any bathroom, because it matches any décor. It is high quality. I love that it is organic cotton, but is also machine washable.
Great quality and material
JOD . 11 months ago
This is a lovely shower curtain! It looks elegant and very durable. It's neutral so it would go in most any bathroom. It's easy to hang and just the right size and length. I haven't washed it yet, but the material looks as though it would wash beautifully and not wrinkle. Very happy with it.
Well made organic cotton shower curtain
SJGF . 11 months ago
It's difficult to find a shower curtain that passes the "Goldilocks" test - not being too long or too short, too overpowering or too dull. This one passes each of those tests. It's well made of organic cotton, it's simple and elegant but not cheap. And it isn't wildly expensive. It's especially perfect for a small or second bathroom.

Very pretty lightweight shower curtain.
M Maca . 11 months ago
Very nice farmhouse style shower curtain. Very light weight and helps brighten while taking a shower if in a low light situation like I am. Also brightens up any bathroom with its light color and minimal features.
Showing 1 - 13 out of 13 reviews