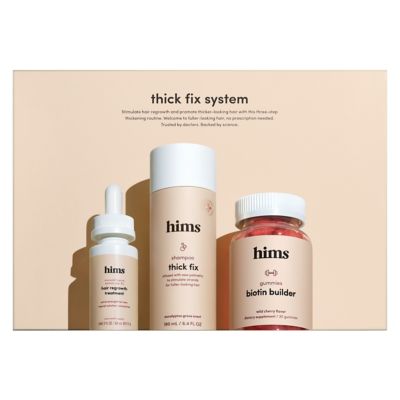 hims® 3-Piece 22 oz. Thick Fix System Hair Regrowth System
$23.99
Get 20% off your entire purchase with Welcome Rewards™+
Enroll Now
customer reviews
Showing 1 - 20 out of 90 reviews
Fantastic Shampoo and Set
Bed Bath and Beyond Customer . 1 year ago
I am a stickler for the scent of a shampoo, and this stuff smells fantastic. Also, the gummy supplement I expected to taste terrible but they were at least tolerable. Not nearly as bad as I expected. Overall I'd say this is a great option!
Originally posted on Forhims.com
Decent product
Dude . 1 year ago
Was a decent product the taste of the gummies was not my favourite though and I had a slight burning sensation which was unpleasant with the shampoo and treatment
Originally posted on Forhims.com
EH
JRE . 1 year ago
I didnt really feel or see a big difference. Followed instructions, during shower it did feel minty/tingly but I did not notice a difference at all.
Originally posted on Forhims.com
Great product
Bed Bath and Beyond Customer . 1 year ago
I received hims Total Hair Package via BzzAgent. I used the shampoo first due to loss of hair. After 3-5 days of using it I not the loss of hair was not as bad. I then used the hair regrow the and noticed some of my hairline filling in a bit. I added the vitamins and after all combined my hair loss improved to the point where I feel much better with my hair and hairline.
Originally posted on Forhims.com
So-so at best
ThatGuy . 1 year ago
A nicely put together kit, seems thought out. The gummies tasted good-hard to say if they really helped with hair growth or not on their own. The shampoo felt good, smelled good and made my hair feel clean. The hair growth drops were extremely drying to my scalp and I couldn't finish the bottle because they dried out my scalp so bad. Hims may want to think of switching to the newer minoxidil formula of moisturizing foam that a lot of companies are offering. Overall, I don't think I would recommend.
Originally posted on Forhims.com
Didn't really see a difference
Jim . 1 year ago
I can only state my experience with this product I really didn't see a difference but thats just me it may work for someone else thou
Originally posted on Forhims.com
Doesn't work
balding . 1 year ago
The hims total hair package with shampoo + gummy vitamins + minoxidil treatment does not work long term. It might make your hair fluffy and show some signs of overcoming reducing hairline, but all those signs are temporary and it does not prevent or stop hair loss in the long term.
Originally posted on Forhims.com
Strengthening
Ben . 1 year ago
I was skeptical about this shampoo but it does make you feel like your hair is thicker. I didn't see any difference in the fullness but it felt very thick and clean.
Originally posted on Forhims.com
Love this product
Tocan . 1 year ago
Seriously love this product I didn't think it would work because I've tried many things before without resolve however this left my hair growing like never before smells unlike most medicated shampoo's leaving me feeling clean and fresh
Originally posted on Forhims.com
Works great!!
Brad . 1 year ago
I loved the hims shampoo and gummies! After a week of use my hair definitely felt stronger and thicker. After a month I noticed significant growth. More than a month without using hims.
Originally posted on Forhims.com
The line feels and tastes incredible
Drbreton . 1 year ago
The gummies: Taste grate, no aftertaste, and the dont make my stomach bad The Shampoo: leaves your hair soft, unlike other shampoo hair grow brands The topical minoxidil: great!, no greasy feeling on your hair.
Originally posted on Forhims.com
Great products!
Happy customer . 1 year ago
The shampoo was among the thicker and most lavish I've ever used and smelled wonderful. The vitamins were a nice consistency and did not feel or taste like candy or kids vitamins.
Originally posted on Forhims.com
It works!!
Ryan C. . 1 year ago
I'm not sure it regrew hair, but it definently has stopped the thinning I was having problems with due to thyroid problems. My hair feels fuller and my nails seem to be less brittle. For the price it's worth the money, works better than more expensive products I've tried.
Originally posted on Forhims.com
Really works
Bill M. . 1 year ago
I received a free sample of these products in exchange for my honest review. Out of the box, this seemed like a lot to keep up with, but I assure you it's not. The gummy is once a day, and tastes good, and has a great side benefit of making your fingernails stronger. I actually had to argue with my kids about them because they thought they were candy. The shampoo is likewise a no brainer. You use it like any other shampoo and it just so happens to give you thicker hair. The minoxidil is the only product that's somewhat unusual to use, but it's honestly not difficult at all and it's the one that really produces new hair where you need it. All in all, this stuff requires minimal additional effort compared to your normal routine and produces results. I highly recommend trying it.
Originally posted on Forhims.com
Works - be patient
Marky1 . 1 year ago
Hims Total Hair Package works - but you must be patient. The package is easy to use taking the gummy vitamins daily & using the shampoo every time you wash your hair. & then apply the minoxidil. I began to notice less shedding after about 2 weeks of use. I can't say that I see new growth at this time, but I am hopeful continued use will prove successful with regrowth.
Originally posted on Forhims.com
Hims works for me!
Zac . 1 year ago
This has been a difference maker for me. The shampoo and Minoxidil have drastically slowed my hair loss. The gummies taste great and have been a good addition to my vitamin regimen. Without these products I was seeing drastic hair loss. Now it has slowed down and I am keeping my hair. I highly recommend this to anyone wanting to keep what they have!
Originally posted on Forhims.com
Soso
Palaemon . 1 year ago
This was my first hair growth kit so i sadly can't currently compare it to other similar products. That said, the kit didn't really work for me. After going trough the whole treatment, I wasn't able to observe any improvements. One of the effects is looking even more hair but i didn't even observed that. About the products quality i can say they are of high quality and pleasant to use. The only reason why i wont recommend this product is because it seem like it was not the right product for me.
Originally posted on Forhims.com
Pluses and minuses
Bcb276 . 1 year ago
I would say that this is overall a good product. The reason it was given a 4 star was the average of all the products. The highest rated product in the package was the gummies. They were phenomenal. Great taste and great results with my hair and nails. The shampoo was okay. Not a huge fan due to its not very cleansing. And the minoxidil was average.
Originally posted on Forhims.com
Results may vary
Dude Guru . 1 year ago
I could definitely see how this combination of products would stimulate hair growth and the process is made easy in the kit. However, this testing supply isn't nearly enough to evaluate the effectiveness.
Originally posted on Forhims.com
Unbelievable product that actually makes your hair grow back
Chrisdaman . 1 year ago
Wow this product blew my mind with the results!! Unlike most products that claim they help hair they don't actually do anything to help the hair growth. But this product has ingredients that help your hair processing work .
Originally posted on Forhims.com
Showing 1 - 20 out of 90 reviews