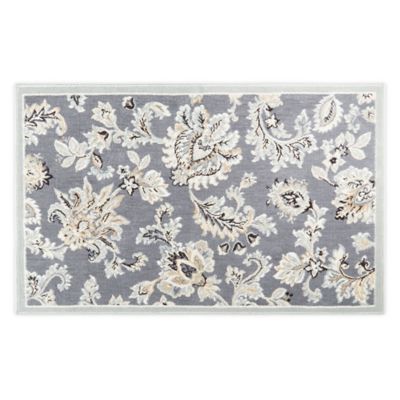 Home Dynamix Westwood Floral 1'6 x 2'6 Accent Rug in Dark Grey
$17.59
Get 20% off & earn 5% back in points with Rewards™+
Enroll Now
customer reviews
Showing 1 - 20 out of 37 reviews
love the print
Ro . 3 weeks ago
I bought 2 rugs in the store because I loved the colors ad print. They only had 2 so I ordered more onlne and the color was lighter but kept it. Wish they were a bit more plush as well
Disappointing
Jean . 3 months ago
I uploaded a photo to show you what has happened to these rugs after just one wash. I have bought a total of seven of these rugs, 4 grey and 2 taupe of the larger size, one grey small (3 at the store) Three of the larger grey and one taupe have all had the same trouble. The edges are coming undone. As you can see we only just received 4 of these rugs and three of the ones with lose edges are from the most recent. One wash and they are damaged. We are being careful washing and not putting them in the dryer, so I think this is inferior workmanship.
Mary . 4 months ago
Love my new accent rugs!! Go perfect in our new bathroom!!
Unique design rug
BB&B Customer . 7 months ago
I really liked this rug and pattern. Washed it for the first time and am disappointed that the corners curl. We have to be careful so as not to trip.
Beautiful
pmurr . 7 months ago
I love these rugs! They are so pretty and nice weight. They look gorgeous in my bathroom.
Excellent-Beautiful Pattern
CARRIE ANNE . 1 year ago
Goes Great with my updated bathroom
Wonderful design
BB&B Customer . 1 year ago
I really like this rug's design and coloring! I haven't quite decided to keep in at the kitchen sink yet, but will find a good space for it somewhere in the house!! It has good grip and can be easily picked up and moved.
Sandy . 1 year ago
Really pretty ! And made extremely well ! Great quality !
watch your step
BB&B Customer . 1 year ago
needed something to go with the surroundings, great choice
curl test
BB&B Customer . 1 year ago
The rugs are beautiful but have a tendency to curl on the edges.
Beautiful
Barbara . 1 year ago
Beautiful rug, Holding up under human and dog traffic.
Accent rugs
Mary Gaffney . 1 year ago
Good quality.
Great quality
ChrisL . 1 year ago
This area rug is perfect!
Not great
Beatriz . 1 year ago
It comes apart very easily when cleaning. Frayed corners.
Love it
BB&B Customer . 2 years ago
The handyman who replaced my bathroom baseboards got glue all over the previous throw rugs so I got these two and love them. Lesson learned
Love it!
skdclc . 2 years ago
I don't care for shag rugs that look matted after a short period of time, I wanted a rug that looks great way after multiple uses. This fit the bill exactly. Looks great on the floor and matches my time very well. Classy!
Kitchen rugs
Linda . 2 years ago
Love ! Quality and very pretty
Rug
BB&B Customer . 2 years ago
This rug is pretty but the corners keep curling and making walking on it difficult.
It will do but has challenges
SWP . 2 years ago
This rug is pretty thin, so much so that a vacuum cleaner pulls it up. The edges started fraying the first time that I washed it so I fear trying again.
The only one on the market
BB&B Customer . 2 years ago
There may be others, but I haven't found them. These flat weave mats don't interfere with my door (which all other higher pile mats do!) and the design is lovely. Really livens up my bathroom.
Showing 1 - 20 out of 37 reviews