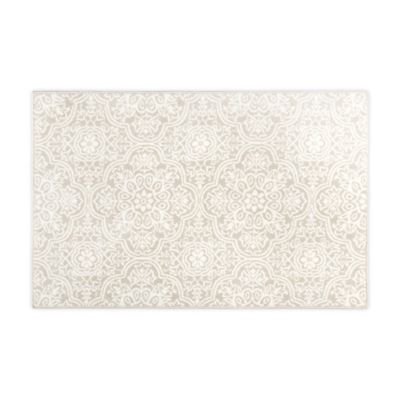 Home Dynamix Westwood Floral Medallion 1'6 x 2'6 Accent Rug in Taupe
$17.59
Get 20% off your entire purchase with coupon!
Enroll Now
Most Helpful Positive Review
Very Happy
SCShopper
.
6 years ago
I needed a rug for the back door entry. It's in the living room, so I wanted it to look nice, but the traffic in and out of the back door brings in sand, grass, and who knows what. The rug needed to be washable. I am very happy with this rug. It is really pretty, great colors, and looks nice. The skid-resistant backing really works to keep it from slipping. The best part is it washes beautifully and looks brand new even after many washings. Everything I hoped it would be.
Most Helpful Critical Review
don't wash the rug!
Ann369
.
6 years ago
Loved the rug until I washed it. The rubber backing disintegrated ALL OVER THE RUG AND MY DRYER! I HAD TO THROW 2 RUGS OUT. I washed them according to the tag instructions. What a mess! Very disappointing!!
customer reviews
Showing 1 - 20 out of 278 reviews
Elegant little rugs
FlossieCarey Customer . 3 weeks ago
Love my new rug! It does have an elegant look and is soft and comfortable in front of my sink area. So nice to know that it can be washed when needed.
Pretty rugs
karen . 1 month ago
I love these throw rugs, a very nice design, howver, the first time I washed them, cold water, dryer low, the stitching on the edge raveled for about 2 inches on one side and continued to unravel the 2nd washing.
Jean . 3 months ago
I uploaded a photo to show you what has happened to these rugs after just one wash. I have bought a total of seven of these rugs, 4 grey and 2 taupe of the larger size, one grey small (3 at the store) Three of the larger grey and one taupe have all had the same trouble. The edges are coming undone. As you can see we only just received 4 of these rugs and three of the ones with lose edges are from the most recent. One wash and they are damaged. We are being careful washing and not putting them in the dryer, so I think this is inferior workmanship.
As advertised
BB&B Customer . 7 months ago
Looks good and functions well. Nice low nap rug.
Great colors
BB&B Customer . 8 months ago
Have been pleased with the product so far. Store staff at Village Pointe in Omaha were very helpful and made shopping fun!
Color & style I needed
Patilu . 8 months ago
I purchased 3 of these washable throw rugs to use at high traffic areas in my home, on top of my wall-to-wall carpet. I purchased them as eventual replacements for the rugs I'm currently using. I was concerned that I may not be able to find replacements later on. It's getting harder to find taupe accessories as grey has taken over. I also want to avoid the faded, worn look in throw rugs that is apparently popular now and I wanted washable rugs. So these rugs checked all of those boxes.
Very nice rug. Love the color.
William . 9 months ago
We bought three of these rugs and are very pleased.
Beautiful Rug
Abby . 9 months ago
After searching every store in my community and finding nothing that was the correct size and colours, I took a chance and ordered this rug and I am so glad I did! It is absolutely beautiful! I had no issues with the ends curling up or creases in the rug like other reviews have stated. The colours in this rug are beautiful. If you are thinking of purchasing this rug but aren't sure about the reviews, go ahead and order it, you won't be disappointed! Please note that I have not washed it yet so I cannot comment on how well it washes.

Nice 'looking' But
Yvonne . 10 months ago
This rug is nice to look at but that's it. For the price of it I expected much better quality… it's thin, so thin that you can't get the creases out of it as other reviews has stated…. I do NOT recommend this rug.
accent rug
Jill . 11 months ago
I live this rug. I bought another for my back door too!
Sheds
BB&B Customer . 12 months ago
These are pretty in color but made cheaply. They shed just from people walking on them. Didn't last a week. Im afraid to wash them. Way to much money for the quality.
Love this rug
Pepe's wife . 12 months ago
A great throw rug. The colors go with just about any decor.
Beautiful, but not made to last.
BB&B Customer . 1 year ago
Love the color and the pattern, but the edges are already seriously unravelling after being machine washed (cold, gentle) and dried (low) as per the label directions.
love the colors!
Vicki . 1 year ago
the colors are beautiful, however, they're very thin and the corners turn up. Had to buy corners to keep them down so we don't trip on them!
Great
JD Customer . 1 year ago
So happy with the new rug. It looks good .
Attractive rug
BB&B Customer . 1 year ago
This is a very nice rug and I like that it is washable! Thank you!
Beautiful!
kim . 1 year ago
Using it at front door. After washing looks just like new. Would love to get more of these.
MS . 1 year ago
Love the pattern and color. Durability not so much. The edges started fringing soon after we laid them down. Wishing there were made with the Guam cushions. They look great though.
Flat Rug for under a desk
Karen . 1 year ago
I have two of these rugs. It is flat and easy to roll a desk chair on the rug.
Great Throw Rug!
Marsha . 1 year ago
This order was a replacement for several of these rugs that I have enjoyed over the years. I was delighted to be able to get the same rugs after so long...the originals lasted a long time!
Showing 1 - 20 out of 278 reviews