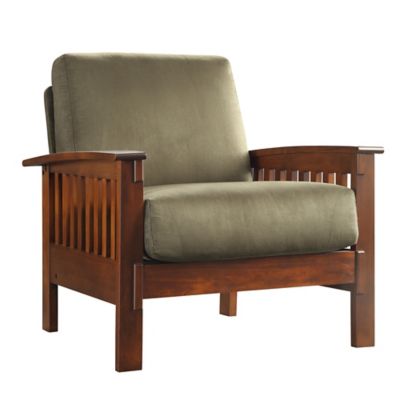 iNSPIRE Q® Brixton Mission Arm Chair
Unavailable
This item is no longer for sale online
customer reviews
Showing 1 - 13 out of 13 reviews
Love this chair!
Kim . 1 year ago
Perfect addition to my living room which already had a mission-style couch. Wasn't too difficult to assemble.
Large, comfortable, solid
Rebecca . 1 year ago
I love this chair so much. It was fairly easy to put together and it just looks so great. Wanted something for a rental cabin and this chair seems sturdy enough for this purpose. I like how the back cushion has a strip in it that attaches it firmly to the back. The wood grain is a beautiful color. Highly recommend

Looks as good in person as it does in the picture
BB&B Customer . 1 year ago
Nobody believes me when I tell them how much these chairs cost. They are very comfortable and the cushions are firm but not too firm. There was only one difficult part putting them together. And, it wasn't so much difficult as time consuming because you were using an alan wrench in a small space to tighten a screw.
Exactly what I was looking for
Caregiver . 1 year ago
I was looking for a chair for a member of my home that when they sit down they don't sit down, they "plop" for better lack of description of words. Over the years they have went through so many recliners and various chairs that even with goals and verbal prompts to sit down easier hasn't been able to work and chairs are having to be replaced often and it gets very expensive. This chair had the base that we needed to start with. The cushions can be replaced as the covers have zippers. The chair itself is lightweight but that works well too. Assembly was a little difficult, would recommend two people. Some of the pre-drilled holes required some jiggling to line up and get started but no issues once started. The bottom was a lot more flimsy than we expected and this would not survive the day here so we went to Lowes and they were wonderful and helped us with oak 1/4 in x2 in boards that we stained black to match the bottom. We cut to length and screwed to the bottom board and up the back board. This also made the chair a little heavier but definitely more sturdier. So for $20 extra we made this chair work for our needs and it will last longer and we can replace the cushions as needed. We also cut extra boards and stained them just in case. We are ordering a couple more chairs as we really liked how this turned out. We did this review for anyone who has a family member who may have special needs, dementia or other physical needs that you find yourselves in same position as us where furniture is always an issue.

Beautiful chair!
Kim . 1 year ago
It was pretty easy getting it together. The wood and cushions are quality material. Perfect addition to our living room.
Great chairs for the family room.
Deebojay . 1 year ago
My husband easily put these together after they were delivered quickly. They're a little darker than I thought they would be but they are comfortable and look really good in our space. Quite the deal!

So in LOVE!!
TeresaH . 2 years ago
We received a large couch from a family member and had nothing to go with it until I found these!! The fabric matched perfect and the style was just what we were looking for!! Hard to match olive colors sometimes but when we found these it was love at first sight!!
Great build quality.
Bed Bath and Beyond Customer . 3 years ago
The countuction quality is great, the chair is sturdy and comfortabe. Assembly was straightforward but two of the fastners were difficult to access. The chair is an excellent value.
Nice looking chair
JOHN S . 3 years ago
Solid chair, looks good and is comfortable. Takes a bit of time to assemble. I assembled it myself but two people would be best.
Good product. Well designed.
Himself . 3 years ago
A very nice addition to my small house. I had no chair to speak of for years and though a mission chair would meet my needs quite well. It seems to be well designed and well executed. However, when I assembles it I noticed that one wooden part was cracked and would substantially reduce the product's useful life. I notified Bed Bath & Beyond and they are rushing a replacement of that part to me as I write this. That means I will have to dis-assemble the chair and reinstall it with the new part. Small price to pay. Good customer service.
Great deal!
Cath79 . 4 years ago
I've been looking for new chairs and hadn't been able to find ones I liked. I wondered how this would be and was somewhat worried about the assembly. The chair looks really nice and wasn't hard to put together. Very satisfied!
Great chocolate brown chair
CaroleA . 4 years ago
I shopped for the perfect chair for a spot in my living room. Finally I found this one! It is a lovely, durable fabric. I was concerned some said it was too firm. It is NOT. I hate furniture that is only pretty to look at but not comfortable! I sit in this chair all the time! I just love it. I wish I had room for two. My handyman put it together for me. He easily added 2 pieces of wood for support. Probably ok the way it was, but wanted better than ok. Great price and It should last forever!

Good value and sturdy
SkokieMom . 5 years ago
The chair was very well packed so that even rough handling would be unlikely to damage anything in shipping. This chair is of better quality than I expected for the low price. It seems quite solid and sturdy. The frame is solid wood and relatively easy to assemble with the bolts and the provided hex wrench. You do need your own phillips head screwdriver to attach the base of the chair seat to the frame. I was glad that I have a pro-level power drill/driver since the screws have to go into solid wood without tap holes, but it would just take more work to install the screws manually. The chair took about a half hour to assemble and the directions were pretty good. The wood finish is not applied to some of the spots on the arms on the underside between the spindles, but you can't see those spots unless you are lying on the floor and the lack of that level of finishing detail is not surprising given the low price. The color matches the photo which is good since I wanted it to go with the other olive upholstered furniture with wood bases that are in the living room where I'm using it. The fabric is sort of velvety in that it shows a slight nap when you brush your hand over it. I hope it doesn't stain easily, but the covers are zippered, so I think you could take them off and get them dry-cleaned if needed. I like that the cushions are pretty firm. Not only do I not like chairs that you sink into, but softer stuffing has a tendency to compress and bottom out with use. These cushions seem like they would hold up better, although only time will tell.
Showing 1 - 13 out of 13 reviews