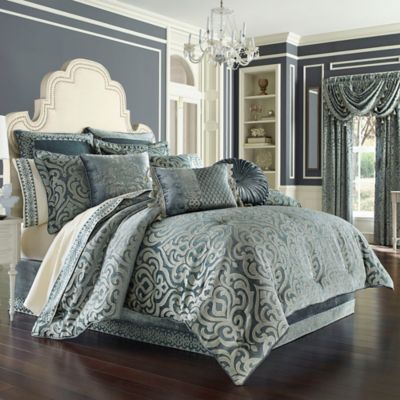 J. Queen New York™ Sicily Comforter Set
$217.59 - $335.99
Get 20% off your entire purchase with coupon!
Enroll Now
Most Helpful Positive Review
Beautiful bedding
Sandi
.
5 years ago
Even my decorator complimented my choice for this bedding. I love the exquisite look although it is a bit heavier than I would prefer. It adds a subtle color to my graphite furniture. Very soothing color palette.
Most Helpful Critical Review
TOO WEIGHTED/HEAVY
centurycity
.
5 years ago
Although this comforter is beautiful, it's weight was the reason I had to return it. It was way too heavy for my liking.
customer reviews
Showing 1 - 20 out of 29 reviews
Width needs to be longer to fit mattresses properl
Donna . 2 months ago
Beautiful fabric and color Valances are too high in price when you have to buy 3 for each window
Cecily comfortable set
Bobby Ken . 2 months ago
This is the most luxuriously comforter set ever! It looks lovely on my queen size bed it adds such beauty to the room. The fact that I got it at a time when they were offering a discount on it was even better.
Couldn't be happier!
SYLVIEP . 3 months ago
Very happy with my purchase, the quality is good so was the price!

Originally posted on Ashley Furniture
Very dissatisfied.
STEVES . 4 months ago
This fabric has a really bad nap problem that makes it look like it's been heavily used or damaged. It looks nothing like the product photos on the website. Also it's much too thick and heavy. I am returning it.


Originally posted on Ashley Furniture
Quality Plus
BB&B Customer . 6 months ago
Absolutely beautiful. Fit perfectly and quality plus!

Originally posted on bedbathandbeyond.ca
So beautiful
Lorraine . 7 months ago
Love, love, love it
Nice set, colors rigid
KENYARDAJ . 7 months ago
The set is nice and heavy. Doesn't come with any pillows.

Originally posted on Ashley Furniture
Pretty but….
BBB Customer Chris . 7 months ago
This is a beautiful comforter I purchase J queen bedding sets all the time however the bedskirt for this is too short and I ordered a California king
Great comforter set
Denise . 8 months ago
Love this gorgeous comforter set. Very high quality and goes perfectly with my existing decor.
Great quality
NORMAF . 9 months ago
The quality is great No regrets for what you are paying it's just awesome.. Very elegant the color is just the same as the picture shown. We love it. Quality, color and material is just one thing to have at home.

Originally posted on Ashley Furniture
Love it
Marie . 1 year ago
This comforter is so, so comfortable and very warm. Be sure to follow dry cleaning instructions. I took a chance a washed it in my washing machine and it snagged in some places but inconspicuous.
Best Comforter Ever
JLO . 1 year ago
Beautiful comforter with amazingly serene colors. It is really worth the money.
Fabulous
Michelle . 2 years ago
This comforter set is elegant. I also saw it at a much higher price in a department store. I am thrilled with my purchase!
Great
daneshia . 2 years ago
I'm so in love with this bedding, we'll worth every penny. Fits my king mattress without having to pull it to one side. I will be looking for one with a little less weight for spring.
Luxurious comfort
AllenKM . 2 years ago
My husband and I are in love with the new look of our bedroom. This comforter and the matching pieces are just gorgeous. The color is regal and vibrant. The plush feel of this comforter keep us warm and cozy.
I absolutely love it.
Jackie F . 2 years ago
Great quality and beautiful comforter. Its heavy and just what I was looking for.
Like, but not Love
MzBling . 2 years ago
Very comfortable and pretty bedding set. The comforter definitely has some weight to it, and will due nicely since winter is coming. My only complaint is that its not a true teal color, so only 4 stars...The color is a bit more greenish than blue and does not go with my teal color scheme. But I kept it anyway because it's pretty and better than what I had. It'll work until I find what I'm looking for.
Just what I was looking for!
Shari . 2 years ago
This product is just what I was looking for! I have been searching for a comforter set that will go with my "vintage" bedroom for quite some time. The comforter is aqua blue. It's very soft and comfortable...and reversible! It comes with a matching bed skirt. The price is also adequate for the product. I just live my new comforter set!
Comforter set
Sue . 2 years ago
I bought it as a gift, my niece loves it
Love it!!
BB&B Customer . 3 years ago
It's a beautiful color and a very elegant look!
Showing 1 - 20 out of 29 reviews