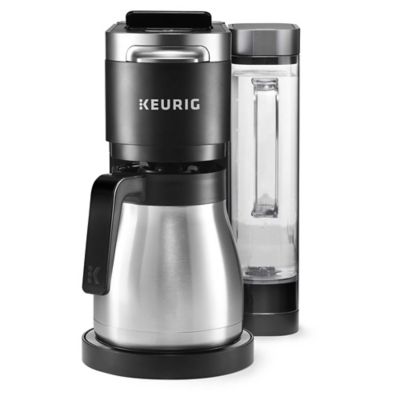 Keurig® K-Duo Plus® Coffee Maker with Single Serve K-Cup Pod & Carafe Brewer
$199.99
was $229.99
(13% off)
Most Helpful Positive Review
Has a carafe
Beebo
.
3 years ago
Has a carafe that I can use when guests stay or I can use when i need a little more coffee. Great product
Most Helpful Critical Review
Luke warm
Scout44
.
3 years ago
I really wanted to like this machine. I conducted a lot of research on coffee makers and settled on the K-Duo Plus. I quickly found out that the coffee maker does not heat the coffee to a reasonably hot temperature and, when it pours into the stainless steel carafe, it cools down even more. Add a bit of 1/2 and 1/2 and you have, at best, a luke warm cup of coffee. Quite disappointing given the price of the unit. The K-cup dispenser is only slightly better in terms of a hot cup of coffee but that can be attributed to the direct pour into a mug. I don't enjoy a scalding drink of any sort however, a hot cup of coffee would be nice!
customer reviews
Showing 1 - 20 out of 2433 reviews
my new coffee pot
SASK . 1 week ago
I do like my new pot a lot was a little price but ok. My problem is figuring out the coffee amount for the pot it is small then others. The base of the maker where to pot sits is a little flimsy made with plastic not metal, so be careful. It does make a good hot cup of coffee pot or single cup. I am happy with the purchase.

Great product
Ms Diva11 . 2 weeks ago
Overall a very good product.. I had small issue but customer service was able to assist me ..Thank you

Originally posted on keurig.com
Decent machine, instructions suck though.
Shaun L . 2 weeks ago
Programming for the auto brew is a major feature for us. Unfortunately it is very convoluted with the Keurig, and instructions are hard to find. The 'Quick start guide' is worthless really, and the instructions for cleaning/installing the water filter and the single cup filter seem to have been written by a ten-year-old. Glad that we havn't thrown our 'Mr. Coffee' out yet, it may get pressed back into service.

Originally posted on keurig.com
Best Brewer!
Marvelous Maricopa . 2 weeks ago
We received a replacement as the 1st machine had internal issues and failed to brew. Loving the machine and Duo option!

Originally posted on keurig.com
Nice addition
For the camper . 2 weeks ago
Nice to be able to do a pod or a whole pot. The last one they we had they quit making the pods for a pot and no other options.

Originally posted on keurig.com
Black Residue
Coffee Craze . 2 weeks ago
There's something weird with the filter. I brew a cup, then pour a cup and if I let my cup of coffee sit there is black residue at the bottom. It looks like black sludge. It's weird, gross and annoying. I know it's not the coffee because in a traditional coffee pot there is no black residue. I cleaned the the whole thing thinking it would help. Nothing. I just put the filter in the dishwasher and hoping it will fix it. I don't what fixes it or what the problem is. Other than that I love the coffee maker.

Originally posted on keurig.com
Keurig warranty
Charles22 . 2 weeks ago
We bought a K- DOU PLUS . We had problems with it saying add water and it wouldn't brew. We contacted Keurig and one of their helpful staff walked us through a series of steps. After it was concluded that it couldn't be repaired they walked us through the steps for a warranty replacement. They made it very easy and replaced our K-DOU.

Originally posted on keurig.com
No fuss replacement
KNE079 . 2 weeks ago
The replacement process was very easy and fast! Love it!

Originally posted on keurig.com
Love it!
BB&B Customer . 2 weeks ago
Pot of coffee or single kcup…genius!!
Wish the carafe lid sealed air tight
Anglm77 . 2 weeks ago
Live this coffee maker, but I just wish that this carafe was like others that completely close to keep it hot longer. The carafe does not seal, which was the main reason I bought this one! I don't think I would have bought it knowing that it didn't completely close up right. Hopefully keyring will make a carafe that the lid can does completely close and I can replace this one with that!!

Originally posted on keurig.ca
Not perfect
Jillco . 2 weeks ago
I was really excited about the coffee maker. I love the easy access to the water dispenser and how convenient and fast it is to brew a single cup. However, there is no warmer to keep a brewed pot of coffee hot. Doesn't make sense to set the automatic brewing because if you don't get up right when it brews, your coffee gets cold. I didn't realize there was not a warmer when I purchased this coffeemaker.

Originally posted on keurig.com
Pleasantly surprised
KateWL . 3 weeks ago
Our second Mr. Coffee thermal sprung a leak, and I didn't want to throw good money after bad. Decided to spend a bit more and get this Keurig. What I love most, and it isn't too obvious, is that the channel for the pod brew and the channel for the drip brew are separate. My husband hates flavored coffee, so he wouldn't let me make it with our old coffee maker because the flavor would linger for him through several subsequent pots. With this, I can make my flavored coffee and it doesn't affect his coffee at all.

Originally posted on keurig.com
SAD that it didn't last a year
Ledergerb . 3 weeks ago
Received this last year for Christmas from our daughter, unfortunately, it died after 8 months or so. Kurig did replace it, but. I haven't opened the replacement since I might sell it and purchase another brewer. Very disappointed!

Originally posted on keurig.com
Great service!
Jody and kelly . 3 weeks ago
I love my new K-duo plus. Sometimes we need entire pot of coffee and sometimes just need a cup. Just perfect.

Originally posted on keurig.com
Piece of crap
Munchman1234 . 3 weeks ago
I have the duo plus it's around 8 months old and it doesn't make a full pot of coffee, it's been descaled multiple times This unit is a piece of crap save your $$$

Originally posted on keurig.com
Excellent delivery
Jo . 3 weeks ago
Wow what fast service! A great product!
Ok while it lasts
Wmakpah . 3 weeks ago
I bought this 9 months ago and descaled it 3 times since. After about 6 months the single coffee maker started acting up and 9 months in, we have to hold down the single cup maker cover, where the pod goes otherwise it won't pour coffee. Good while it lasts but not worth the money at all. Also customer service does everything they can to avoid helping and will not uphold warranty

Originally posted on keurig.ca
Does not work well
Sharon . 3 weeks ago
I use authentic Keurig pods, but does not always puncture the bottom of the pod. When this happens coffee spills over the top of the pod, causing coffee grounds to spew over into the coffee maker. Then have to clean the coffee maker up. The coffee pods are about 53 cents each, so also out the cost. I do like the coffeemaker when it works.
Do not buy
BB&B Customer . 3 weeks ago
The unit did not recognize that there was ever any water in the tank .Unit was returned
K Duo Plus Warranty Replacement
CDAP . 3 weeks ago
Our K Duo Plus Single Serve and Carafe stopped working. The lid to the single serve would not stay closed. I called Keurig and gave them the information needed to start a claim under the warranty. They quickly emailed me the information along with the pictures I needed to send them to process the claim. It was about a day or two and I heard back that a new K Duo Plus was being shipped. We were surprised at the quick response and would definitely recommend a Keurig coffee maker to friends. They definitely stand behind their products.

Originally posted on keurig.com
Showing 1 - 20 out of 2433 reviews