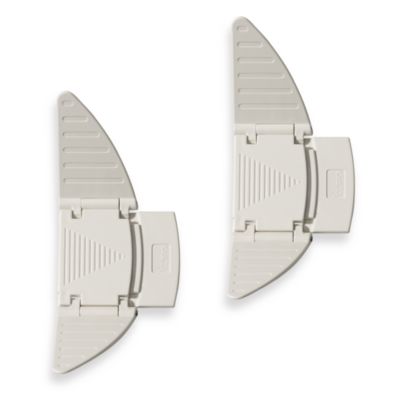 KidCo® Sliding Closet Door Lock (Pack of 2)
$4.79
Get 20% off your entire purchase with Welcome Rewards™+
Enroll Now
customer reviews
Showing 1 - 13 out of 13 reviews
doug . 3 years ago
did not work sliding doors were to far apart
Caro . 5 years ago
My toddler gets into everything and came across this product while searching for sliding door locks. I definitely recommend this product and give it a 5 star rating in all areas, especially for ease of use. It is very simplistic, super affordable, holds up to the job, extremely easy to put on and not an eye soar.
This door lock is great
Joanie . 5 years ago
I got this door lock for my back glass patio door. My 3 year old grandson learned to open the door at age 2, so for a year I put a stick in the door. It was a pain to get out the door when I needed to get out to the back deck. I purchased these based on reviews of all the people that used them on their closet doors. Didn't really think that they would work for my patio door. When I put them up and realized how they worked I was so excited and relieved to know my grandson could not get out the door anymore. When he tries to open the door he says "grandma your door is broke, it doesn't open anymore", I say "yeah, I don't know what happened to it". I am 54 years old with rheumatoid arthritis and these are very easy to use.
Does the job
Momof3 . 6 years ago
The adhesive isn't the greatest, but it does the job. It's fallen off once maybe twice.
Keeping cats out
GeoDi . 6 years ago
Our cats would slide the closet doors open and go sleep inside. No longer can they do this with these locks. I hear them trying to get in but have not yet done so. Well worth the money.
Nara . 6 years ago
My daughter broke this within a day. However, she only broke the top half so it still worked for a while until she broke the bottom half too.
Works excellent
carey . 6 years ago
They work great and are easy to push back to get the doors to open. No complaints.
Very durable and easy to use and install
Matt . 6 years ago
Does a excellent job at keeping my 1 year old son out of our hall closet sliding wooden doors . Since I installed this item he has lost interest in trying to pull open closet doors to cause trouble and mischief. And we have a extra one to use on another clloset if needed !
just what I needed
TBrooks . 8 years ago
My puppy kept sneaking into my closet....these work perfect!!! I'm sure I'll be back for other baby/puppy proofing items. :-)
Best thing since sliced bread
CDB5 . 8 years ago
I am just amazed that this product isn't at every baby store. I could only find it at BBB, but it's the best. So simple to attach, and works like a dream. My 10 month old is into EVERYTHING, and I can rest easier knowing the closet doors are safe. This is so easy to install, and works great. You can open the sliding closet doors, get your item and close them, and the lock automatically pops back up to work. No worries about accidentally forgetting to re-set it. This will be a must have even when my child in 4 or 5. You can install them anywhere on the closet door, go as high as you like to keep taller children safe.

Originally posted on buybuyBABY.com
Closet Door Locks
Don66 . 8 years ago
Fast delivery and now our one year old cats can't open the closet sliding doors and play in the closets and drag things out. They weren't happy we installed them and even jumped up to them to check them out. We have to have large rubber bands on all our cupboard doors to keep them out.
Great Concept needs better adhesive
rick . 9 years ago
Really like the product but after using both of the included adhesive strips and had it fall off I grabbed a 3M double sided piece of adhesive and applied it. Worked great once that was on and didn't have to wait 24 hours for it to set.
Naty . 10 years ago
Locks work great - sliding doors stay put, however over time tape seems to wear out and locks might just fall off (lasted about a year for us). Overall I'd recommend these locks, they do the job.

Originally posted on buybuyBABY.com
Showing 1 - 13 out of 13 reviews