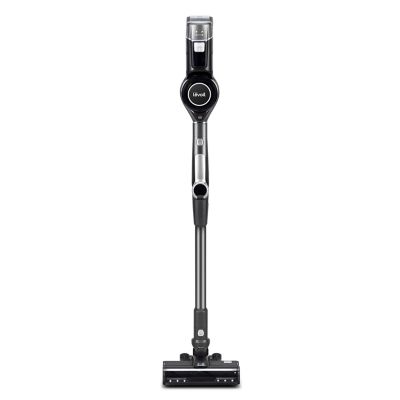 Levoit VortexIQ 40 Flex Plus Cordless Stick Vacuum in Grey
Unavailable
This item is no longer for sale online
customer reviews
Showing 1 - 20 out of 55 reviews
Superb cordless vacuum!
KrisM . 2 weeks ago
We have had this vac for almost a year now. I wish I'd had one years ago!! It is a wonderful, well made product. Simple to use and clean, affordable replacement filters. Charges like a dream, runs long enough on a single charge to clean all our wood floors and rooms! GREAT suction power to clean up even fine dust and super easy maneuverability to get under beds, dressers, etc....Light is very useful to see dust and hair on bare floors and under furniture Useful attachments for every need. Wall charger/hanger is great. I cannot say enough good things about this product!! The value is superb!!

Originally posted on etekcity.com
Clive . 3 weeks ago
Excellent vacuum, best I've ever bought! Cleans up pet hair very easy!

Originally posted on etekcity.com
Disappointed.
Bells . 3 months ago
I will start off by saying that I have two dogs that shed and a house with carpet in some rooms … the canister fills up quickly (I can only do a portion of a room before it fills up) and I've had to pull the stuff out with my hands — this I understand since my dogs shed like crazy. The worst part is that recently the vacuum becomes clogged where it's suppose to enter into the canister leading me to remove the canister and center piece to reach in and try to pull the junk out — this happens when the canister is *empty*. I didn't have this problem when I first got it, so I'm not sure why this is happening. This has been a huge inconvenience and has led to making more of a mess than what I actually cleaned up. Additionally, after turning off the vacuum it drops dust and debris on the floor and I have clean it up with my VacMop afterwards. I'm going to try the warranty in hopes that it's something that can be resolved. I've tried to use it for other things like cleaning my car — sadly it doesn't pick up anything — even if I up the power (which doesn't work all the time either).


Originally posted on etekcity.com
Loving it so far.
BatcrazySA . 4 months ago
I received the vacuum on Friday. I charged it over night and started using it the next day. I have wood flooring, tile in the kitchen/laundry room, with carpet in one bedroom & home office. It has done a great job picking up small debris like litter. Our house is approx. 2600 sq ft of liveable space with two cats (their hair shows up on the wood flooring), two senior citizens that aren't too massy. I got tired of pulling out the upright vacuum every day. In fact, I for over a month before I ordered this vacuum I hadn't bothered to put the upright away, but it was an eye sore. The receptacle for debris might be small to some, but I certainlly don't mind emptying it because I like to see what's been collected. The vacuum is light weight and very maneuverable for me. I am so glad the floor brush is narrow because I can easily run the vacuum under sofas, chairs, beds dinning tables, kick plate under the kitchen cabinets, and I can reach the wall behind the furniture because of it's long neck. It is so quiet the cats don't run from it when I vacuum. The vacuum has suction controls but also has an automatic control so you don't have to increase or decrease the suction for different flooring if you prefer? The vacuum has a true 40 minute battery life on the vacuum the way I am using it. It has a HEPA Filter! I feel a lot of thought went into the LevoitIQ 40vacuum. You did a Great job designers/engineers!

Originally posted on etekcity.com
Fantastic product.
Skooch . 6 months ago
Best thing a pet owner can have. Easy to maneuver. Just had total knee replacement and I can use it with one arm.

Originally posted on etekcity.com
Vortex 40 cordless stick vacuum
Oais . 6 months ago
easy to use, has strong suction, the attached power head is very efficient, a bit heavy in the handle with the battery, but the vacuum has greater battery life than other portable vacuums I have owned, which is more than welcome

Originally posted on etekcity.com
Wow!
EaC2022 . 7 months ago
I never thought I'd say this about a vacuum.. but it's truly amazing!! I'm in love with everything about it! Cleans great, lightweight, so easy to use. I can't say enough about this brand.

Originally posted on etekcity.com
Great for everyday
Rick88 . 8 months ago
[This review was collected as part of a promotion.] Best vacuum invention ever. Very easy to set up and when it comes to cleaning this one does the job. From cleaning your house to giving your car a clean up I tried it all especially under furniture with the center of it hinged to get into those areas under chairs without having to move them around. Definitely a back saver. The suction power I am mostly impressed with you can't go wrong with this vacuum it's a must get


Originally posted on etekcity.com
Absolutely love it
Alex12 . 8 months ago
[This review was collected as part of a promotion.] This product is absolutely amazing and has made my life so much easier! The attachments are great super handy the fact its cordless is amazing makes doing the stairs so much easier its pretty light weight not too heavy and is amazing for small little messes

Originally posted on etekcity.com
Garbage
Levoit owner . 8 months ago
Battery only lasts ten minutes. Entire product broke after three uses.

Originally posted on etekcity.com
Love it... Better than my Dyson
Murphy C . 9 months ago
[This review was collected as part of a promotion.] Can't say enough about this Levoit VortexIQ Cordless Stick Vacuum. We have two german shepherds that produce an amazing amount of hair and this vacuum gets it all up. Stronger and more powerful than my Dyson and I love it.

Originally posted on etekcity.com
Levoit VortexIQ Cordless - Nice Vacuum
Jackie O . 9 months ago
[This review was collected as part of a promotion.] At first glance as you open the box - ALL THE PARTS - looks overwhelming! I did lay everything out to follow the instructions but over all less than 20 mins to put it together. Between my crumb dropping toddler, the dog & cat I barely get a break from vacuuming. Has a great suction, flexibility to get into the corner, and under the furniture.

Originally posted on etekcity.com
Great Vaccum
TK478 . 9 months ago
[This review was collected as part of a promotion.] Got this vacuum and I'm obsessed with it. Have vacuumed every day since I got it just because I enjoy it. Very quiet, cordless and detachable to us in crevices and on furniture. My only complaint is it does not really stand by itself but other than that it's a great product.

Originally posted on etekcity.com
Easy to use
BGMama . 9 months ago
[This review was collected as part of a promotion.] The Levoit VortexIQ Cordless Stick Vacuum is small but mighty. It was very easy to put together. It comes with 2 attachments and a mountable charging dock. I really like the auto mode which automatically adjusts the suction power to the amount of debris detected. It is lightweight as well! I am not a big fan of the crevice tool though, it feels a bit cheap and I worry it will break. I also wish hair didn't get so tangled up in it. All in all we are really happy with our new vacuum!

Originally posted on etekcity.com
Great features
Babyqt . 9 months ago
[This review was collected as part of a promotion.] Levoit VortexIQ Cordless has to be the coolest vacuum out there. I love how I can make it smaller to vacuum my bed. I like the way it bend and I can vacuum under my bed or couch with no problem. Its lightweight and Cordless. Very easy to use.


Originally posted on etekcity.com
Decent Suction But Gets Heavy With Prolonged Use
Jamie M . 9 months ago
[This review was collected as part of a promotion.] I've been using the Levoit VortexIQ Cordless Stick Vacuum for a while now and really like some of the features on it but there are a few that I'm not a fan of as well. To start with, I really like the fact that it is cordless. After charging the battery it easily goes into the vacuum and one charge gives me plenty of time to vacuum the house. The vacuum has a trigger handle to turn it on and off and the suction easily adjusts up or down as needed. It seems to have decent suction power and takes up quite a bit of dirt and hair from the floor. The wheels on the vacuum allow it to move easily throughout the house and it switches easily from my kitchen floor to my carpeted living area. I really like that the stick portion of the vacuum has a switch that allows it to fold down to a 90 degree angle so you can easily vacuum under things like tables and bedframes. While vacuuming, if you need the crevice tool or brush tool, the main part of the vacuum easily detaches so you can attach either of those pieces to it and vacuum what is needed. While the attachments easily change out of the vacuum, I did not feel that the Vacuum with easy to use in getting into crevices or using the brush because you have to hold the weight of the vacuum up as well. When the dust canister on the vacuum is full, it is easy to see that it needs to be emptied and it opens and empties easily. The HEPA filter is located on the top of the vacuum and it is also easy to take that off and change it as well. While I like most features on the vacuum, there a couple things I don't care for. For one, the vacuum will not stand up on its own. If you're vacuuming and have to stop for a minute you have to lean it up against some thing or lay it down on the floor. Since it doesn't stand up on its own, it comes with a docking station that can be attached to the wall. Since the vacuum is rechargeable, you will need to mount it somewhere where the cord can reach a plug. Otherwise you'll need to charge the battery separately before vacuuming. I like my vacuum to be out of the way and not in sight while not being used so, for me, this isn't a great feature as I don't have any place to store it where it can be plugged in . The other thing that I think needs some improvement is the weight of the vacuum itself. While it is not overly heavy, all the weight of the vacuum is at the top of the vacuum. The grip on the vacuum itself is comfortable but after using the vacuum for a while, the weight of it resting on the back of the wrist is not. While I think this product has its pros and cons I do think that is a good product and recommend it depending on your need. I think it is best used in areas of the home that possibly have flooring and not thick carpets and that it is used for short tasks and quick cleanings. I don't think it would be good for a detailed vacuuming of the house.

Originally posted on etekcity.com
Light and easy!
Kellyjf . 9 months ago
[This review was collected as part of a promotion.] I love stick vacuums for the ease of use as well as how light they are since I can't lift much with a bad shoulder. I have to go up and down stairs and this is a breeze. The battery lasts longer than I thought and it gets into hard to reach spaces. I love this more than the expensive "name" brand vacuums out there!!

Originally posted on etekcity.com
Works great but heavy
The Review Gal . 9 months ago
[This review was collected as part of a promotion.] I was so excited about having a cordless, stick vacuum! While this vacuum works great, I do have a few cons. Pros: 1. Easy to turn on and off, with a little finger trigger 2. Vacuum bends to help get to hard to reach places 3. Strong suction, best vacuum I've owned 4. Comes with many attachments 5. Cordless and charging dock included Cons: 1. It does not stand on its own. The only way to stand it up is on its stand or leaning it against a something. 2. All of the weight is in the top of the vacuum so you hand gets tired really quickly 3. The parts are all plastic and seem kind of low quality. 4. The only way to charge it is by having to hang the docking station on the wall. Wish there was a cord you could use as an alternative

Originally posted on etekcity.com
Powerful, versatile, and lightweight vacuum
wforbes . 9 months ago
[This review was collected as part of a promotion.] I recently decided to switch from my old upright vacuum to the Levoit cordless stick vacuum and am so happy I did. Straight out of the box I was able to easily place the mounting bracket on the wall and my vacuum was charged in as little as 4 hours. Putting the vacuum together and switching between attachments was easy as well. Everything snaps together and can be removed with just the touch of a button. The vacuum is lightweight and weighs about 7 lbs, which is much lighter than my old upright vacuum. It has a trigger-style switch that turns the vacuum off and on which is nice. I love that it has an auto mode that automatically adjusts the power to match the amount of dust. I can also adjust the power myself if I feel that it needs more or less. It has different indicators that tell you the level of power, level of dust, airflow blockage, roller brush blockage, and also a battery indicator light so you know how much battery is left. It comes with two attachments: a 2-in1 dusting brush for upholstery and a telescoping crevice tool for hard-to-reach places. The attachments are easy to put on and take off with just the touch of a button. If you use the vacuum on power level one, you'll have about 40 minutes of run time before it needs charging. The flex function has come in handy as it makes it easy for the vacuum to go under furniture without having to squat or bend down. You just simply touch the flex button on the stick to flex it and when you're done it just snaps back together. The dust bin will hold 2.5 cups of dirt and dust and is easy to empty with just the touch of a button. If you have a lot of cleaning to do it will fill up rather quickly so be prepared for that. I love that the roller brush is easy to clean by pressing a button and pulling it out the roller brush. It also has a filter that is easy to remove and clean but will need to be replaced over time. Overall this vacuum has met and exceeded my expectations. I have used it in both my home and my car and it has done an outstanding job of cleaning both. I highly recommend it to anyone.


Originally posted on etekcity.com
Cleans well
Di72nos . 9 months ago
[This review was collected as part of a promotion.] This Levoit VortexIQ Cordless Stick Vacuum is very lightweight and come so well packed. It was easy to set up and use. The cordless feature is so useful when moving around the house to clean. It makes cleaning so easy

Originally posted on etekcity.com
Showing 1 - 20 out of 55 reviews