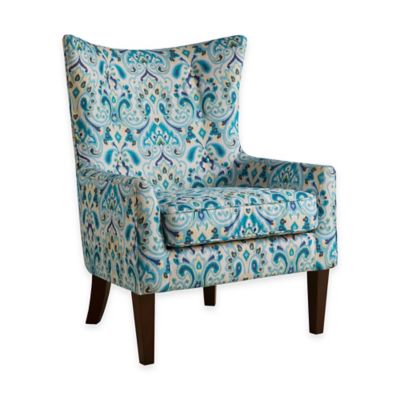 Madison Park Carissa Shelter Wing Chair in Blue/Yellow
Unavailable
This item is no longer for sale online
customer reviews
Showing 1 - 8 out of 8 reviews
Gorgeous, but not so comfortable
JMCrist . 5 years ago
This chair is beautiful looking but could be a bit more comfortable. Colors are accurate to the photo. It was easily assembled and well packaged. However, the bottom cushion is very firm, and the arms of the chair are very low so you cannot naturally rest your own arms anywhere when sitting in the chair. You almost need to sit with your arms crossed or with your hands in your lap. This would be more comfortable with a lumbar support pillow or a very tall ottoman (18"+). I would buy this chair again, but it needs some accessories to make it a comfortable chair to sit in.
Beautiful!
Happyhome . 5 years ago
Just what we hoped for - the color and design are inviting, cheery and classy!
Great Value!
Green90 . 6 years ago
I'm pleased with this purchase. The chair is simple, tasteful, and comfortable- very firm seat. This chair is in my guest room where it gets only occasional use - it fits into a corner comfortably and looks great.
Mom Loves The Chair
Brad Eisold . 6 years ago
My sisters and I purchased chair for Christmas present. Our mom loved it. Exceptional buy. It is actually the first thing I have ever purchased online and very satisfied.

Originally posted on Designer Living
Really nice chair very pleased
famhistory . 8 years ago
i am very pleased with this chair, the color is perfect and looks like it does on screen. I think it is comfortable. The upper back is not super padded so when you lean back the fabric is stretching across your upper back for support rather than sinking into a pillow back there but there does seem to be a pillow supporting the lower back under the fabric. Hard to describe but it works and I find it very comfortable. Very pleased with this purchase.
Love my chairs!
JanS . 8 years ago
I've never ordered upholstered furniture online before as I was afraid the color wouldn't be true and returns would cost and be a hassle. This turned out NOT to be the case. I love the chairs. The color is true to the picture online. As some reviews have said the cushions are stiff but they are fine for me. I knew I could easily return them to a local store if I needed to but I will keep them. I didn't think they were packaged really well, but they arrived without damage.. It was a little hard for me to figure which were the front legs and which were the back and the instructions didn't help much on that but I did the best I could and they look fine. Very happy with this purchase.
Fantastic Chair
Dave Mcleod . 8 years ago
I am so happy with this purchase. What a pleasant surprise that this chair is not all that gray. It is more a blue gray but it is exactly what I wanted. This picture does not match the true color.

Originally posted on Designer Living
Beautiful
Dave Mcleod . 8 years ago
Would call it more of a steel blue but was even more perfect for me. Beautiful accent chair but very firm. Great styling and sturdy fabric. Love it!

Originally posted on Designer Living
Showing 1 - 8 out of 8 reviews