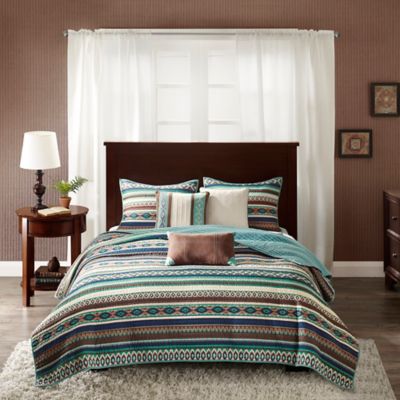 Madison Park Malone 6-Piece King/California King Coverlet Set in Blue
$99.99
Get 20% off your entire purchase with Welcome Rewards™+
Enroll Now
customer reviews
Showing 1 - 20 out of 28 reviews
Perfect
BB&B Customer . 1 year ago
I read the reviews on this product and yes, the color is more green than blue. The material is well made and washes easily on gentle cycle . I am very happy with my purchase.

Smelled like mold
manystars . 2 years ago
I received a set that smelled like mold. The pillows aren't good quality. If I had it to do over I would have just went to a store. I do not suggest buying this set.
Gorgeous!
Susan . 2 years ago
We love our new bedding. It's very elegant and enhances our bedroom.

absolutely gorgeous
Jesca . 2 years ago
I am in love with this set! Currently redecorating our bedroom & this is the exact look I am going for. Can't wait to get it on the bed!! So very excited.
Great Purchase!
BBB Customer Carol . 2 years ago
I wanted a casual coverlet that hinted at Southwest design without screaming it. And it needed to hold up well with pets. I am so pleased with this choice. It washes and dries well and looks good, too!
Best bed covers ever!
Mary R. . 3 years ago
I love these coverlet sets! I have bought several and am pleased with the quality, design and price.

Originally posted on Designer Living
Coverlet Set
Dottie . 4 years ago
I had been searching for a Southwest quilt for the master bedroom for some time. I found plenty, but the colors were not what I was looking for. I found Madison Park Coverlet Set and looked hard at the pictures of it before I finally decided to buy it. I was looking for blues and browns, and it was listed under blue. Now I love this set and it looks wonderful in my bedroom, but I was disappointed. It has the blues and browns, but the main color is what I call a turquoise green. Sure doesn't go with my freshly painted blue walls, but does go with the new curtains quite well . I could have returned it, but really love it so kept it. The workmanship is fantastic and it fits just the way I like. I will eventually paint my walls again, but being 77 it takes me a while to get things done.

Beautiful!
Rysmom5 . 4 years ago
I have the comforter in this set, as well. I wish I would of bought the quilt first, made much better, colors on the quilt are very vibrant!
Loved it
Luis . 4 years ago
Unfortunately didn't fit my bed.
Great value for the price
Paxa . 5 years ago
We were pleased with this coverlet. It looks nice and feels nice. An even better set for the price than we expected and it went through it's first wash very well.
Great coverlet!
Jms33 . 5 years ago
This coverlet is pretty, with its vibrant colors. It is lightweight enough for summer. I like that it came with pillow shams AND decorative pillows.
Fresh new look.
Brewinggirl . 5 years ago
I had a hand stitched quilt from my mother and needed to put it up before it got ruined. I chose this quilt set and regret I hadn't done it sooner. This design compliments my new home to a tee.
Lightweight and pretty!
Jms33 . 5 years ago
This quilt/bedspread is super! It is lightweight, just right for summer. It is very pretty with its southwestern motif.
Well made, but colors don't match the description.
LMJG . 5 years ago
I wasn't sure about the colors because the ones on close up pictures don't match the colors on the full bedding picture. The description said blue, so I ordered hoping for the best. The predominant color is definitely green and not blue. The close up color pictures are much more accurate. The bedding itself was soft and well-made. If color had been blue, it would've been perfect.
Coverlet was made without a stitch screwed up!
Angie . 5 years ago
I ordered the 1st time a king sz coverlet even though I have a queen sz bed. I am very happy with this. I like to do southwest bedding and this was perfect for the bedroom. I bought cheap king size pillows for the shams and loved getting the pillows to accent it. Very happy with product. Warm when it's chilly.
Shams are not matching
Lossen . 5 years ago
Nice, well made quilt but sham design did not match. The fabric was cut incorrectly. Not realizing this until after the set was washed and tags were removed I reached out to customer service to see if the shams could be replaced and was told they would check on it but never got an answer. It's not the first time customer service has failed to come through though.
Beth . 5 years ago
The quilt is lovely and well made. However I am returning it because the colours are much darker than pictured and it is just too dark for my room

Originally posted on bedbathandbeyond.ca
Happy surprise
DoveMtGal . 5 years ago
I recently moved to So. AZ. I was looking for A western theme and high-end comforter set and could not find what I wanted. I spotted this coverlet with pillow shams and some toss pillows at bed bath and beyond and since I had guests coming, I thought "what the heck" I bought it intending to use it as a stopgap. I just love it. The colors are fresh, it's lightweight and perfect for summer in the desert and I've matched it with an ivory blanket and a navy bed skirt I already had . My guestroom looks great my quest is over
Madison Park Coverlet Set
Beth49 . 6 years ago
We have a Southwestern vibe in our house, and blues and beiges are the colorscape. This pulled all the elements together. The coverlet is lightweight and is plenty warm enough with a light down blanket underneath. We love it!
Changing it up!
Beck23 . 6 years ago
We love this set! Great softness, light and not too hot for the south!
Showing 1 - 20 out of 28 reviews