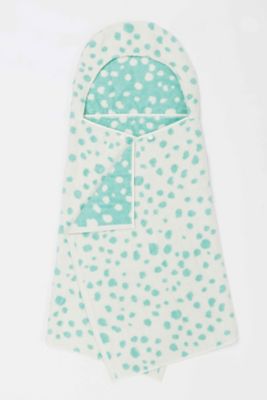 Marmalade™ Cotton Hooded Bath Towel in Blue Dots
Unavailable
This item is no longer for sale online
customer reviews
Showing 1 - 15 out of 15 reviews
Great kids towel!
Kayti . 4 months ago
Great kids towel. It is soft and absorbent towel with a snap in the front to close the towel around their chest. Definitely worth it!
Perfect towel
ellamom . 5 months ago
Loved this towel not to thin but not so heavy that it would take for ever to dry. Great size
Soft and perfect size
Sonia . 11 months ago
We bought this towel to replace the infant towels we were sadly still using for our 2 year old. Much larger, fluffier and softer. He loves when we put the hood on him and the towel comes all the way down to his ankles so it keeps him nice and warm as he's brushing his teeth.
So Cute
Tamara . 12 months ago
Great little baby towel. Very soft. Very well made. Would buy again.
Good Quality
BB&B Customer . 1 year ago
Very satisfied with the quality for the price. My baby loves the thick fluffy feel.
Perfect For My Kitty
Denise . 1 year ago
Great towel and perfect size for my cat! I bought 2 and would def buy more.
Love the softness!
Yolanda . 1 year ago
Great quality!
One of favorites!
Heather . 2 years ago
Absolutly the cutest! Bought several and really glad I did! Gave one away as a birthday gift. Love the snaps on them and how soft they are! Super cute boy/girl design!
Cute and great price
Brooke . 2 years ago
This towel is so cute and fits my 1 year old nicely
Neutral colored towel
Talaha . 2 years ago
Very cute and neutral!
Positive
Joyce . 2 years ago
It's so cute
Love
Becca . 2 years ago
Kids love it! Very soft
Soft
Happy friend . 2 years ago
Very soft for baby
Love them!
BB&B Customer . 2 years ago
I'm not sure why these don't have good reviews... I will state that they are on the smaller side but other than that they are great! Super soft, the hood is nice, and I love that they have a snap on the front so they don't fall off. 100% recommend!
Flimsy
BB&B Customer . 2 years ago
Cute but very very flimsy and thin, and the fabric is already pilling. It's OK because they cost under four dollars on sale, but if I had paid regular price for these I would've been very upset. You pretty much do you get what you pay for
Showing 1 - 15 out of 15 reviews