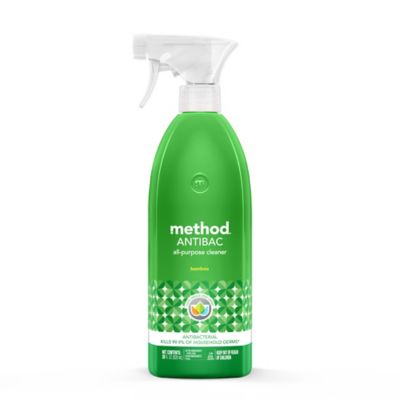 Method® 28 oz. Anti-Bac All-Purpose Cleaner in Bamboo
$3.42
Get 30% off & earn 10% back in points with Welcome Rewards™+
Enroll Now
customer reviews
Showing 1 - 10 out of 10 reviews
Wonderful cleaning product!
Linda . 2 years ago
Not only does it clean but also disinfects! Leaves my granite countertops shiny with no streaks!
Awful!!
Dana . 2 years ago
This product has a horrible smell. I just threw it away.
bottle came empty. leaked all over. avoid shipping
jenny . 2 years ago
They made efforts to wrap it in plastics but somehow the bottle still leaked. I received an empty bottle and all other items were damaged in the box
My fav cleaner!
Coolincuse . 2 years ago
No bad chemicals, cleans well, great scent! Please always keep it in stock!
Smells nice - Does not ship well
LS . 2 years ago
Trying to avoid in-person transactions while coronavirus cases are spiking in the area, I ordered this online from Bed Bath and Beyond. There was definitely effort in shipping it well - it was individually wrapped in a plastic bag and then surrounded by bubble wrap - however, this was no match for a product left in the "ON" position, and it leaked through the plastic and bubble wrap into the box and on some of my other items shipped together with it. It also leaked all over my garage floor where I unboxed everything, to leave all the wet packaging outside. Thankfully it doesn't appear that anything was damaged, just about a quarter of the product was missing from the bottle.
Love the product, BUT
Corinne . 2 years ago
I ordered this again, but it came 1/3 empty. There was no leakage, tape still around the top, plastic bag it was wrapped in, paper cushioning and cardboard box were not wet. Not sure how it was partially emptied. Tried several times to reach customer service and the online chat but gave up.....
Great smell!
Helana . 2 years ago
Love the smell! Seems to work good.
Love it!
Tina . 3 years ago
Works great! Light scent! I can use this product without getting a migraine.
Lori . 3 years ago
I am disappointed that my shipment was returned and I was not given an update from anyone at BBB. I have made several purchases and this was the first problem I have encountered.
Very good
Vitoria . 3 years ago
Smells good and it's very good for bathrooms.
Showing 1 - 10 out of 10 reviews