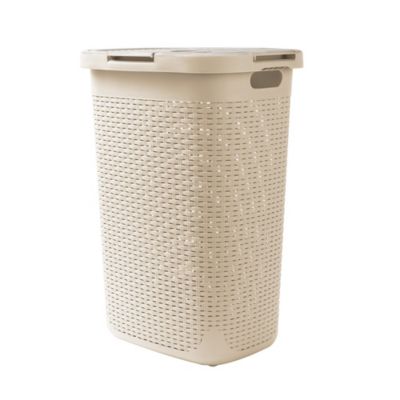 Mind Reader 60-Liter Laundry Hamper in Ivory White
Unavailable
This item is no longer for sale online
customer reviews
Showing 1 - 20 out of 20 reviews
Wrong lid
Laura . 12 months ago
The lid was the wrong one for the hamper & I had to return it to the store which was very inconvenient for a 76 year old woman. It was out of stock when the manager was so kind to try & help me order a replacement. Very poor quality control to allow an item to ship like this. The hamper was very nice & well built.
Perfect for space I needed!
mdsga . 1 year ago
Made out of thick plastic will hold up very good. Has a lid that opens to the side. Will hold one good load of laundry. Very happy with purchase.
Very Nice
Carole . 1 year ago
Sturdy and attractive. Exactly what I wanted.
Good product
Jean . 1 year ago
I wanted airable, durable, well designed basket And this does all three.
Dependable and Durable
Tanya . 1 year ago
When I thought about ordering this Hamper I was hesitant but then I began to look at others and also compare prices with other stores, shortly after looking my husband turned to me and said "get that one", so I got it and it is amazing. The reviews I read said the cover couldn't clip but mine does and it is sturdy and easy to move around and it holds a lot. Thanks BB&B you never cease to amaze me
Great laundry hamper
Andrea . 2 years ago
This was exactly what I was looking for but unfortunately I had to return it because it was to tall due to the lid open on the side instead of the front. I was sad that I had to return it because it is very sturdy and actually very pretty.
BB&B Customer . 2 years ago
Very good quality for the price.
Great
Jean . 2 years ago
Wanted an off white, breathable hamper with these dimensions, so am very happy. Sturdy plastic .
Sheri . 2 years ago
This is a rather flimsy product. The plastic is thin. I would not purchase again.
Broke after 4 months
midtownman . 2 years ago
When this first arrived it was smaller than I thought it was going to be, but that was OK. I liked the style and .the color. But now I've had it for four months or five months, both of the little nibs that hold the lid in place broke off. Very annoying. I don't know that it seemed really sturdy and well-made. I don't know how the little nibs could be so fragile that they both broke off. I have glued both of them back on with superglue, and I hope that fixes the problem.
So pleased, I'm buying a second!
Elle . 2 years ago
I read many reviews before buying and I'm pleased to say that I am completely satisfied. The color description was accurate, so I wasn't surprised and I like it. The person who said the lid would break if they put a sweater on it must wear some dang heavy sweaters, so I don't think it was a fair comment. ... it almost made me pass on it so I'm glad I ignored it. I really like the size and shape because it holds a lot of clothes and yet fits nicely in the corner of my closet.

Perfect hamper
Elle . 2 years ago
I am very pleased that I purchased this hamper. Before I purchased it I read many reviews, and was a bit concerned, but now I honestly don't understand the basis of complaints some people listed. The color is exactly as described, and unless you plan on sitting on the lid, then the lid is plenty sturdy for normal daily use. This was exactly what I was looking for!
Great size hamper
Irene . 2 years ago
I liked the size of the hamper. It is slim, tall and sturdy quality. Would purchase again.
Good value
Kim . 2 years ago
I like how these hampers are classy looking. You can't see the inside items but there are air holes. You can wipe down the plastic/material versus a cloth one where you'd either have to wash or throw away. I believe these are made in Israel, which I found cool. I've seen them at TJMaxx too in different colors. I had a wedding gift card so win-win!
N
Dexter . 2 years ago
Nice and strong and easy to clean not a fan of the color but also a great buy
GREAT!!
Bigsadie . 2 years ago
Everything about this hamper is good. Right size.
Good product
Sha . 2 years ago
I'm happy to bought this product...easy to clean
Size and color are perfect for my laundry room.
JK . 2 years ago
I purchased 3 hampers so my laundry could be separated into different colors for washing. The size of these hampers is perfect to hold my husband's and my laundry.
Awesome hamper
CAL12 . 2 years ago
This hamper is sturdy and super cool looking. Love the way the lid opens!
Perfect Size!
IreneS . 3 years ago
I keep my laundry hamper in my closet, tucked under a lower clothing rod. It fits perfectly and doesn't take a lot of extra space. My only complaint is the lid seems a bit flimsy. It doesn't flop around nor jiggle but I think if I accidentally put something on top or a sweater on the the rod above it might crack or break it.
Showing 1 - 20 out of 20 reviews