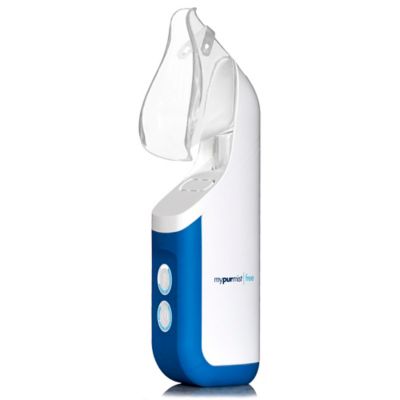 Mypurmist® Free Cordless Ultrapure Steam Inhaler™ in White/Blue
Unavailable
This item is no longer for sale online
Most Helpful Positive Review
Portable steamer
Skete
.
5 years ago
I use this for singing- it is a great way to moisten the vocal cords. It does it well and is portable so I can use it while driving or moving around the house. Be careful- the corded one looks portable in the pictures- the cord is barely visible. The portable one is $179 and the corded is less. It is pretty hard for me to sit in one place 15 minutes at a time twice a day, which is the recommended singing protocol. Worth the extra for me. This 'requires' PurMist refill tubes which are $20 for 20. Expect to use a tube per 30 minutes. I tried filtered water and it won't work. Had to drain it out which is not easy. I have found I can use distilled water and so far that is working, and MUCH cheaper. The cost of tubes is why I gave it 4 stars even though I found a hack. Makes a noticeable difference in my singing and will be useful for colds.
Most Helpful Critical Review
Goody
.
5 years ago
Beware! This product requires you to buy the pure mist water from the company unlike the non cordless which let's you use distilled water. Therefore I returned it. I stick with my non cordless which I really like.
customer reviews
Showing 1 - 20 out of 165 reviews
Best Product on the Market
Percussion Lady . 2 weeks ago
I love the settings and cannot believe how well it works. My sinus and bronchial tubes love it. I highly recommend this product.

Originally posted on mypurmist.com
My Pure Mist cordless machine
Derek . 3 weeks ago
I bought the machine on behalf of my neighbour. She said the face mask is defective as it will not fit snugly against her mouth and nose. Also, she thinks the machine is defective as it doesn't produce much steam/mist. I have returned the device for replacement, at her request

Originally posted on mypurmist.com
TERRIBLE!!! product !!!
Edina . 2 months ago
My model I've bought before this 2020 model cheap garbage my device lasted over 2 year I've literally take it to everywhere no issues. Since 2020 this is probably my 6th try and return THIS IS THE LAST ONE !! It didn't even lasted for 9 day's !!! Such an inconvenience this is just a headache NEVER GONNA BUY THIS SxT ever again !!!
Great Machine
Steve K . 6 months ago
Well i finally decided to upgrade after my original Mypurmist went out after seven years. The hands free cordless one is nice because you can walk around while you are using it. The cordless one has a blue light that lets you know it has water still and a red light comes on when empty. The cordless one has four levels of heat and it show in from with the blue light bars or you can use just cool air with the white light bar. You have to fill it in back with the sterile water tubes and you can use it for 15 minutes and stop it or use it for a full 30 minutes. You have to charge it after 30 minutes but it would be even better if you could charge it after two full uses. The cordless one has an app to which is great because it shows how long you have used it and asks how you are feeling plus you can buy supplies on the app. The machine also has scented pads you can push to have a nice scent along with the steam.


Originally posted on mypurmist.com
Mypuremist
puppieslove . 9 months ago
It was horrible. Did not clear any sinus stuffiness. Burned my face. Horrible. I returned it with no problem.
My purmist
Tking . 10 months ago
It works great for allergies and breathing problems

Originally posted on mypurmist.com
HUGE DISAPPOINTMENT
Kate . 12 months ago
Let's start with the positives, it worked great WHILE IT WORKED. I bought this only a month ago despite negative reviews. It seemed pricey but I got it anyways. It worked amazingly for the first two weeks and then I stopped using it for a week and a half because I didn't need to. Needless to say it no longer works. The mist stopped working and it no longer warms up. I did everything by the instructions so there is nothing I did wrong for it to stop working. In addition to that, the app for the mypuremist doesn't even exist anymore?! why have the instructions tell you to download it when it's not even available. You would think that for that price it would at least last longer than one month.. I am extremely disappointed and wish I could get my money back!
Product has been great for my nasal allergies
MikeK . 1 year ago
The unit works great for my allergy. I have moments when my Rhinitis is really bad. I find that by using the MyPuremist steam inhaler, I can calm it down. I also have nasal allergies and dryness, and the unit has done wonders for that as well. I highly recommend it. Now I must mention this in the review. I had some trouble with my original unit turning off when the water reservoir was not completely full. I contacted the company and they were extremely helpful in assisting me with debugging the unit. After performing some brief tests, they agreed to send me a new unit. The agent who assisted me (Kimberly) was so helpful and patient. She promptly replied to all of my communications and never gave the feeling that I was a pest, which was refreshing. The company stands behind the product.

Originally posted on mypurmist.com
Great Product Backed by Excellent Customer Service
PinoyJim . 1 year ago
I have been using this product since 2017 to relieve symptoms from asthma and allergies. It works! As soon as I feel any irritation in my throat or slight spasm in my upper respiratory tract, I use this product. It prevents the symptoms from getting worse and actually makes it better. Since using this product, I/ have not gone back to my doctor due to bronchitis. I highly recommend this product. It is backed by excellent customer service. Kimberly is very responsive even after business hours to make sure your problem is resolved.

Originally posted on mypurmist.com
Buy with hands free strap
Jenna n . 1 year ago
Because the app is no longer a thing, they sent me a hands free steamer strap and that has been a GAME CHANGER. But so far this thing is a dream, it dries on its own, it's super user-friendly, I just hope it lasts the 2 year warrantee, but only time will tell. But i love It! Wish i didnt Feel obligated to use their own water tho because of the tiny dispenser hole. Might think about getting just a small dropper and see how that works.

Originally posted on mypurmist.com
Works great!
Vugg . 1 year ago
I had trouble with a Mypurmist, but the company was great about standing behind the product after I contacted them. Sure helps for those dry air winter days !

Originally posted on mypurmist.com
Is Mypuremist ionic
Mara . 1 year ago
I can't find any information whether mypurmist steamer ionic or uses a different technology. Ionic items such as dryers, steamer and etc trigger my ashtma, and just want to make sure this isn't going to trigger it.
An excellent product at a serious discount!
FastFwd123 . 1 year ago
After a number of years of use, my original Mypurmist gave out on me. I was offered a variety of upgrade options to new devices at serious discounts. I chose the cordless model and it's excellent. A complimentary box of refills was a nice touch. Overall, I'm very pleased in my dealings with Mypurmist.

Originally posted on mypurmist.com
Do it
Mer97 . 1 year ago
Probably one of my best investments this far. It came within the week that I purchased it, which was great because I ended up catching a virus. It helped keep everything from drying out, the steam feels so nice. I also plan on using it for singing and I feel as if this thing is more than capable.

Originally posted on mypurmist.com
A Singers Dream!
Molly B . 1 year ago
I am obsessed! It is great for singing and works so well.

Originally posted on mypurmist.com
Mypurmist Free Cordles
WangS . 2 years ago
MyPurmist Free Cordless is easier to use than the earlier module My Purmist 2, which is easy to get short after flip over.


Originally posted on mypurmist.com
For health and song!
Tracy . 2 years ago
I purchased My Pur Mist because I am basically a 'holisitc' person as regards health. So, I wanted to keep my lungs cleansed and lubricated considering all that we breath in in our modern industrial world. Thus, an inhaler seemed to be the best choice for this, and My Pur Mist, the best inhaler, considering its features and design. Also, I am a serious singer (trained tenor), and keeping my lungs, airways, and throat in the healthiest condition has been another major 'plus' using the M.P.M. inhaler. VERY SATISFIED.

Originally posted on mypurmist.com
Would not buy...
BB&B Customer . 2 years ago
@MyPurMist bought the classic Saturday from a Costco reseller. Did online registration only to find out they don't support it through a somewhat sarcastic email. Oh yeah, did I mention it doesn't work either? Yes, the flashing blue light of death that seems all too common...
It's a miracle machine
Cheryl . 2 years ago
I purchased this for my husband 2 weeks ago, He had been trying sinus medications, allergy medications, nasal sprays, and sinus rinses. His sinus problems had been going for at least 3 weeks, when we decided to purchase and try this. Wow, he did notice a big change in after only a day. He has continued to use it now, only once a day. and has even skipped a day here and there, but his sinuses have cleared up. I am using the machine myself now, and I too am noticing an improvement in my sinuses.The only drawback to this is that you have to purchase the water for the machine, and does get pricey, but I guess if we don't need to purchase sinus meds then it might eventually become a better value.
Great customer service
Sean D . 2 years ago
I have used mypurmist for a few years now and their customer service is always very helpful

Originally posted on mypurmist.com
Showing 1 - 20 out of 165 reviews