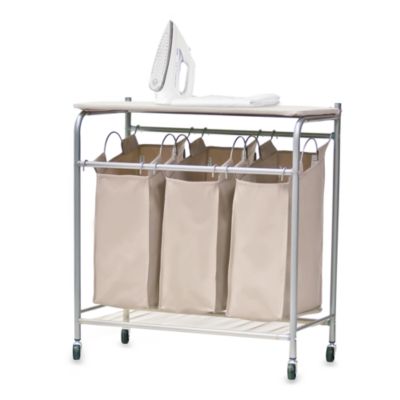 neatfreak™ Triple Sorter with Ironing Board
Unavailable
This item is no longer for sale online
Most Helpful Positive Review
One of my favorite wedding gifts!
Amsirahc
.
7 years ago
This product is clean, light, easy to assemble, great for organization, and perfect for small spaces. However, the ironing board is shorter than normal, the capacity may not be enough for multiple people over longer periods (suggested usage of 1 or 2 people who wash weekly), and the wheels may fall off if the product is lifter (difficult during assembly)
Most Helpful Critical Review
Cheap! Not worth the money!
Cheena
.
7 years ago
When I opened the box it was like assembling something from IKEA. The wheels didn't even fit on the legs, it was ridiculous. Cheap quality and not even 20% off made it worth the price.
customer reviews
Showing 1 - 20 out of 75 reviews
Loved it until...
Christine . 3 years ago
I loved it, and it was perfect for the space, until the screws started coming loose, and then, a "soldered" piece on the back broke... using it with a tie wrap, for a year now...
helpful sorter
Debby . 3 years ago
I've had this laundry cart for several months and it's really helped me! But, some of the screws did not line up correctly for assembly, and last week a weld broke so it's now useless. I duct taped the break until I can find a replacement cart.
Loving Our Triple Sorter With Ironing Board
Debra . 3 years ago
We love our triple sorter with ironing board! So convenient, fits perfectly in our small laundry room, and we love not having to bring in our reg sized ironing board from the garage to set up in kitchen.
GREAT IDEA
NASCARJENN . 4 years ago
WHAT A GREAT WAY TO KEEP LAUNDRY TOGETHER AND IRON CLOTHES AFTER THEY GET OUT OF THE DRYER. MY HUSBAND EVEN ATTACHED A BASKET ON THE SIDE TO KEEP MY IRON IN.
YES & NO
mosquito . 4 years ago
Bought this last night ...the photo on box looked great. But there was easy to see quality issues once you get home and open the box and start putting it together. The worst quality issues...is the one is the wheels. They don't stay on...they don't pop in and stay on the leg. As long as you don't roll it ANYWHERE uneven (like onto or off a rug)... and as long as yo don't pick it up...and you are very careful you can get the wheels in and it will sit on them. BUT if you dare to pick it up....the wheels pop off because they aren't really attached to the legs, the legs just sit on top of the wheel. Plus there is no wheel lock....and on my hard wood floors that are shiny and slick....there is NO WAY in the world I would ever sit an iron on the ironing board....much less try to iron something on it because it sorta moves around so EASILY. But it does look nicer than my piles of laundry on the floor or in several different plastic laundry tubs. As long as you don't need to move it or you are not planning on using the top for ironing....I like the top ironing lid (as a lid) that sorta hides the dirty laundry but makes it easy to get to as needed. Another thing about the quality was that the left and right sides of the frame....were not a left and right side. I had two right sides. I'm not sure if that was the case in every box. But that was the case in mine. The outside rims should be slightly indented so the screws holding the braces are flat with sides when tighten, but the inside of the rims should not have an indention around the hole that the screw comes in. And they were just rightly done on the right side. However the left side was exactly like the right side....so the indentions on the left side were on the inside (not the outside where they should have been), and it was flat on the outside (instead of the inside). But this was a minor thing. The netting between the two bottom braces between left and right....is so flimsy and weak....that I have no idea why it was even used, as it is in my opinion worthless. I am only giving this a 3 because while it looks good in my laundry room, there were such a lack of quality in making the frame (and I sorta wish it didn't have wheels at all....because if I ever have to put them in again .....I'm throwing the wheels away....and finding some old tennis balls to stick on the legs....as it really will be too low to the floor without the annoying and useless wheels. I'm giving it a 3 because as long as I don't move it around the room, it looks better than what I was using. I will try this for a while, but I may buy something else similiar down the line that is made better than this one is.
Space saver
Nonie . 4 years ago
Great hamper. Disappointed that one of the final screws wouldn't go in as it should but doesn't hamper function
I wish there had been a demo model in the store.
Rhody Blue . 4 years ago
It may be too soon to judge this product, but I can say that after getting it assembled (not hard-nice instructions), I don't know that I would have bought it. I am not happy with the bags that are much smaller than the image on the website, and what is pictured on the box. I am not sure how these are going to hold up as they don't look very durable. There are also no instructions on how to clean them. The frame is sturdy, and it rolls nicely on carpet and tile, so maybe I will source new bags. I could easily insert a fourth bag with the set in the box today. The ironing board is fine, but my husband had to make some adjustments as the screws were in pre-drilled holes that weren't deep enough to secure the board. We'll see what happens, but I wish I had a better chance to evaluate it before I bought it. Bed, Bath & Beyond - you should allow me to post a picture so that readers can see what I got versus what is pictured online and on the box.
Perfect!
jmarie541 . 5 years ago
I love it! Fits in my tiny laundry room
love this hamper & when after a couple of months i
5116 . 5 years ago
love this hamper with ironing board even after one hamper ripped bb&b replaced it quickly !
Great Value and Function
ApartmentBachelor . 5 years ago
I bought this predominantly for the ironing board, but I have really loved that the laundry bags are perfectly sized for a washing machine. It has really made my laundry labor and expense much more efficient with perfectly sized loads. My only complaint it the stability/quality of the construction. When ironing and unhooking the bags, the entire structure wobbles more than I feel it should.
Hamper AND ironing board...Amazing combo!!
Carabeth . 5 years ago
This space saver hamper with ironing board is perfect! I can move it from room to room or leave it in my closet. I don't have to drag out an ironing board just to iron a shirt for work!
Fits perfectly
stanze . 5 years ago
Bought this to fit in a space I have next to my washer. It is the perfect size for what we needed. My favorite part is having something I can roll out and use to fold our clothes on. The sorter is nice to have but doesn't hold as much as I would like.
Nice addition to my tiny laundry
jmarie541 . 5 years ago
Fits perfectly in my tiny laundry room. I can use the ironing board to iron or fold clothes, or hold my baskets. Its very well made and functional.
Stars 5
Catania34 . 5 years ago
I love and like most but buy baby

Originally posted on buybuyBABY.com
Love it!!
Mm13 . 5 years ago
No more sorting! I just pick up one of the bags and empty it in the washing machine. The laundry room always looks tidy! The top is great for folding towels, etc.
Perfect for small laundry room!
Blairbear0 . 5 years ago
I definitely recommend this product. Very easy lift top that hides dirty laundry. Great for quick ironing! Great company customer service too!
jmac . 6 years ago
My wife just loves the ironing board included. We have it set up in the master closet and if a last minute press job is needed its all right there with not having to set up a big old ironing board
Laundrymom . 6 years ago
The product itself is great! But when I was putting it together, the wheels were very tough to get in and one of them bent the plastic ring and won't go all the way in.
Not Worth the Money
Michi87 . 6 years ago
No I do not recommend this product. It looks great on line but it's definitely not worth the price. The bags are small and the hangers slip off easily. The only part of it I can say I like is the ironing board. If you want a good sturdy hamper like this where the wheels don't fall off you're better off going on amazon. They have way better sturdier hampers for half the price.
So disappointed
Danny . 6 years ago
I'm very disappointed with this product. I had it for a few month and it's already leaning towards one side. The ironing board is made out of cardboard, so it's getting bended because of the iron steam. This product is just for good looks, to store some light clothes and to dry press randomly. It is not reliable, not durable, not for real ironing. the price is ridiculous for such quality and use.
Showing 1 - 20 out of 75 reviews