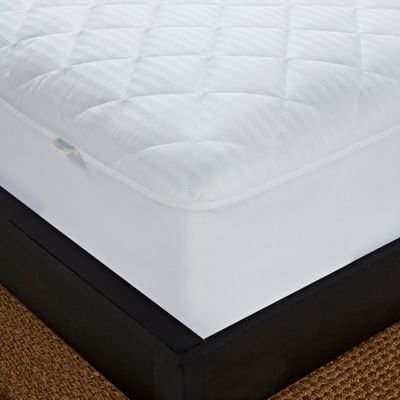 Nestwell™ Cotton Comfort Waterproof Queen Mattress Pad
$60.00
Get 20% off your entire purchase with coupon!
Enroll Now
Most Helpful Positive Review
Noisefree comfort
sibella
.
1 year ago
The Nestwell cotton comfort waterproof mattress pad does what it claims. It is quite comfortable and makes no rustling sounds. I washes well, but it helps if you have a large capacity washer and dryer. Mine are regular sized and I had to run it through the dryer twice, the last patch I finished off with the hair dryer. Well, it worked! Overall it's a good product.
Most Helpful Critical Review
Be careful when you wash this item
None
.
1 year ago
I usually do not write reviews but I felt I should warn buyers. Right after purchase, I went to the laundromat to wash this mattress pad as I do any of my large bedding. When I went to take it out of the washer, it was heavy. I did not realize that the corners were full of water, and as I tried to remove it, about 2 galloons of water spilled on the floor. I felt terrible as the attendant scrambled to help me. We had to take it outside to wring it a bit. It was so wet that I had to bring it home to hang dry for a day or two. It is something to do with the material the sides are made of. Water does not pass through.
customer reviews
Showing 1 - 20 out of 103 reviews
Thank goodness, a cotton mattress pad with some pl
BB&B Customer . 1 week ago
It was so difficult to find a 100% cotton pad that had some plushness to it but this one does it!! I am very glad that I bought this item.
Great!
SJC . 3 weeks ago
Mattress pad is easy to put on, high comfort, stays in place
Exactly what I was looking for!
Bella Cruiser . 1 month ago
Loved the cotton. Great fit! Good price!
Meg . 1 month ago
Easy to put on the mattress!
BB&B Customer . 1 month ago
It comes off my mattress every night… it's not good
Very Good Product at a Good Price
WestchesterNana . 2 months ago
This waterproof mattress pad has worked well for us -- it has protected the mattress from spills and other liquid messes. It washes nicely and is fluffy enough to pad the mattress well.
Not great.
Vicki . 2 months ago
We ordered this mattress pad with the intention of making our bed more cozy. It comes all condensed so we followed directions and laid it flat for 24 hours to allow it to spread out. It never has been a big enough for our queen mattress and now it's got a giant tear in it located in a place that makes no sense. Don't waste your money.
Not for a Single Person Household
Just Another Stress . 2 months ago
As a single person, I was unable to get any two corners to stay on. There is some question as to whether the pad was large enough for a Queen size bed.
Quality Mattress Pad
Deborah . 2 months ago
This is our second purchase of the Nestwell Waterproof Mattress Pad that helps protect our mattress and adds an extra layer of padded comfort. It easily fits our deep padded mattress too.
Very Good Product at a Good Price
WestchesterNana . 2 months ago
The pad is properly sized, well made, washes well and looks good.
The mattress pad
Girnell . 2 months ago
The pad is very nice, however, it doesn't stay tucked in under the mattress. Very aggravating. I like a tight bed and this and sheet crawling all night and while trying to make it up in the morning. Not happy with it especially when it costs so much.
well made mattress protection
Kathryn . 2 months ago
This fits the mattress nicely and is well-made. I bought two and I highly recommend them over your mattress and topper.
Eye catching!!!
Gail . 3 months ago
Perfect item I could have bought.
Slips off while sleeping
JennH1971 . 3 months ago
The mesh that stretches to go around the corners does not stay tight and therefore slips off the corners and then pull sheets off too. :(
Mattress pad
BB&B Customer . 3 months ago
This mattress pad is great - it is very comfortable and washes very well.
Jennifer . 3 months ago
This works pretty good - wish it had thicker elastic for deep pocketed mattress
Waterproof mattress pad
BB&B Customer . 3 months ago
Product does the job.
Great fit and comfortable
BB&B Customer . 3 months ago
This mattress cover fits very well on a queen pillow top mattress. My house guest said it was very comfortable
Great fit
PamH . 3 months ago
I've purchased many of these through the years and this by far is the easiest and best fitting one!! I recommend this item!!!
NOT waterproof!
Bed wetter . 3 months ago
My grandson wet the bed last night and it went through the mattress cover and stained the mattress. I'm VERY annoyed!
Showing 1 - 20 out of 103 reviews