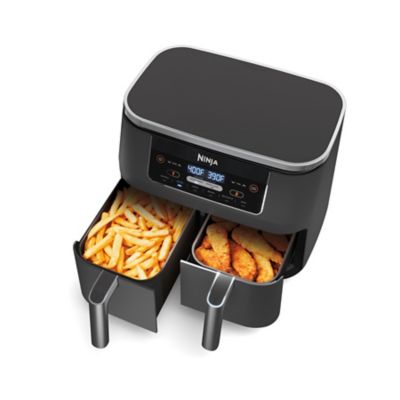 Ninja® Air Fryer Foodi® 8qt. 6-in-1, 2-Basket with DualZone™ Technology
Most Helpful Positive Review
Cut my dishes in half
Starryskiesglow
.
2 years ago
[This review was collected as part of a promotion.] The Ninja Foodie 6-in-1 8qt. 2 Basket Air Fryer with DualZone Technology has cut my cooking workload, and dishes in half. On an ordinary night, I'd have chicken cutlets on the stove, and potatoes or veggies in the oven. Thanks to the Ninja Foodie 6-in-1 air fryer, I've been able to air fry chicken cutlets, while roasting herbed potatoes, air broil hot dogs, while air frying fries; within minutes, all from one machine. The smart finish feature is absolutely amazing, it allows two different dishes to finish cooking at the same time. So there's no need wait for one dish to finish, while the other gets cold, like with our previous air fryer. I can't say enough about this machine. Everything I've cooked in it, has been delicious. The quick start guide and recipes were really helpful, and there are endless cooking options. The best part, clean up is an absolute breeze thanks to nonstick coating on the baskets and crisper plates. Pick one up,  it will quickly become your most used appliance.
Most Helpful Critical Review
Horrible Chemical like smell when cooking.
Christina
.
2 years ago
I was so impressed with my first meal cooked in my Air-Fryer I finally got for my birthday, but the weird overwhelming chemical like smell when cooking even sometimes the food taste like the smell really puts me off sometimes when I'm cooking something it makes me feel sick and I can't eat the food. With I could get this machine without the overwhelming Chemical smell because I love it so much It just doesn't make me want to use it because of that reason only.
---
We are sorry to hear of this experience and would like to learn more about this experience. Could you kindly share your contact information and reference number, 163971888, with us at helpfulninja@sharkninja.com?
customer reviews
Showing 1 - 20 out of 512 reviews
chateada
TANIA C . 2 weeks ago
comprei uma air frier, para retirar em uma loja, mas meu pedido foi cancelado, e ate agora nao recebi o valor pago de volta.
Super air fryer polyvalent
JuMama . 2 weeks ago
Excellent produit! Je découvre de nouvelles utilités chaque semaine.
Originally posted on Shark Ninja
Great gift
Bed Bath and Beyond Customer . 2 weeks ago
My kids loved. Bought these for family gifts
Use it daily
BB&B Customer . 1 month ago
Bought for my son when he moved out to his first apartment. He using it everyday and says his microwave never gets used anymore.
Love it!
Alisa . 1 month ago
Love love love for this air fryer! Have made 5 meals in it since Christmas (three days ago). Chicken and pork loin moist and full of flavor, veggies perfectly cooked never soggy, even potatoes were fantastic, crispy on outside, soft inside. Clean up is easy a can be, I've both hand washed and uses dishwasher. Cannot recommend this enough.
Wish I bought it sooner
BB&B Customer . 1 month ago
This thing is such a game changer at home. Fast, efficient and easy to clean. Only thing I have to get use to is how the whole house smells like what I cooked 😂
Bad basket design, odd temperature settings
Phil . 1 month ago
This was my first air fryer and might be my last. I'm someone that hates cooking and finds it extremely stressful. I got an air fryer hoping it might expand what I cook and save me money over eating out. I used it once and don't ever want to use it again. The item that I had called for cooking at 380, we'll 380 isn't an option with this machine. It took 2 tries to get the cooking right and all in all was more of a headache than what it was worth. Then I went to clean it. The crimping try is a horrible design. The handle is small and hard to grab. Worse yet it fits in extremely tight, so trying to pull it out while it had some oil on it was very difficult. When I did get it my thumb got rolled between the gap and it pinched and cut my thumb. I will never use this again and if I could give negative stars I would.

Originally posted on sharkninja.com
Love it!
BB&B Customer . 1 month ago
This air fryer is great. I've had mine for a year now and I just bought our sons the same one for Christmas.
BB&B Customer . 1 month ago
I love this air fryer!!
Best dual air fryer ever
Theodora . 2 months ago
I love this air fryer easy to used and easy to clean nice kitchen accessorie.
Air fryer
BB&B Customer . 2 months ago
Oh my goodness we love it did wings two different flavors at once it was great
Air Fry don't die
EmTbirdLady . 2 months ago
So far I love it, haven't used all the features yet but the ease of operation is great! I have a Ninja Grill so I figured this would be just as good. ET.
BB&B Customer . 2 months ago
It's great!
Wonderful
Mabel . 2 months ago
Love my Ninja air fryer! So fast and well cooked meals I recommend
LOVE
Lauren2696 . 2 months ago
I got this as a Christmas gift last year and I absolutely love it! The dual baskets make making dinner much easier. Ps if you like salmon..400 degrees - 8 minutes. PERFECT!
Duel fryer
BB&B Customer . 2 months ago
We've only actually got to use it once , haven't had it long , easy to program, what we cooked turned out tasty an not greasy … we would buy this again … very good product
Great product!
JRCustomer . 2 months ago
It works wonderfully, I received the product in timely manner. Thank you
New favorite small kitchen appliance
Rene . 2 months ago
This product is amazing...I use it almost daily for something. Now just wish I would have gotten the 10qt.
great machine
BB&B Customer . 2 months ago
I got the 8qt and than exchanged for the 10qt XL - bigger in this case is better.
Love it!
Asha . 3 months ago
I use this allllll the time. I love that it's really easy to clean & dw safe. My food comes out great. Definitely a top purchase of the year.
Showing 1 - 20 out of 512 reviews