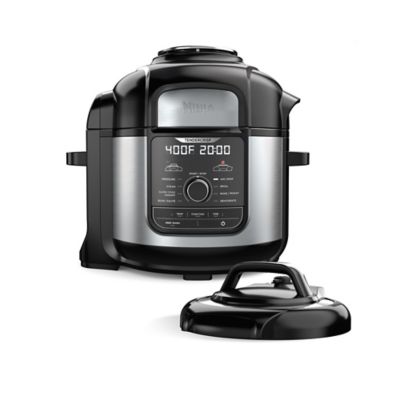 Ninja® Foodi™ 8-qt. 9-in-1 Deluxe XL Pressure Cooker & Air Fryer
$124.99
was $249.99
(50% off)
Most Helpful Positive Review
UN-FLIPPIN BELIEVABLE!!!!!!!!!!!!!!!!!!!!!!!!!!!!
Poolady
.
3 years ago
I have to admit, I was skeptical about this Ninja.I have their coffee bar and love it, and saw the commercials on this Foodi.Looked it up and decided to give it a go. Well, let me tell you....YOU HAVE TO BUY THIS! It delivers what it promises and more.I have made several dishes in this Foodi, from Mac and Cheese in 4 minutes, Meatballs and American ChopSuey.... Made 12 hardboiled eggs in 6 minutes. How is to clean, you ask? A BREEZE! Easy clean up, nothing sticks.. Mac and Cheese.. NO STICK! HOLY COW... If you are tired of your oven heating the whole house and tired of waiting and tons of pots and pans to clean.. this is gonna be your life!
Most Helpful Critical Review
Good concept poor execution
Mary
.
3 years ago
I tried several dishes before i gave up and sent it back. The first was their recipe for baked chicken tenders. The tenders were just OK but certainly not better than I could do in my regular oven. Using their timing, the chick was very over done and the breaded chicken did not brown - was still as cardboard. Next I tried to air fry the breaded tenders. Alamo the same result - overcooked, extemely dry and still as cardborad. I tried a pot roast with the pressure cooker option. The result was OK but I would not say good. The next was french fries in the airfryer. The potatoes were better than the results I get in my regular oven but not enough better to keep this monster (in size) device around in my small apartment kitchen.
customer reviews
Showing 1 - 20 out of 711 reviews
Simply Amazing!
Zax47 . 5 months ago
I've had my Ninja Foodie XL for over 2 years now. It is the work horse of our kitchen. It literally gets used every day. From slow cooking roasts, pressure cooking beans, making and frying rice to the kids air frying pizza & spring rolls. Best purchase ever!


Originally posted on sharkninja.com
Great but doesn't last
alm12986 . 5 months ago
I bought the 6.5 qt version of this appliance and used it almost every other day. I would use it for pressure cooking, sear, and air crisp the most. About two days ago it randomly stopped working and I got an ERR code. I called customer service and they said I could only replace it and there was nothing else they could do. While it was running it worked great, sad that such an expensive appliance only lasted 2 years. I can see now why there is only a 1 year warranty. I also see now that they have changed design. I am sure that this is largely due to the issues with the old design.

Originally posted on sharkninja.com
Amazing addition to my kitchen
Dodo . 6 months ago
I have this amazing cooker for less than a month and I am already in love with it, it made my cooking life waaaaay much easier and quicker. It is one of the best pieces in my kitchen.

Originally posted on sharkninja.com
Gift for my son
SaRahab . 6 months ago
I ordered this as a house warming gift for my son, Actually his first apartment. He loves it. He is making recipes and sharing them with me and trying so I already make. It is a great way for him to make either a enough food to freeze or air fry what he wants tonight without heating up the oven.

Originally posted on sharkninja.com
Stop working just when the warranty expires
BB&B Customer . 7 months ago
Everything was perfect with this product but, just a couple of months after the warranty expires stop working and the solution they gave me was to buy a part that cost 129+tax+shipping… meaning almost the same price that the whole thing… it is really upsetting
Great Machine
SheilaRae . 7 months ago
This is my second Ninja Foodie and I love the versatility of this machine. My first one was the 6qt, it died and that's how I ended up ordering this 8qt and I love it much more just for the extra 2qt's I have for food. I feel like the pot and air fryer basket are a bit better quality than my first machine as well. They clean up better. Only reason this gets 4 stars is due to a customer service issue.

Originally posted on sharkninja.com
Newb
Dani Devine . 8 months ago
I received this as a birthday present and couldn't be happier! I haven't had the chance to try all of the functions yet, but there will definitely be a lot more sure frying, dehydrating, and pressure cooking in the near future!

Originally posted on sharkninja.com
So far it's amazing!
Brothersman . 8 months ago
I absolutely love this thing and we cook out of it at least three times a week. Only issues all the recipes I'm finding online the timing is a little off, I have to add more time

Originally posted on sharkninja.com
leaks!
pjtink . 9 months ago
I have a ninja foodie so bought another in my summer home . Not happy! After using for about 5 mos it has totally lost its seal! It won't even get to pressure cooking because so much steam escapes!

BB&B Customer . 9 months ago
Love it!
Replaced most of my kitchen!
Jrichardson4985 . 9 months ago
We've been through just about every air fryer on the market and have an insta pot also. Since we bought this, we gave all of them away! Somehow the food really does taste better using the same recipes, not to mention, MUCH less clutter in our small kitchen. To top it off, with all off the racks and inserts, we have all of the versatility we could ask for!


Originally posted on sharkninja.com
LOVE IT
Adrienne . 10 months ago
once you get the hang of it.. it is a lifesaver!!!
Not real happy
Bob2 . 10 months ago
When I opened the box there was no paper work included. I don't even know how to use it.

Originally posted on sharkninja.com
WORTH the counter space!
Bruce . 11 months ago
The only mistake I ever made buying an air fryer was my first one, it wasn't big enough! My Ninja Foodi is light years better than my old 4.5 quart basket air fryer and does just about EVERYTHING! It's replaced my deep fryer, basket air fryer, pressure cooker, slow cooker, rotisserie, steamer and probably a couple I've forgotten! The provided cook books will tell you everything you need to know to hit the ground running and get your full value out of every square inch of your Foodi. It has brought bacon in my house as well as so many other dishes to a whole new level. My only regret is that I didn't find this one first!
Fab Foodie
BB&B Customer . 11 months ago
We love our new Ninja Foodie. Much better than a plain air fryer.
so far very good, still learning
ronk . 11 months ago
this is my 3rd and last air fryer due to much better quality. no Teflon that flakes off in my food, just very sturdy nonstick, no need to replace. i bought this due to many cooking options, especially the pressure cooker. as of now i am not convinced pressure cooking is for me but i have only tried one meal with that option. It was good but i can say it was better then just air frying. the device worked excellent, easy to use, I am just not sure about that method of cooking. a lot of useful extras come with it and excellent detailed instructions on it use. the other two air fryers are now just sitting and i do not like to eat Teflon. i like to cook an entire chicken at once and this is quite capable. i am looking forward in trying the pressure cooker with air fry crisper on a whole chicken. That should indicate if pressure cooking is for me, but all in time

Originally posted on sharkninja.com
Arrived used
BB&B Customer . 11 months ago
I gave this 3 stars because so far I love it even thought I've only used a few functions on it so far. But when it arrived it was clearly used. The box was taped back up with scotch tape. When I unpacked everything there was still sticky grease on the pot, basket, and the stand the basket sits on. I most definitely didn't know I was purchasing a used item especially for the price I paid for it.
REALLY dislike the attached lid
BusyBeeLizzyG . 11 months ago
I love the features and the multipurpose capability but I really dislike the attached lid, makes cleaning kinda difficult

Originally posted on sharkninja.com
Fantastic way to replace many other cooking device
Jeannette . 11 months ago
Makes fantastic yogurt! Better then the yogurt maker, uses less steps also excellent yogurt in a larger amount. Slow cooker too! Replaces my slow cooker! ( Although heavy to left, bring it on vacation! If the place you are staying is short on cooking supplies, this replaced most other cooking devices!)
Ninja foodi
Chris . 12 months ago
This is the best appliance I have in my kitchen, I wish I had got one sooner.

Originally posted on sharkninja.com
Showing 1 - 20 out of 711 reviews